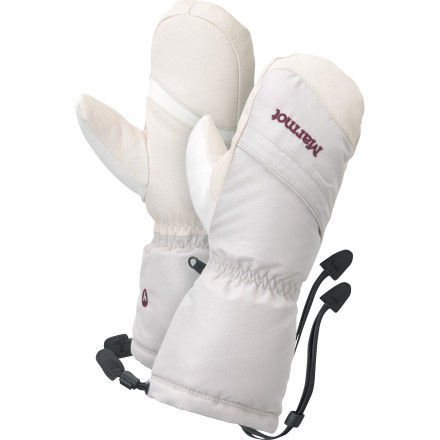 Description
The Marmot Warmest Mitt—warm hands no matter how cold the weather.
When the mountains and the weather throw their worst at you the Marmot Women's Warmest Mitt ensures warm, dry hands. Marmot loaded this cold weather mitt with high-loft Primaloft insulation and added a moisture-stopping Gore-Tex insert for guaranteed comfort. Whether you step into crampons, ski bindings, or snowboard boots at the beggining of the day, the burly Warmest Mitt ensures all-day warmth and comfort. The Warmest Mitt's smooth tricot lining wicks your sweat away when the going gets tough and the zippered heater pockets comes in handy when gale-force winds pickup on that exposed belay. Grip-tech palms and fingers help you keep a firm grip on your gear, and the safety leashes provide no-drop insurance when you need to remove your mitts.
Will BackCountry be getting these mittens in black back in stock?!
Hi there,

Unfortunately we do not currently have any more ordered to come in, sorry about that!
Works pretty well for Raynaud's
I have horrible Raynaud's which means I'm in the ski lodge often running warm water to bring my fingers back to life. Wore these on the first ski trip and so far so good. They seem to work pretty well. The only downside is that the heat pocket is on the top of the glove and for me, I really need it under my fingertips. Great gloves so far and the medium fit best although I have pretty tiny hands.
The best for bad circulation!
Familiarity:

I've used it once or twice and have initial impressions

Fit:

True to size
I decided to buy these mittens after reading all the reviews from other people with Raynauds - and I'm so glad I did! Running, skiing or really doing anything outdoors during Colorado winters is difficult when you have to go inside to re-warm every 30 minutes, but these mittens totally changed that. Wore them for a long run on a blustery, 15 degree (without wind chill!) day and my hands stayed reasonably warm. They did get a little sweaty but I prefer that to frigid fingers. The lining is very nice and soft as well. I've seen some people saying these have a glove liner, but it is actually a mitten liner.
SEE YA REYNAUDS!
Familiarity:

I've put it through the wringer

Fit:

True to size
I have bad Reynauds. My ski days use to be constantly interrupted by breaks to resuscitate my fingers. With The Warmest Mittens (so appropriately named) my days on the slopes are much more fun and comfortable. I highly recommend them. The only con and why I'm giving it 4 stars is that one of the wrist straps ripped off shortly after I started wearing them, which makes pulling that mitten on a bit more difficult.
Do these mittens run small? Normally I would wear a medium, but based on the sizing chart I think I would be large. Just wanted to make sure I order the right size.
Hi there,

I would recommend purchasing the size recommended by Marmot's site- that should be the most accurate guideline for this model. If you end up receiving them and you don't like the fit, we can always get you set up with a free exchange too! Feel free to contact me with any further questions or concerns, kweiser@backcountry.com
I'm a size 7 in gloves/mittens and I think the size Medium fits me really well both with and without a liner.
Unanswered Question
I love the gloves, is there a coat that is equally warm??
If I could find a coat this warm!
Familiarity:

I've used it once or twice and have initial impressions

Fit:

True to size
These mittens are amazing. I wore them for the first time today to test out in the brutal Chicago weather. Today's temp is 7 degrees and really really windy. My hands were the warmest part of my body. I have very small hands and the xs fit perfectly. There is not a removable liner but it's perfectly fine, the lining inside is very soft and comfortable. I wish I could find a coat this warm and windproof!
Toasty
Familiarity:

I gave it as a gift but have feedback to share

Fit:

True to size
I purchased these for my wife. On days with -40 conditions, she would happily report her hands were hot and the gloves were awesome. A zip pouch for hand warmers on the back of the hand makes these adaptable to any conditions. She still wants a vacation in Hawaii for a month during winter, but I get some props for the mitten purchase.
These are hot
Familiarity:

I gave it as a gift but have feedback to share

Fit:

True to size
Literally. Great for those who battle poor circulation no matter how many liners and hand warmers are used during a day of skiing. Some of the reviewers complained about the gloves getting damp, but if you have issues with staying warm in general and/or use them only on cold days, the Primaloft insulation delivers and I would highly recommend them. Also, they fit true to size and are extremely comfortable.
Do you have this in Medium/Turtle Dove? I...
Do you have this in Medium/Turtle Dove? I bought a Large but it's too big.
Best Answer
I am sorry but it looks like we don't have any of that size and color instock right now and don't have any on order from Marmot. The Marmot Expedition Mitt is a good alternative but I imagine you are devoted to that Turtledove color. If you haven't found an alternative source please check back with us at the beginning of January and hopefully we will have more in.
Thank you, I appreciate your quick reply. Can you tell me how many inches the Small measures at the mitten (length e.g. thumb and mitten from top to wrist) and the width palm? I am wondering if I should order the Small and try it, but would like some measurements to make sure. Much appreciated.
, ☃bcs_badge_alumni_label☃
great for cold days
Gender:

Female

Familiarity:

I've used it several times

Fit:

True to size
I don't have great circulation and my hands (and toes) are always cold skiing, no matter what I do. I finally ordered these after reading so many positive reviews, and I wore them skiing in Jackson Hole when the temps were between -11 and 4. I added my own thin glove liners since this mitten doesn't come with any (which is fine). I'm happy to report the mittens worked wonderfully and I only got a tiny bit cold, which is amazing compared to normal. If you're going to go in temps even colder than the negative single digits, I'd recommend going with the Marmot Expedition Mitt, which is one step up on the heat scale. (But those things are super super bulky--they're meant for, like, antarctic expeditions.) All in all, I'm way pleased with this purchase and this will be my go-to ski mitten for very cold days at the resort and in the backcountry. I like keeping glove liners on underneath so I can easily slip the mittens off to fiddle with my boot buckles, phone, etc.
Very Warm--Don't dry
Familiarity:

I've used it several times
These mittens were extremely warm for below-zero skiing in Colorado. Unfortunately, the liners did not dry completely and they were cold and uncomfortable by the end of Day 3. Problem seems to be that moisture never escapes from lining. Also, they are very thick and I always had to remove them to make boot adjustments; clumsy to put through loops on ski poles.
are the liners appropriate for taking...
are the liners appropriate for taking pictures?
PJ, it appears these do not have a removable liner.
I was never a mitten fan, as I didn't like the lack of dexterity that accompanied them. But for my trip to the Arctic I thought they would be the warmest option. After asking around, I went with these, and was very glad I did! I must have abnormally large thumbs, because I had to get the large in order to fit them, but that left some extra room for my fingertips. Even so, they were warmer than they've ever been with gloves, even at -40. And that was just standing around. If I was moving (such as the many times we had to dig cars out of snowbanks), they were almost too warm! I didn't even use the nifty pocket for the handwarmer packs, but they're there if you want them. Expensive? Yes, but worth every penny when it comes to comfort in extreme cold.
We got these mittens for my wife. She is actually allergic to the cold but loves skiing and we have a second home up in the mountains. We got her these mittens and have had no issues since. She skis, snowshoes and wears them out on cold nights to dinner. She loves them and I would recommend them for anyone that wants super warm mittens.
, ☃bcs_badge_alumni_label☃
Pretty good mitt!
To answer some question on here there is a mitten liner inside, not a glove liner. And the liner IS NOT removable. The leather is this new agey stuff that supposedly will hold up better to washing which is good news!

I whipped these out today in a deep powder day with wind chills between 3 and 10 degrees F. My hands considering how cold it was, did ok. I did wear an additional liner underneath these. The only cold spot I noticed the most was my thumb, however, I have terrible circulation, so I'd still say to buy these if you always have cold hands.

When I was moving, my hands warmed up really well (hiking and actually skiing). My hands stayed dry all day and the raging wind did not go through the membrane at all! The gloves' gauntlet system could be wider, I had to really tuck in my sleeves of my jacket in there. The cinch system on the gauntlet works well and the long strings so I don't lose my mittens is nice. The mittens also have a clip to stick them together.

Overall, if there was a 4.5 stars I'd give it that. It's a good mitt and worth the $$$ if you have really cold hands. Your hands will stay dry and warm especially warm if you are in motion at all.
i'm right on the border of a small and a...
i'm right on the border of a small and a medium. anyone know if these gloves run true to the sizing? (saying that a 7 would be a small, 7 1/2 a medium - my hand is 7" around the knuckles when i make a fist)
from what I've read, they run small, so upsize
Does this mitten have a glove liner or a...
Does this mitten have a glove liner or a mitten liner inside?
It's a glove liner inside.
THERE IS NO REMOVEABLE LINER with this mitten. I ordered it from Backcountry just a few weeks ago. I just decided to keep it although it doesn't come with a liner. I contacted the guys through the Chat Now option. Backcountry verified that there is no removeable liner. It was a misprint in the description. They will change it soon.
I need the warmest womens gloves they...
I need the warmest womens gloves they make
This one is written in plain English... you can't argue with that.
Gave these mitts to my Fiance' for Christmas, she wore them at Highlands on a 10 degree day, and told me it was the first time ever that her hands were actually hot! Great idea to use a chemical warmer in the back of the mitt. She has always suffered with cold hands. Great Mitt.