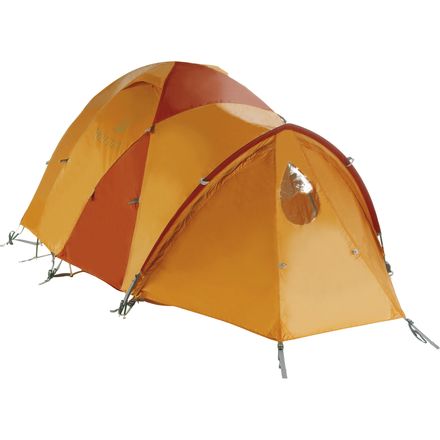 Community Images
Description
When you head into the mountains, make sure you have the gods on your side.
The Marmot Thor 3-Person 4-Season Tent has a burly six-pole design to fight off wind and snow during the roughest high-mountain storms. Designed specifically for alpine climbing and mountaineering, the Thor Tent stands strong whether you're taking on Rainer, Denali, or Aconcagua. Marmot thought ahead to storm-bound days and gave this tent the Knees Pole System to steepen the walls and increase its overall interior space.
Silicone-impregnated, polyurethane-coated fly and PU-coated floor repel rain and snow so you and your gear stay dry and protected
Catenary Cut floor means the floor material curves a few inches up the tent walls to reduce direct seam-to-ground contact
DAC NSL Dual Diameter Green poles save weight without sacrificing durability or strength
Poles made with DAC's Green Anodizing process, which reduces the need for hazardous chemicals and recycles water throughout the rinsing process
Knees configuration provides taut, near-vertical side walls to increase usable living area and prevent unwanted contact with the fly
Dual doors provide extra convenience
Front vestibule lets you keep your muddy boots, crampons, and wet bags out of the tent as well as out of the weather
Reflective detailing helps you find your way back and identify stealthy guy-lines at night
Jingle-free zips mean that you're less likely to disturb your partners during a midnight mission to drain your bladder
Internal gear pockets help you keep your kit organized
Field repair kit included
Optional gear loft sold separately
Bare Bones fast-pitch option lets you carry just the poles, fly, and footprint to save extra weight on the trail (footprint sold separately)
I have one and it started to blow apart after a couple of days of high winds. The buckles that hold down the fly are adjustable and you can tighten the fly up really tight and nice. But they start to slip and the fly loosens up and starts flapping in the wind and that screws up the tent poles. You have to go outside every couple of hours and tighten the fly back up.
excellent
Familiarity:

I've used it several times
Excellent tent. design provides exceptional interior room and the poles are easy to install. Fly is large and functional. This tent rates 5 star due to footprint and interior space.
I've been using a Marmot Screech now since 1996, and I have come to trust this companys products very throughly.

My Screech was the first tent I really fit in, and this looks like the update I was waiting for.
Home away from home
Familiarity:

I've used it once or twice and have initial impressions
Amazing piece of gear. The tent is roomier than its cohorts with the knee-bend construction giving it a steep sidewall. I feel like I could do a pull-up on the pitched poles. I am excited take this on some extended climbing trips down south this winter.
Great tent, built like a fortress
Overall great tent, it's easiest to set it up with 2 people around, I can't imagine doing it by myself although technically may be possible there are other tents out there with simpler setups. This tent is pretty heavy if you are doing the full setup, however weight can dramatically be reduced if you leave out the shorter reinforcement crossbars. This is a good option if you are going backpacking where weight is a big problem, and you will not need the tent to withstand high winds as in an alpine basecamp situation.
I have an old Bastille II and that has...
I have an old Bastille II and that has been my all time favorite tent !!!
I also have a MH Trango 3.1... quite stout but also a lot of condensation as compared to my Bastille.. both close to the same dimensions...
what I have not seen anywhere in regards to the Thor is if there is any sort of small vestibule built into the rain fly as in my Bastille, besides the large, poled vestibule side ??
it is perfect for storing shoes, etc in the small space.....
This tent is simply great for Nordic condititions, although a bit heavy to carry aorund for loger movements. The construction is robust (you could almost do pullups on the poles, once built up) but first and foremost it is really SILENT when the wind hits it. The alu-ground-sticks are a bit too weak in my opinion but are fairly easily replaced for a small cost.
Hey, I am looking at getting a 4 season...
Hey, I am looking at getting a 4 season tent for ski mountaineering and general adventuring. I have narrowed my choices down to the Marmot Thor and the Nemo Moki. Any opinions?
Hey I bet this is a bit to late. But Eureka makes a timberline label that is four season. I live in Northern Vermont and have survived a 13 inch snow storm several times in this tent. With sno from Pine trees dropping HUGH snow balls on us and the tent stood strong. And is $300 less than this one. Give Eureka a look.
Brenton Reagon, Exum Guide (http://www.exumguides.com), reviews the Marmot Thor Tent during a trip to Alaska.
Looking for a bomber four season tent....
Looking for a bomber four season tent. Can't decide between this and the Big Agnes Flying diamond. Any recommendations?
This thing is heavy, expensive, and looks slow to set up. I'd go with a Hilleberg, check out the Nallo or Kaitum - a little bit more expensive, but IMO the best tents on the market. If, for some reason, you need freestanding, the BD (bibler) tents also have a great reputation.The Bombshelter is beast.
Looking at this tent and the Mountain...
Looking at this tent and the Mountain Hardware tents for a trip to Denalli this winter. Anyone use this tent or the MHs up there.
Best Answer
I've never used this specific tent, but other marmot tents have worked out well for me in the past. As for the MHW Trangos - super solid and burly and highly recommended.
We took this tent up Denali (successfully) on a May/June expedition. It was spacious on the inside and the dual vestibule made cooking and storing gear convenient. It withstood large, large storms. I recommend it.
Awesome tent! Did everything I wanted lake side camping. Very easy to set up and quick to take down. Perfect for the every season camper.
Thor is a completely appropriate name for this tent. Not only is it fun to say to your friends and makes you feel more manly "I'm bustin out the THOR" but the tent truly is a beast. Admittedly I have not put this tent through Denali summit-like weather yet like its meant to take, but have never had a problem with it ever. Once this thing is staked down (at the like 10 main stake points) a nuke would bounce right off of it. Also, there are so many fly adjustments and guy wires you can set this thing up quick and just prepare for rain, or you can take time and tweak every part of the fly to account for uneven terrain and/or snow drifts. The poles also attach with a clip to the staking tabs so a severe wind removing the poles from their eyelits will not compromise the structural integrity of the tent.Initial setup is a tad confusing although I successfully did it without looking at the directions, but once you get the first time figured out its a breeze in the future.

The interior is very roomy both floor and ceiling wise. I didnt feel at all cramped in there or claustrophobic which can happen with my backpacking tent. It has two super nice vents to avoid clamyness as well. The vents have multiple layers, so you can just open the interior exposing the bug net or you can then open the bug net and pop out the little chimney shoots in the fly for a vent directly outside. There are also pockets built into the tent walls down each side of the tent wall and many loops and gromits to add more gear lofts, etc to the top. Vestibule is also substancial for just about anything you would need to do in there in bad weather.

Overall this is my favorite tent I have ever used without taking weight into account. I would use this thing every time I camped if it was just a little lighter to take on my pack everywhere. Truly an amazing 4 season tent.
I love a heavy-duty expedition tent like this for winter camping, be it car camping or trekking. the Marmot poles slide nicely in sleeves, the clips are good. This tent keeps me comfortable in sever weather.