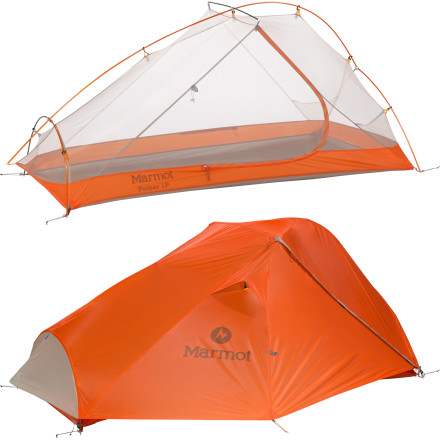 As you finish the last few miles of your day's hike, you can't help but look forward to good night's rest in your Marmot Pulsar 1-Person 3-Season Tent. The smart design of this compact shelter gives you space to stretch out, and the easy set-up means you won't be stressed and swearing to yourself when you should be sitting down to a pre-bedtime meal.
Nylon ripstop fly with silicone and PU treatments repel moisture
No-See-Um-Net canopy keeps you cool on warm summer nights while giving you 360-degree access to the stars and giving insects zero access to you
Fully taped nylon floor is durable and tough for seasons of use
DAC NSL dual-diameter poles with eco-friendly anodizing give you sturdy support without adding much weight to your pack or a lot of harmful chemicals to the environment
Reverse Foot design boosts leg room
Vestibule space protects your packs from the elements
Bare Bones set up lets you use just the fly and a footprint (sold separately) to create a super-light shelter
Color-coded clips make setting up simple and fast
Reflective guy points make it easier to find your tent when you come back to camp after dark
Is there a convenient way to roll most of the fly back and secure it like with the Kelty TN2 tent? www.backcountry.com/kelty-tn2-tent-2-person-3-season
Check out that video on the detailed pics. It rolls back and utilizes a velcro strap to hold it there.
I received this tent as a gift (yay for me) with the optional footprint and I notice it's double walled. My question is ... will I still need a tarp?
Hey Kim.

Awesome gift! SWEET!

No if you are using the footprint, you will not have to use a tarp. The footprint is designed to protect your tent, and yourself, from the ground entirely. You can use a tarp if you feel the need, as in you are setting up on snow, or really pokey rocks! Even in those conditions you can still simply use the footprint.
Marmot Pulsar 1P Tent Component Weights
Gender:

Male

Familiarity:

I've used it once or twice and have initial impressions
Pulsar 1P tent component weights (scale accurate to within 0.05 oz):



18.8 oz - rain fly w/ guy cords

18.0 oz - tent canopy

11.7 oz - pole

3.50 oz - (7) stakes*

1.60 oz - 304" guy cord + plastic guy hardware**

1.10 oz - tent stuff sack

0.50 oz - pole stuff sack

0.30 oz - pole splint

0.30 oz - stake stuff sack



Sum of weights = 55.8 oz = 3 lbs, 8 oz

Marmot's stated maximum/packed weight = 3lb, 6 oz



Tent also includes (3) 12" x 3" strips of self-adhesive ripstop nylon, for repairs. These weigh 0.45 oz, total, and aren't included in weights above.





Pulsar 1P footprint weights (footprint not included with tent):



6.20 oz - Marmot 1P footprint

0.50 oz - footprint stuff sack





* Marmot furnishes tent with seven stakes. Tent can use up to eleven: 4 for canopy + 3 for rain fly + 4 for guy cords. I substituted (11) MSR Mini Groundhog Stakes (3.60 oz total) for the originals.



** The original guy cords and plastic hardware look like they came with a cheap badminton set (c'mon Marmot!). I substituted 240" of Sea to Summit 1.8mm Reflective Accessory Cord (0.40 oz total) and tautline hitch knots.
Is this tent suitable for a 6'2" tall guy...
Is this tent suitable for a 6'2" tall guy with a Long Sleeping bag?
Best Answer
It should be! Long sleeping pads are typically 78" (6'6") and I like to allow at least 6" over the pad length for my bag. This helps avoid any contact with the tent wall. At 87", this is a long tent. Also, the wall slope (or lack thereof) tends to make tents feel bigger.
Yes! My son used my Pulsar 1P for a week on California's Lost Coast Trail (see pic posted on 4/6/14). He's 6'4" tall and uses a size long Sierra Designs Pyro 15. He had room to spare at head and foot.
Yes. I'm 6'2" and use a long sleeping bag in this tent. The key to the great fit of this tent is that the foot wall and head wall are almost vertical due to the pole design, giving you all of the 87 inches as usable length. Great tent.
Best Answer
I couldn't find the "in the box" for this particular tent, but with other Marmot tents, in the package is the tent body, poles, rainfly, guylines, stakes, and a stuffsack. Everything you need to pitch it, but no groundcloth.



Hope this helps. Great question, would be good info for the specs to have.


See my 4/6/14 post of "component weights" for list of everything included with tent.
This is an awesome tent.

I got it from backcountry off ebay.

I'm 6'2 200 lb plenty of room in this tent I really like the ease of set up, the room and the durability of this and every marmot tents that I have owned. Total pack weight on my pulsar 1 is exactly what is decribed. However the footprint adds a lil more weight. But it can be used for a bare bones set up. My hats off to marmot. Their tents are always up for the challenge.
Great! So happy with this Tent!
Familiarity:

I've used it several times
The pulsar is fantastic! It is tiny enough that you can squeeze it almost anywhere in a campsite but inside it feels like a castle compared to other one man tents. I have been using this tent for backpacking and camping on kayaking trips. I have also been using the footprint (sold separately) with the tent every time I camp and think it is worth while.



This tent has a ton of features I really like. The first is how the pole on the foot end of the tent extends. It adds so much space to the bottom of the tent... and helps to keep any condensation buildup off the end of your sleeping bag. I also find that ventilation on this tent is great. The whole tent is mesh so as long as you stake the fly out far enough it breaths great. Never had any excess condensation inside the tent. The vent is nice too. But staking out the fly as far from the tent as possible is much more effective at keeping condensation inside the tent to a minimum. Also the size of this tent is just huge. It is easy to get dressed and has two pockets to store stuff. You could sleep 2 people in it easily in an emergency situation.



Just a few things I have noticed. The orange color seems to attract bees. I have seen them hanging out on multiple different trips. Never been stung and they usually head off after about 20 seconds or so. Also if you plan to use the fast pitch option... it does work, but it may take a little bit of practice to get used to. There are some Velcro loops on the inside of the tent that go around the poles. It is much less stable and I haven't actually used it as a fast pitch aside from setting it up in my yard.



Final words. Can't go wrong with this tent. Probably wouldn't get the two man version because it only has one door. But the one man version is a great investment!
Amazing tent!
Familiarity:

I've used it once or twice and have initial impressions
This is my first one man tent. I am about 6'1" and i had plenty of room. One of the pulsars great features is that both the foot of the tent and the head of the tent extend out ward making the tent feel bigger.
7 days on the A.T.
Familiarity:

I've put it through the wringer
I recently bought this tent and took it with me for a 7 day hike from Harpers Ferry to Thorntons Gap VA on the A.T. This tent is amazing. It is easy and quick to set up and take down. I am about 6'1" and I had plenty of room. On a few nights that it rained, I got creative and slept with my head at the foot end of the tent and was able to bring my pack into the tent and put it at the opposite end and still had plenty of room. Never once was there a problem with condensation or leaks. I highly recommend this tent to anyone looking for a lightweight 1 person tent!
Are there any videos or instructions on...
Are there any videos or instructions on how to fast-pitch this tent - setting it up with just the footprint and rain-fly? I recently purchased the tent and footprint but don't see how it could be fast-pitched.
Best Answer
It's not quite the same Marmot tent, but check out this Youtube Video.

Start around the 2:00 mark. He's simply setting the tent up backwards, which is handy to do when it's raining, but it's essentially the same concept as the fast pitch.



http://www.youtube.com/watch?v=YmM8eY-wyck
I can't find any videos for you, and I don't know this particular tent, so I'll see if I can walk you through it on a somewhat generic level. It's actually easier than you might think. Kind of a reverse engineering type of deal.



Lay out your footprint. Assemble your poles, including clipping on the brow pole and the loose end of the ridge pole. Just like with the tent body, the footprint is going to have grommets and buckles. Put the pole ends into those footprint grommets. You should now have the basic structure. On the inside of the fly, you should see either nylon sleeves or grommets to receive the brow and loose end of the ridge pole. Slip those poles into those sleeves/grommets first (it's a drag to do it when the fly is tensioned). Make sure the fly strap connecting buckles are all loosened as much as they can be and then connect the fly-footprint buckles. Tighten them. Now stake the footprint/fly and vestibule and anchor any guy-lines you need to. You should now have a fast-pitched tent.




Thanks Lexi and Phil, all that is helpful, but the problem I'm finding with the Pulsar fly+footprint fast-pitch is that there are no grommets or sleeves inside the fly for receiving the ends of the horizontal roof pole or the end of the pole that sticks out to extend the foot-box on the normal tent-body. These are the pole ends with what Marmot calls "ball ends" which on the tent body connect to the "Ball Cap Connectors".



I am able to get the poles into the footprint corner grommets and hook the fly to the footprint corners, but with that horizontal roof cross-bar and the foot-extension pole having nothing on the fly to hook into, it seems a bit unstable and incomplete.



However, as an aside, the tent itself when pitched with the full tent body and fly seems like a great design and very stable. I look forward to testing it out in the wild.
That's occasionally the case. Don't get too hung up on it. The ball ends should serve to keep the poles from puncturing the fly, and the brow and ridge poles will just follow the seams they correspond to when the tent is pitched normally. You might have to fudge them and the fly around a little to roughly align them, but they'll basically fall into place once you tension things up.




This is my first one person tent, and this tent is a dream. Super easy to set up, nice big vestibule. I hate shepard hooks, so I upgraded to mini groundhogs which are excellent. did gather quite a bit of condensation, but it was a humid, summer night. Nice and spacious inside. Love the cool little zipper opposite the main door for storing things under the small space covered by excess rainfly. Excellent, would recommend to a friends
I purchased both the Marmot Pulsar and North Face Mica FL1 because I couldn't decide without actually looking at them. The Mica is clearly lighter and packs smaller, but I liked everything else about the Pulsar. The Marmot tent is much larger, as big as 1 backpacker would want or need.



What I liked most was the extra cross pole at the foot end of the tent. The Mica doesn't have this, so it looked like you need to run guy lines and stake the tent in order to get the full footprint. With the Pulsar, unless you legitimately have weather to worry about, once the poles are in you can forget about anything else... just crawl in and go to bed.



I'm not a purist ultra light backpacker, so I overlooked the extra weight. Anyone worried about those extra ounces probably won't look beyond the specs. I shipped back the Mica and will be taking the Pulsar with me on the PCT.
I'm looking for an ultralight backpacking...
I'm looking for an ultralight backpacking tent and ran across the Pulsar. In the specs there are two weights listed: package wt (3.6#) and trail wt (2.15#). Why/what makes them different? Does one include the footprint weight?
The packed weight includes everything you need to setup and carry the tent. The trail weight does not include the stuff sac, stakes, footprint, etc. It only includes the tent, poles and fly.
Best Answer
Exactly, I agree with Matt. I always use the packed weight, because of course I am bringing stakes and a footprint. I could drop the stuff sacks for the stakes and poles. Each person is different, but with where I go to backpack in the mountains, there is no way I am going by the trail weight. Those stakes and footprint save both my butt and my tent from the wrath the mountains throw at you. So, bottom line, I would go by the packed weight based on what a normal person brings to set up a tent. If you will be going minimalist and dropping stuff sacks and zipper pulls, then the trail weight might be better. Even then, I would sort of average it between the packed and trail.