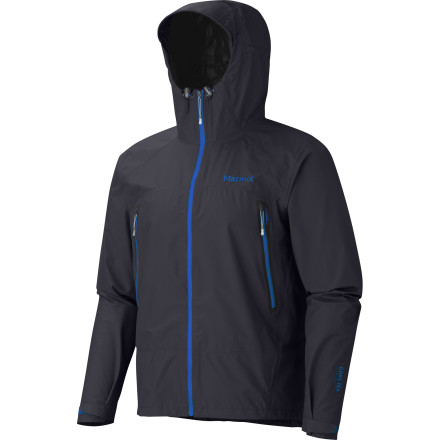 Community Images
A half-pound and a bit of space in your pack is a small price to pay to remain dry during your summer hikes, backpacking adventures, and trips to the Northwest. Gore-Tex guarantees that the waterproof breathable Paclite membrane in the Marmot Nano Jacket keeps you dry in the worst conditions; since it only weights eight ounces, you won't hesitate to pack it for hikes or trips of any length.
Nylon ripstop shell stands up to bushwhacking abuse and keeps down the weight while the fully taped seams and Gore-Tex Paclite membrane keep out all moisture
Adjustable hood, hem, and asymmetrical hook-and-loop cuffs further seal out the monsoon rains
Laminated hood brim doesn't flop around in the wind
Front pockets hold necessities and are easily accessible while wearing a pack or harness
Water-resistant zippers reduce vulnerabilities to near zero for ultimate protection
Laser-drilled pocket backing increases breathability during muggy summer hikes
Angel-Wing movement and lower back hem ensure coverage no matter how you stretch and contort your body in the backcountry
I am 5'9" 186# and I am usually in-between...
I am 5'9" 186# and I am usually in-between sizes (med-lrg) and have to size up on trim and athletic cut garments for regular wear. I plan to wear my down jacket (Montbell Ex light) under it for extra in camp warmth. What size would you recommend?



FWIW I wear a size Lrg in all Montbell clothing and it fit's perfectly. Not too snug and not too loose, just right.



I wish others that do reviews would mention their height/size/weight and what size garment they are using, would be very helpful to those like me whom are always struggling to get the right fit.
For your height and weight I think the large would be perfect for you and even if you plan on layering underneath. Also if it doesn't work out we have one of the best return policies out there!
Jared Lee O Davis,



While this is true that BC.com has a fantastic return policy, they unfortunately do not have this jacket in stock in a large. Only an X-Lrg, hence my question regarding size. Thanks for the help though.
Great Jacket! Could be a little longer
Familiarity:

I've put it through the wringer
Ive taken the Marmot Nano Jacket on many backpacking and climbing trips. So far i couldn't be happier. The goretex material is very lightweight but also pretty sturdy. So far its survived bushwacking and some scrambling on slabby rout climbs. Arm movement isnt as restricted as my old Marmot Precip so thats a plus. Overall this jacket has been wonderful, i just wish it was an inch or so longer. The medium fits my arms and shoulders absolutely perfectly but the length could be just a tad longer. Would buy this jacket again though!
I wear a large comfortably, will the...
I wear a large comfortably, will the "athletic fit" work over a down jacket or will I need to go up to an XL?
Best Answer
Hey Turbodog,



"Athletic fit" runs tighter, so if your down is heavy, and to keep the loft, you probably want to go with XL.
Great jacket from Marmot! Great hood design. Very lightweight, great for backpacking trips.
Amazing lightweight shell
This rain jacket is AWESOME! Bottom line is you wear this, you stay dry. , Thanks to it?s Gore-Tex Paclite shell, it is completely impermeable to water, but it breathes so well. I was blown away by this jacket. It?s a super light shell, so if you need to stay warm you?ll have to layer (it fits fine over any softshell or down jacket), but can rest assured that everything beneath it will stay bone-dry. The nano also serves as a decent wind shirt, keeping you pretty well protected from the wind without suffocating you. To add to this layers greatness, it packs up into a ball smaller than a softball, so it?s hardly takes up any room in your pack.
The zipper broke on my jacket and I've...
The zipper broke on my jacket and I've lost it. What's the main zipper's size? I need to buy a replacement. Thanks for any help!
I suggest that you contact Marmot's customer service and explain the issue. I bet that they will make the repair for you or send you an entirely new jacket because it sounds like a product defect.
How does the sizing/ cut of this jacket...
How does the sizing/ cut of this jacket compare to the Marmot ROM? I love the fit of that jacket.
The fit should be fairly close to the ROM, they are both cut on Marmot athletic fit block, meaning they have a bit more of a body conforming fit for athletic uses.


does this jacket have pit zips?
does this jacket have pit zips?
No. It's a minimalist piece so it won't have some of the bells and whistles, but the pockets can be opened as vents in a pinch.
Nice hard shell, very light, durable, breathes fairly well
I'll preface this review with my cut and paste statement that I work as a backcountry backpacking guide in Yosemite National Park. Nearly all of the products I take the time to review have seen at least a half a season, if not more, of use... and I'm committed to not bothering to write a review until I feel like I've really gotten to know a product. I never thought I'd bother to write reviews, but I've recently decided that since I've spent so much time over these last many years reading reviews, and finding a tremendous amount of value in articulate and well-informed opinions, that I wanted to give back to the community. So, with that being said, here we go...

I've put quite a few miles on my Nano, spent several days backpacking all day in the rain while wearing it. Its very durable, and despite seeing many days of use with a pack on over it, and aside from spending loads of time getting to know granite far too intimately... it still looks brand new.

Since its Paclite (meaning it has no inner liner adhered to the carbon backing) it can get a little clammy after several hours of exertion while wearing it. Venting through the pockets is effective, and does help a bit, but the biggest downside with the older version were the elastic wristbands. Apparently Marmot caught on and swapped to a velcro fastened band, which should make a big difference. The elastic wristbands lead to a lot of leakage and wet arms, and therefore more moisture inside the body of the jacket.

Its also quite windproof, though not entirely, and makes a great shell for a bit of warmth and a respite from the wind, particularly in the morning when you finally warm up in the sun and can wad it up and throw it in your pack. It packs down very small, and is very, very light... but don't let that fool you. Its a tough shell. Now if I can just get Marmot to swamp out this old one for one with the new velcro wristbands. Seeing that they've addressed that issue... its likely worth a five star rating.
Does anyone know what the "updates" to the...
Does anyone know what the "updates" to the Nano entail over last season's model? It states that it has been updated on Marmots website.
Best Answer
The backing material in the pockets now has it's holes drilled by lasers. Not really anthing important. Not a reason to buy a new one if you've already got it, but something that makes a nice jacket a fraction of a percent better.
I spoke to Marmot directly and the rep said only "update" was colors. Everything else remained unchanged.
Looks like they added Velcro fastened wristbands. Read my above review for the old elastic ones being the only real downside to the older version. With that change made its likely a top notch shell.