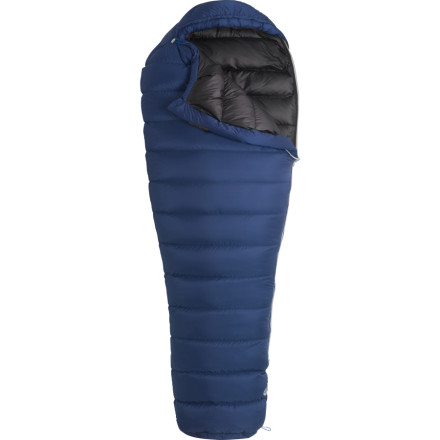 Community Images
Pro alpinist Fabrizio Zangrilli uses the ultralight Marmot Helium MemBrain 15-Degree Sleeping Bag to stay warm and dry at the top of the world, so odds are that this down sleeping bag will work for you, too. Marmot's waterproof breathable MemBrain construction repels snow and water while expelling perspiration so you can take full advantage of the toasty down insulation without worrying about it clumping and leaving you high and wet.
EN comfort rated at 25.5 degrees F for cozy three-season use; lower limit rated at 14 degrees F for occasional use during winter outings
MemBrain 2L waterproof fabric helps shelter the down insulation from external condensation, snow, and water
MemBrain 2L fabric is also highly breathable so evaporating sweat won't condense inside the bag and cause the down insulation to clump
Lightweight 850-fill goose down insulation offers a superior warmth-to-weight ratio and rebounds well after repeated compressions
Nautilus 6-baffle hood with down-filled collar and drawcord guards your face in drafty tents
Stretch tricot baffles extend the life and maintain the shape of the bag and improve warmth retention
Face Muff allows hood to be cinched without irritating your face
Large trapezoidal footbox decreases constriction at the bottom of the bag
Nylon stuff sack and cloth storage bag included
Share your thoughts
What do you think of the
Marmot
Helium MemBrain Sleeping Bag: 15 Degree Down
? Share a...
The Best Bag I Ever Used
Familiarity:

I've put it through the wringer
I took This bag for 1 year of backpacking all over South America, and this bag perform beyond me expectation.
Even in the far south, at the end of south america, when everything around and on top of my tent was frozen and coverd with snow, I was cozy and worm inside the bag.
I was never too cold, and the weather was never a problem for me.
It's super light, so you don't really feel it in your backpack, and it can be compressed to a very small pack.
This bag passed my test BIG TIME!!!
You'll love it!
Awesome Bag
Familiarity:

I've put it through the wringer
Used this bag Elk Hunting at 12,000ft on some cold nights...below 15 degrees. I was warm in shorts and t-shirt. Loft is awesome, and packs small. Also used it on warmer nights, and just slept with the zip halfway down. No complaints at all. Great product.
No complaints.
Familiarity:

I've put it through the wringer
When a sleeping bag is giving you no complaints, you know it's doing its job. I've used the bag in a tent for circa 25 nights, of which 5 snowed and 5 rained. Although the bag was not directly exposed to the elements, it was exposed to plenty of condensation and moisture. Compared to my husband's non-membrain, non-Marmot, ripstop covered bag that was exposed to the same conditions, the Membrain's water repellency performed stunningly! I'm a cold sleeper, and down to freezing temps, including a night in the snow at 15,000 ft, I had no problems. I've yet to test it in 15F degree temps and anticipate that for a woman, I'd need to layer more clothing inside the bag. Also, the outer shell dries really fast, faster than rip-stop.
it will save your life....
Familiarity:

I've put it through the wringer
.... like when its really cold and you decide to go out on a winter splitboard trip and then a blizzard rolls in a day and half early, and your tents getting blow apart and you think your gonna die cuz theres 70+ mph gust of wind and youre rocking your 3 season tent...... but you'll stay warm damn it!
I see many reviews that say this bag is...
I see many reviews that say this bag is great for colder temperatures, but how does it transition into warmer weather?
Best Answer
Hi Megan,

I'm able to use my 15 degree bag throughout the whole year. I adjust the heat by unzipping it when it's warmer out. In the middle of the summer, if I'm going to be in a pretty hot area, I'll take an older much less warm bag.
Best bag on market
Familiarity:

I've used it once or twice and have initial impressions
I love this bag, I used my friends during a backpacknig trip. I like to sleep in a hammock when I camp. It gets pretty chilly in the Wasatch so having a bag that keeps you as warm as this is perfect. I've slept in this bag in sub 20 degree weather and I was toasty with only underlayers on. Compresses great and super light to carry around. Highly recommend this bag.
It Actually Keeps Me Warm!
Familiarity:

I've used it several times
I tend to freeze at night no matter how many layers I am wearing. I got this bag and I had to unzip it to keep from sweating! It compresses really well too. I absolutely love it.
light and warm
Familiarity:

I've used it several times
Just got back from an elk hunt in Colorado. We spiked camp back in a few miles. The bag was lighter than my buddies and I was toasty warm all night in just my skivvies. He on the other hand had his insulated under clothes, regular clothes, and coat on and was still cold. I even zipped my bag down a little as it was only in lower 20's. Best sleeping bag I've ever owned.
True 15F
Familiarity:

I've used it several times
I've used it in many occasions, from sand, rain, glacier and it never let me down. The waterproofness has its limit, do not expect it to survive being soaked in water, it kind of sheds the water, but it can get wet. Its a true 15F bag.
Warm and cozy in below freezing temps on Shasta. Good construction and light weight.
Hello. I want to purchase this bag but...
Hello. I want to purchase this bag but can't decide on length. I am 5'11.5" and will use this bag for 3 season use. Regular or long?!?!?!?! Thanks.
I agree with Arthur. I am between 71-72", 160lbs, and I use the regular size in Marmot sleeping bags. I am comfortable with the amount of space it provides. No need for the extra 6" like Arthur said.
I am 5'10 and use this in a regular and find it quite roomy. I don't think you will need the extra 6" of the long.
i agree that regular is the right size. if you got the long, you would have an extra 6.5 inches of bag you would need to warm and it would decrease the performance of the bag.
Favorite bag I've ever owned.
Marmot has a terrific product here, I usually go to Marmot for all of my down products, and this was no exception. It's extremely light weight, compresses down into the stuff sack very easily, and could be compressed more if you wanted to buy a compression sack for it. Has definitely kept me warm in 0-10 degree situations with minimal or no layers on. I haven't had to test the waterproofing of the MemBrain technology as I keep my down products extremely dry all costs, but I have faith in it. I have had some heavy dew on mornings when I've slept out of a tent, and there was no issue with the bag.

I really have nothing negative to say about this bag, and will continue to use Marmot almost exclusively for my down products.
Is this bag available in right zip? My...
Is this bag available in right zip? My girlfriend has this bag in a left zip and I want to be able to zip them together. If so when will you have them in stock or is this a custom order type deal?
This is not true. I have talked with live chat and over the phone. Backcountry does not place custom orders for a right zip, unfortunately.
Does the membrane version of this bag have...
Does the membrane version of this bag have an internal dew point? I have a similar mountain hardwear bag, that I feel damp and clammy in.
Best Answer
There is no rating for dew...keep you sleeping bag open after the trek for dry it. if it to mach dew on the trek you need a synthetic sleeping bag that can take better dew
Incredibly small and light for its rating. Had it out in 20 degrees and was hot wearing thermals. The bag has seen some water, it shed it with no problems to date. Fits well around me without feeling claustrophobic, I'm 5'9, 140. This bag is amazing for cold weather but be prepared to get a warmer bag for summer.
i have a hard time believing that this bag...
i have a hard time believing that this bag packs down to 7x7"
if it does i would buy it, but 7x7 and 7x15 is a huge difference.
are you sure its not a typo? it is misleading and should be taken care of if so.
I have not checked this one out but down bags can pack very small. My Lafuma bag that is the same temp fits in a stuff sack that I can squeeze down to a smaller size than 7x7 so if anything I would guess it takes up less space than 7x7inches.
I am trying to decide between this bag &...
I am trying to decide between this bag & the new RAB Neutrino 400 or 600 bags (I have just purchased, but not yet used, a RAB Neutrino Endurance downie & it looks excellent). The Marmot by dimension seems to be a lot roomier, a comment some have made regarding this bag; not sure if I think this is a good thing as it equates to more air flow, particularly with no draft collar & probably meaning a colder bag? The RAB's seem to be a lot slimmer cut (truer mummy shape) & hence are probably more efficient? Can someone comment on this please? Also, how would people rate the outer fabrics of the 2 bags, the Membrain sounds like it is near waterproof yet the RAB's Pertex Endurance is pretty close to waterproof. As there are no reviews on these RAB bags yet any commenst / descriptions would be very useful in helping me decide. Thanks :-)
This "Marmot" is not slim for it to b hot in a coold days...I'll take th"Rab"
For the majority of situations this bag works perfectly. The fill makes it comfortable in all but the coldest winter weather and the shell sheds condensation like no other bag in its class. It's not fully waterproof and that is a good thing because fully waterproof bags are much heavier and when the only water you are trying to shed is condensation it works perfectly. I used to have the non EQ helium and the shell was much thinner and condensation would ruin the loft on long treks. The EQ version fixes both of these problems and is all around a more sturdy feeling bag. Definitely worth the extra cash over the original.