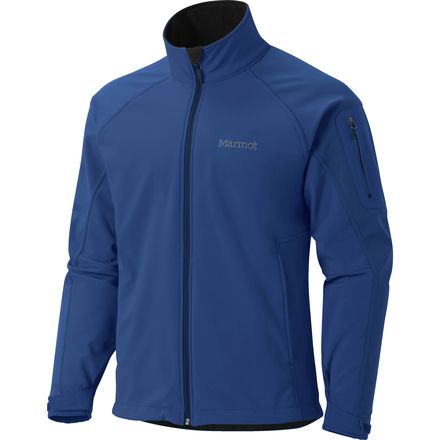 Detail Images

Community Images
Description
Newton would love the Marmot Gravity Jacket, if he were a backcountry skier.
Whether you fight gravity on a climb or harness it while you ski a couloir, the Marmot Men's Gravity Jacket aids in you in your Newtonian science experiments. At just over a pound, this lightweight softshell jacket won't be pulling down on you at all. Wind-resistant, water-resistant, four-way stretch Marmot M1 softshell material provides unrestricted coverage and allows you to climb with ease even though the laws of physics are against you.
Great jacket, strange fit.
Familiarity:

I've used it once or twice and have initial impressions

Fit:

True to size
Just received my jacket, it's wonderful! Fit is very snug and close to the body, narrowest part is at the waist line and ribs area, sleeves and arm pits are space full. It is extremely wind resistant, went with a T-shirt underneath at low 50s and I was very warm.
One strange thing, even though size is perfect, the jacket seems to be a bit short, reaching my upper hip line instead on mid hip line, like most jackets do.
I truly recommend this jacket.
Unanswered Question
I am 6'2" 175 athletic build and hover between L and XL, depending on the brand. I am looking at this for a spring/warm day ski shell and may add a medium layer under it on some days. Will a L allow me to layer and will an XL be too roomy?
I am 5'10", 157lbs, also I just got the Marmot Leadville jacket in a size medium. Will the Gravity medium also work - is it the same fit?
Hey Axel,



The Leadville is an athletic fit and the Gravity is a regular fit. I think you can still get a medium but know that the Gravity will fit more relaxed than the Leadville and is a heavier jacket.
I have to disagree with this. I've tried on the Leadville, ROM, and Gravity and have to say that the Gravity was the tightest for me. I am 5'8" about 180 athletic and was able to wear a medium for both the ROM and Leadville. The Gravity was very tight in the chest area. The large fit much better.
I am 5/8 approx 180lbs. 34 waist,
Just wondering what size to get....
I would recommend going with a Large in the Marmot Gravity Softshell. The Medium will most likely be too low volume for you. Plus, we have a great exchange policy at Backcountry and will cover shipping both ways if you need to switch sizes.



Contact me with any questions about Marmot Jackets:

klivingston@backcountry.com

801-736-4337
Agreed, I am very close to your stats and the Large fit way better. The medium was way too snug in the chest. I am usually a Medium in Marmot with the expectation that I don't plan on layering a ton under the garment. The Gravity was too tight with even just a t-shirt underneath.
I'm 6'2 170bs, and a skinny-athletic body. a XL it's ok for me??
I would recommend the Large in the Marmot Gravity Softshell. I am 6'1" 185 lbs. and I wear a Large in all Marmot Jackets. The XL will most likely be too roomy if you are a lean-athletic build. Plus, we have a great exchange policy at Backcountry and will cover shipping both ways if you need to switch sizes.



Contact me with any questions about Marmot Jackets:

klivingston@backcountry.com

801-736-4337
I'm 5'10" 160ish and wear a M in most jackets(Marmot, Mammut, Arcteryx). I plan to wear this in transitional weather for walking the dog, etc. with a base layer or a light fleece. Think M will do it? thanks
Yep, Medium should be great for your needs.
Cut So Strange
Familiarity:

I returned this product before using it

Fit:

Runs small
I bought this jacket with the intention of using it for general wear but also to layer it under my snowboarding shell. I found that the jacket was 1) not really that breathable and 2) didnt really stretch all that much. It honestly didnt feel so great so I returned it and bought a Patagonia Adze Softshell (which i highly recommend, btw).
Marmot Gravity Softshell
Gender:

Male

Familiarity:

I've put it through the wringer

Fit:

True to size
I love this Jacket. I am from Wisconsin and this jacket stand up to the cold and the wind better that anything I have had. I used to be a giant Mountain Hardwear fan and this is my first Marmot piece, and I would definatley buy again.
What is the center back length of a medium?
Nice fitting Jacket
Gender:

Male

Familiarity:

I've used it once or twice and have initial impressions

Fit:

True to size
Was looking for an Arc'teryx Venta AR for casual wear and for cold weather running/walking. As I WAS a big guy in July, (6'2", 249 lbs. and now 43 lbs. lighter) I could previously never wear Arc'teryx products. So I ordered an XXL and it was huge. So I returned it. I then spoke with a gear head and we were looking at possible alternatives. After much discussion, he recommended the Marmot Gravity soft-shell jacket. My initial impressions are the jacket feels trim but not tight (I had been used to bulky, large fitting clothes) It fits perfectly, including perfect sleeve length, which had always been and issue for me; always too long. Just had it a couple of days and have worn it only in 50 degree mild weather (with a tech tee under and a medium weight base layer) I'm not sure the jacket will be the thing for cold weather running as I think it might be too heavy and a bit warm. But around town for a casual jacket, it's perfect. Thanks to the "gear head" for his recommendation. It was spot on. I'll be back for a lighter true running jacket soon.
Am looking at this to wear over my Stoic down sweater. 5'10" 160. Will medium work or do I need to go to a large? Trying to avoid too big a fit, but don't want to feel like a sausage with a base layer under it.
Hey Rhody,

For wearing over a down layer, I would probably hop up to the size Large just to ensure that you don't get that sausage feel and you still have full range of movement. Feel free to shoot me an email at kweiser@backcountry.com if you would like for me to get you set up with an order and offer a free return if it's not the fit you'd like
My new favorite jacket!
Familiarity:

I've used it several times

Fit:

True to size
I recently bought this jacket, previously had a North Face Bionic that was getting a little beat up & dirty (had a white/gray one). Was looking for a comparable jacket that was preferably not North Face since absolutely everyone at my college has them. I always liked the looks of Marmot jackets so decided to try this Gravity, got the light/dark gray color. I'm 5'11" & 160 & went with a large size since I don't like my jackets too tight & having the options to layer under it. I think it's fit is almost perfect, sleeves a tad long but my only complaint. Looks extremely sleek & understated. Love the way it looks & fits.



Jacket is pretty warm for a non insulated softshell. Warmer then my Apex Bionic but that may be due to the fact that it's a little tighter fit & the sleeve style is not as baggy as the bionic & sleeve length is a little on the long side protecting my arms/hands, esp in driving winds. Performs great in winds, even cold very strong winds & Marmot has the best DWR I've ever seen if you experience brief downpours. I am completely satisfied going with the Marmot Gravity as my everyday light jacket. In the few weeks I've had it, it stands up to all kinds of weather conditions in Denver (Colorado has huge fluctuations in weather day to day). Initial impressions of build quality is fantastic. My only regret is they no longer sell the Super Gravity (hooded version) of this jacket. It does have a chest pocket like the Bionic but it is internal & has a sleeve pocket at well.



If your in the market for a non insulated softshell I'd suggest giving this jacket a chance. Great build quality, beautiful styling & warm/very wind resistant for its class. I love my Gravity, wish I would of bought one sooner.


Steer Clear of this product
Familiarity:

I've used it several times

Fit:

Runs small
I bought this jacket to go skiing with for the warmer days. I took it with me on one trip (just some light skiing - nothing strenuous) and after about a week, the zipper kept catching towards the sternum and the ONLY way I could get it off was to yank down on said zipper. The zipper teeth had receded back into the threading and now I am unable to zip the jack up passed the chest. I have purchased Marmot products before and have never had a problem until this jacket. I won't be purchasing Marmot apparel again.
Looking for an exact replacement (material,...
Looking for an exact replacement (material, warmth and chest pocket) of my North Face Apex Bionic, but in Marmot. Would that be the Altitude?? Tks!
Andrew, see my review. I tried an Apex Bionic and loved it except it was too short on my frame. Replaced with a Spyder softshell (loved that coat but apparently they don't make it anymore) six years ago, replaced that with this Gravity (note you posted this on the Gravity page, I can't speak to the Altitude) a month ago. Liking the Gravity a lot, it's a real performer. Has wind protection that my Spyder didn't. Chest pocket is on inside but it's big enough for my iPhone 4S and probably a 5. Sleeve pocket is also very cool.
FIT: I purchased a size S, as I am 5'6" with an athletic build. Jackets and shirts usually fit snugly around the shoulders and chest, while looking like a balloon around my mid-section. The Gravity fit better than most, when worn by itself, and I was thrilled that I found a shell that worked for me. Then the weather got a little colder and I layered it over a medium weight fleece jacket, and the proverbial honeymoon was over. The jacket fits tightly around the chest, pinching at the armpits if I move around much, such as throwing a snowball. I would say the fit is for average builds if layering, athletic builds if not.



PERFORMANCE: The jacket worked as advertised on a windy and rainy day. Not a heavy downpour, but the jacket repelled the steady rain and I did not feel any wind whatsoever. It performed nearly as good as my hardshell. I would rate the performance 5 stars out of 5.



QUALITY: The jacket has held up fairly well, except that a small line of stitching along the zipper line has already come undone a stitch or two. I've only worn the jacket for light outdoor activity, daily for about a month, so this bothers me. The rest of the jacket is holding up well, but it's the only piece of gear that I've owned that has had any kind of stitching issue in the first month of use. I give the jacket 3 stars out of 5 for quality.



VALUE: If the jacket holds up quality-wise, I think it's a great value. Having looked at options from Arc, TNF, Patagonia, Mtn Hardware, etc., I didn't find many softshells in the same price range with the same features (water resistant, windproof).
I ski mainly in the East. Could I wear...
I ski mainly in the East. Could I wear this with a thin baselayer then my Cloudveil RPK3 hardshell?I am 6'1" 180 lbs, would a M fit?



thanks
Sure, you totally could. Might not be the warmest combo out there though, and as an east coast skier I know how cold it can be at the top of the loaf on some days. I would personally suggest a mid weight fleece, something like the Patagonia R2, or maybe a synthetic piece like the Patagonia Nano Puff. (If you don't want pattaguchi, pretty much every company has comparable pieces, just look around)



Seeing as you are wearing a hardshell on top of everything, there really isn't much need for the soft-shell (and it won't give you a heck of a lot of warmth), unless you are planning to be taking the hardshell off and just having the soft-shell on for hiking/skinning.
Nice!
Familiarity:

I've put it through the wringer

Fit:

True to size
Nice snug fit, way warmer than you would think it would be due to the windproof and waterproof shell. A bit tight around the arms makes it difficult to layer.
Gravity is a Key Piece of Gear
Familiarity:

I've put it through the wringer

Fit:

True to size
The Marmot Gravity is the most amazing jacket I have ever owned. It is the backcountry skier's equivalent of anti tank rocket armor. The Gravity says to Old Man Winter: "Catch me if you can." I've worn it with but a t-shirt underneath and been sweating from wheeling through the beginning of a snow storm. You can wear this impervious armor anywhere in the winter and you won't be disappointed. Ain't nothin' gettin' inside this thing. Period.
6 years?
Familiarity:

I've put it through the wringer

Fit:

True to size
I was trying to think about how long i've had this jacket, and i think its been 6 years! This softshell is pretty kick a**. I've worn it in the rain, and although not water proof, it held it off for quite a while. Worn it kayaking,and had tons of freedom of movement. Worn it skiing and stayed comfortable. I have it in black and even wear it on a classy night out. Sweet, durable, multi-use jacket. Well done Marmot, well done.