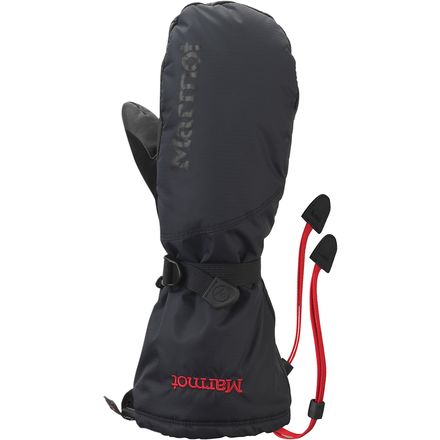 Description
Huddle your fingers together for extra warmth.
Developed for high-altitude pursuits and expeditions into the bitter cold, the Marmot Expedition Mitt employs waterproof breathable MemBrain fabric and PrimaLoft One insulation to create a cozy, on-route sleeping bag for your digits.
Marmot Membrain fabric features a proprietary waterproof breathable PU laminate to maximize waterproofing, breathability, and durability
PrimaLoft One insulation features ultra-fine synthetic fibers to trap warmth, provide water resistance, and survive repeated compressions
DriClime Bi-Component lining wicks moisture away from your skin so your digits stay comfortable
Reinforced palm stands up to abuse
Wrist strap and gauntlet drawcord cinch down to help keep snow out and warmth in
Safety leash included for extra security during transitions
Nose wipe dispenses rogue snot particles with the precision of a rooftop sniper and the sultry smoothness of a cabaret dancer's inner thigh
I have an older version of these mitts that have finger holes on the inside. I love them. Just wondering if the new version still have finger holes or are they completely open on the inside?
The are a standard mitt on the inside, meaning no separate sleeves for your fingers,
Just Adequate
Familiarity:

I've put it through the wringer

Fit:

True to size
I bought these gloves to replace another pair of Marmot gloves I lost after finishing a long hiking trip. The reviews said these gloves were moderately warm, and I would agree with that, or perhaps even below expectations. The glove is thinner than I expected and the shell is not as wind proof as my old one. It's a well functioning glove, your hands won't get wet, even in the slushiest of snows, and your hands definitely won't freeze. But they aren't as cozy as I wanted them to be.

If you're looking for unsurpassed coziness I would say pass on this one. If you're looking for something that will function well in near freezing temperatures then this should suffice. But I think I'm going to have to upgrade to something more serious.
Safety mitts
Familiarity:

I've put it through the wringer

Fit:

Runs large
I bring these mittens on every winter hike and back country trip I take. Though comically large they are sure to protect even the ninniest paw from plummeting temperatures. I usually wear liners during strenuous hiking and pop these on if I stop or the temps start to drop to the single digits. I wish they came in a smaller size as I have very small hands and they look like hot pot mittens on me? The plus is that they are big enough to wear bulky liners with for hiking well into the negative temps, and if my boyfriend's hands start to get too cold he can put them on too to warm up.
Bought mitts. But they are missing the rubbery tab at the end of the wrist strap! Pulling strap with mitts on is tough without the tab! Compare my photo with the main photo for the mitts.



I bought these same mitts several years ago. I loved them so much I wanted to replace them with the same mitts after some stitching broke and the insulation felt less lofty.



I received the Marmot mitts on 3/19. Since they were missing the tab at the end of the wrist straps, I returned them for an even exchange. I just received the replacement. But the replacement has the same problem!



Was I just unlucky and got two defective pairs of mitts?

Or is Marmot making the mitts without the rubbery tab now?
I would bet that Marmot stopped using rubber on the tip of that strap. We probably have wrong picture. Ill get our inventory checked out tomorrow. After that I will contact you directly with a solution.



You can call or email me directly. 801-736-6398, or bporreca@backcountry.com
Bill Porreca responded: "Just found out today. They do not come with rubber tips like they used to." Hopefully someone will fix the product photo soon.
Great glove
Gender:

Male

Familiarity:

I've put it through the wringer

Fit:

True to size
I have had this glove for almost 2 complete winters now, and I am very impressed with them. I ride my bike to school every day in Anchorage AK, with weather regularly around 0, and once in a while dipping to -20. In the 2 mile ride, my hands have never been too cold, I wish I could say the same for my face :P Granted everybody is going to have a different temperature tolerance. My hands run a bit colder than most, so I imagine that if I was not exerting myself physically while outside wearing these and just standing around in -20 degrees Fahrenheit I might need to put in some had warmers or wear another layer.

These gloves are very durable. One of the vinyl letters has peeled off, but this is only cosmetic, other than this the gloves look virtually brand new. For the price, I could not ask for better glove.
Bought these mittens to help me stay warm while I ski at frigid Sugarloaf, Maine. They're extremely warm. My fingers still get cold, with silk liners. But they keep me warmer than my Canada Goose down mittens. I highly rec these for anyone who always have cold hands!
Minnesota approved
Familiarity:

I've used it several times

Fit:

Runs large
I live in Minnesota and after last years polar vortex I was looking for a pair of very warm gloves that would be able to keep my hands warm in temperatures well below zero and these gloves do just that. They have the Primaloft insulation which is very, very, very warm. As soon as you put your hands in these gloves you can feel the warmth and I wore these the other day when it was 20 degrees and my hands started to get too hot. The inside of the gloves are very soft and the long cuffs can go over the sleeve of a jacket. There are cords by the wrist and at the end of the glove that can be tightened to keep the cold and snow out. As far as sizing going I would recommend ordering a size down, according to Marmot's size chart I should have been a medium but they were a little to big and the smalls fit a lot better so they do run a little large in my option. The reason why I gave these gloves four stars was because the first pair that I ordered had a small rip in the stitching where the top layer of the gloves meets the palm in the right glove where the index finger would be so make sure to look at the stitching before you take the tags off. Upon seeing this I called Backcountry and they gave me a free return label and sent me a new pair right away and this pair that I have now has been great. Overall it they are the warmest gloves that I have never owned and for the price they will keep your hands warm in even the coldest temperatures.
I'm looking for a good pair of warm mittens that will keep my hands warm here is Winnipeg, Manitoba Canada when the temperature can drop down to -40 Celsius. I'm also a petite woman...would these mitts work for me?
Best Answer
My experience with Primaloft one is that it's a great insulator without being super bulky. That being said, the expedition mitt may be too bulky if that's what you're worried about as you mentioned being petite. Check out the Marmot Warmest Mitten with a women's specific fit (Search for MAR0957).
Warm dudes
Familiarity:

I've put it through the wringer
These kept my fingers toasty on Rainier when the temp dropped near the summit and the medium wt gloves weren't cutting it. Great mitts!
Warm
Familiarity:

I've put it through the wringer
These gloves Rock!! The warmest pair of mitts I have ever purchased, though difficult to grasp objects but will certainly keep your fingers toasty. I used these gloves all last season for snowboarding and they shown little signs of ware!
Impressed !
Familiarity:

I've put it through the wringer

Fit:

True to size
As an avid nature photographer in Colorado I'd been looking for some time for a solution to keeping my hands warm for pre-dawn and post dusk snowshoeing at altitude in low single digit temperatures as well as warming my hands up quickly after operating the camera with only thin line gloves. Only mittens will fit the bill for these kind of temperatures and my previous REI brand ones weren't cutting it. I did a comparison in an REI store before buying from Backcountry and tried these alongside the pricier Outdoor Research Alti's and North Face Himalayan as well as several other pairs and although obviously not a temperature test these felt the nicest and had a reassuring feeling of warmth that I didn't get from all of the others. For mittens I prefer an all in one construction rather than removable liners and these seemed to best fit the bill. After 2 winters using them I am very happy with my choice (especially at the price I was able to get at Backcountry). They keep my hands warm better than any other solution I have tried over the years for extremely cold snowshoeing and, with the fleece lining, they feel great when putting extremely cold hands into them after periods of operating the camera.
Big and Warm
Familiarity:

I gave it as a gift but have feedback to share

Fit:

True to size
These are some toasty Mittens! If you have cold hands all the time and/or have problems getting snow inside of your gloves these are your solution. The mitts extend a good ways up past your wrist to keep out snow and wind.



Like I said they are big gloves- which makes skiing in these things nearly impossible as it is hard to get a good grip. Great for snowboarding though especially if you are looking to keep your hands toasty!
Warm
Familiarity:

I've used it several times

Fit:

True to size
I also have Reynauld's and bought these out of desperation after suffering cold hands with a variety of other gloves, and they do a great job of keeping me warm. I've skiied with them about 18 days in conditions ranging from -20 to 30 and have yet to get too cold or even slightly wet. Dexterity is non-existent, they're comically large, and the thumb hole is positioned strangely, but absolutely worth it.
Solid Choice
Gender:

Male

Familiarity:

I've used it several times

Fit:

Runs large
Background:

Used for ~ one month, in temps from 0-40? F. Overall, mildly happy with the product, wish they were warmer straight away, w/out extra consideration (see cons, below). Note, I have Raynaud's phenomenon/disease, which renders the hands and fingers extremely cold. Also, I haven't used these mitts thus far during more extensive activity. These feel slightly big, based on the sizing-chart. Perhaps they'd hold more warmth in a size smaller?



Pros:

-Drawstrings critical for when inevitably the mitts come off for dexterity (not much with mitts on) so that mitts don't fall into powder, off the lift, etc.

-Strap on back side of mitt and pull cord do well to keep heat in when synched/pulled down.

-Have held up thus far when used to clear thorn bushes out of the way; no signs of wear yet.



Cons:

-Walking/hiking in temps at ~0? (moderate activity) fingers have gotten very cold. Have addressed this by using additional glove liners, constantly wiggled fingers and/or balling all five fingers together in large part of mitt.
Does anyone know how many grams of PrimaLoft...
Does anyone know how many grams of PrimaLoft One Marmot uses in these mitts?
I am sorry, but I cannot seem to find, on Marmot's website nor anyone else's for that matter, an actual number pertaining to weight in grams of PrimaLoft One that are built into the gloves.

I hope someone else comes along to assist who might actually be able to trawl the answer from the Interwebs.
I have some of these Mitts from 2001, when they used 2 layers of PL One 4 oz./sq. yd on the palm, and 3 layers on the back. That was then.



I just ordered a new pair of Exp. Mitts, as my 2001 pair have been compressed in the palm for most of the years I've had them, rendering them for use only with thick liners and no colder than about 20F. A con of Primaloft is holding it's loft under long term compresion.



That said, these new ones, by my educated guess, are using no more than the 200g back and and a little less in the front. It's nowhere as thick as the previous version.



The sizing is smallish, about the same as it was in 2001. I can wear a powerstretch liner in an XL and that's it. My originals were undersized too, considering the "Expedition" tiltle where you'd assume they could handle a heavy glove inside for use in real cold. I thought they'd change that but they did not.



I imagine true professionals likley have their mitts made for them custom, and what is sold to the public is a "consumer" version.




How do you clean these mittens
How do you clean these mittens
Supplanted directly from http://marmot.com/products/details/expedition-mitt :



Handwear Care:

Hand wash only

Hang to dry

Do not bleach

Do not iron

Do not dry clean

Do not tumble dry



As far as what sort of soap you should use to wash them with, I would avoid anything with detergents, no matter how diluted. If I had to guess, I would imagine that the instructions are located on a tag within the mitt, but a good rule of thumb is to use a very weak soap that won't strip the beneficial properties that are designed to help the glove perform. With regard to what sort / brand of soap to use specifically, I would email or call Marmot and see if they have any suggestions as to a certain brand that specializes in a glove soap.
SERIOUS warmth
Familiarity:

I've put it through the wringer

Fit:

Runs large
I needed gloves that would guarantee my hands would stay warm on the slopes, or out and about in the mountains (I get cold hands way to easily). These gloves are no joke. If its prime warmth you are after, these will deliver.



Things to note: My dexterity in these gloves is terrible, they are pretty huge, and they are very fluffy, making it difficult to do anything that requires precision use of your fingers. I find its nice to actually get my hands out of the gloves though, so they can cool off, knowing full and well that these gloves will return my fingers back to warmth.



And thats another thing, your hands will get very warm in these suckers. You'll want to get your hands out to cool off every now and then for sure.



I am a HUGE fan. Not sure if they are meant for skiing or snowboarding, butI dont honestly care either. They do a fantastic job.
So warm!
Gender:

Male

Familiarity:

I've put it through the wringer
Took these mitts to the arctic circle with no prior experience on how good they were. Temps down to -43F wind chill and hands never ever got cold.
How would these hold up for skiing?
How would these hold up for skiing?
I would not recommend these for skiing. You hands are sure to overheat and these mitts are a bit bulky for the poles. Unless you are skiing in the arctic. :)
Best Answer
I use them skiing in cold weather and, let me tell you- they are great! Sometimes my hands do overheat, but then I just take the mittens off. The best thing about the mittens being so warm when you're skiing is that you can take them off on the lift and not have to worry that your hands will be permanently frozen by the time you get them back in the mittens. Even in bitterly cold conditions I can take them off on the lift and fuss with zippers or check my phone without concern. No one else I ski with has that option :-) .



I have a pair of gloves that I prefer in warmer weather. I'm a huge proponent of versatile gear; however, I think that in those terms, the extra ticks of mercury you get with these warm mittens buys you more versatility than any one mitten solution would do.


will they work for 7000+ (Lenin Peak/Khan...
will they work for 7000+ (Lenin Peak/Khan Tengri)? Thanks
you certainly could depending on weather and what activities you're doing, though they wouldn't be your best option. marmot has the 8000m mitt designed specifically for high altitude pursuits.



http://www.backcountry.com/marmot-8000-meter-mitten?ti=U2VhcmNoIFJlc3VsdHM6ODAwMCBtZXRlcjoxOjE6ODAwMCBtZXRlcg