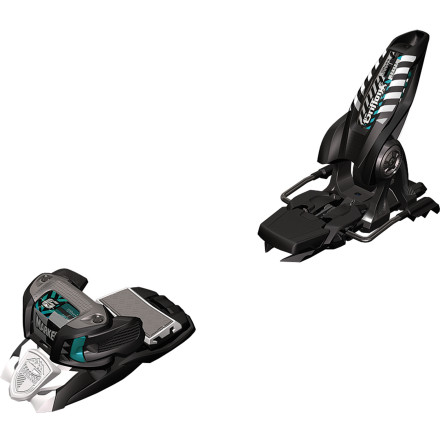 Description
Not all freeskiers are big and hulking.
With just as much fatty-wielding power as the beefiest Marker bindings, the Griffon Ski Binding provides a secure hold and hard-charging performance with a lower DIN range for lighter-weight skiers. It's got re-sculpted Triple Pivot Elite toe and Inter-Pivot heel to match the Duke and Jester for freeskiing burliness, and it weighs less than both of those hard-hitters. An integral part of the Royal Family, the Griffon holds a high rank for designated alpine rippers.

DIN 4-13
Triple Pivot Elite toe
Inter-Pivot heel
AFD stainless steel gliding plate
Share your thoughts
What do you think of the
Marker
Griffon Ski Binding
? Share a...
Will these work on Lange XT130 boots?
Hey Alex,

The Marker Griffons will work great with the Lange XT130 Ski Boots. What skis are you looking to mount them on? Keep in mind the Griffons are designed for lighter weight skiers but are a solid all-mountain binding.

Feel free to shoot me any more questions about these or other ski bindings:

Kyle
Expert Gearhead
klivingston@backcountry.com
801-736-4337
I just purchased the Blizzard Black Pearls in a 166cm length. The waist on these is 88mm. I'm wondering if I put Marker Griffon's on these, would I go with the 90mm brake or the 110mm?
Good bindings
Familiarity:

I've put it through the wringer
They do what any good binding does: keep your skis attached to your feet at all the right times.
'Nuff said.
Unanswered Question
Would the 110mm break drag on low angle turns with a 98mm underfoot ski?
I just bought the 2013/14 Volkl Mantra with a 98cm underfoot measurement. Will the 90cm work, or is the 110cm my only option?
Best Answer
I would say the 110mm is your only option. Bending a brake 8mm is too far.
Looking to put these on 98 underfoot. Seems as if I'm going too big with the 110 and too small with the 90. Are there any 100 brakes I can put on these, or will the 110s be okay? Not sure if I can bend the 90s out that far.

Unfortunately marker does not make 100mm brakes for these bindings. I would recommend going with the 110s. I have 138underfoot skis, and i had to purchase the 136 brakes as that is the largest marker makes, and i bent them out and they are barely long enough to actually do their job... so i think trying to bend them 8mm is too far. I think you would be fine with the 110s.
Thanks, Brandon. I decided to go with what I really wanted, the FKS with a 95 brake. Should be nice.
Will these work with Scarpa Maestrale Boots?
These will not work with Maestrale because the are not Multi-Norm Certified. Look at something like the Salomon Warden MNC.
Would the 90mm brakes fit on an armada alpha x 182cm? the waist is 95mm
Unanswered Question
Would these bindings be a good option for the Blizzard Brahma (180 cm)? I'm 5'10" and 175 lbs. Open to other binding suggestions too. Thanks!
Will the 90mm brake width fit the Kendo's with an 89mm waist or should I size up?
Unanswered Question
Any comments on how well Griffons would work on 188cm Soul 7 skis?
will these bindings fit Scarpa Freedom SL Boots?
Yes, but only if you have the Mountain Piste (Alpine) soles! The Griffon will NOT work with AT soles - it is ONLY compatible with alpine DIN soles! That boot has interchangeable soles for this exact reason.
Will these bindings fit my Scarpa Skadi AT boots and will they safely and reliably release? I need a binding for my resort days, hoping not to buy new boots AND new bindings.
No they will not. This binding will ONLY work with Alpine DIN soles.
Is there any length adjustment room in the regular Griffons similar to the Shizo version? That is, can it be still adjusted to 1 or 2 sizes smaller/larger boot once screwed to a ski?
Yeah, that feature is similar for most bindings (with a few exceptions). You will be able to accommodate minor variations in sole lengths without having to remount the binding.
Basically the Schizo ALSO allows you to use two separate mounting positions but only drilling one set of holes.
What would be the ideal size of these bindings for a pair of Armada AR7 skis? (Length 166)
I am assuming 90mm is a proper brake width but I just want to make sure with you guys!
P. S. : Should I go for the Marker Squire bindings if I want lighter bindings? I heard they are more for female skiers and break easily.
Yes the 90mm brake would be perfect for that ski. The Squire has a different heel piece and a lower DIN range. Commonly used by women because of the lower DIN range - also used by lighter weight, less aggressive skiers. It is a little lighter weight, but I would not say it is more prone to damage. If you fall within that lower DIN range or are a less aggressive skier, the Squire could be a great option for you!
Go to all mountain binding.
Familiarity:

I've put it through the wringer
This has become my go binding for all of my skis. The price point is right, they are lightweight, and with a DIN range up to 13, the Griffon has you covered in all but the most extreme situations. I am full time on Vail Mountain so I am in these everyday and have to say they do what they are designed to do and have a good look to them. I have Griffon's mounted on 3 sets of skis: K2 Rictor 90Xti, Annex 98, and Annex 118. They are light underfoot which makes the skis feel quick in tighter situations and helps with fatigue. Coming from a Duke there is a world of an increase in performance (especially in soft snow) as they allow the skis to flex and don't have the additional height of the Duke. I have yet to pre-release and run these on an 11 @ 6'1" 220lbs. I continue to be happy with the product and will buy more in the future.
I have a general question regarding brake width and waist size. I just bought skis that have a 70mm waist, can I get away with a binding that has 90mm brakes or should I look for something smaller? I've read you shouldn't go 15mm larger than your ski waist but I don't see many 70-80mm bindings for sale. I just don't want them dragging on a sharp turn. Any help would be appreciated.
Rebecca S,
If possible I would recommend trying to find brakes that are no wider than 10mm over the waist of your skis. Too wide of brakes will cause the brakes to snag when you are really railing a turn. With skis getting wider and wider in the waist bindings have been getting wider brakes to accommodate this. However most binding companies will still make brakes to fit your skis, you may have to find them at a local ski shop or directly from the binding manufacturer.
Hi, I'm looking to buy some 4FRNT Gauchos (186cm). Is this binding well suited for this ski? If so, what size bindings do I need?

Yeah, this binding would be great! You would want the 110mm brake to clear the waist of that ski.
These bindings came with a pair of skis that I purchased last year after demoing them for a day. While skiing on a shallow groomed trail the other day, I completely wiped out when one of my skis suddenly popped off. After inspecting the binding I noticed that the boot housing on the heel piece of the binding had totally shattered and the heel piece was stuck in a vertical position. (the techs I brought it too had never seen anything like this) I was luckily able to get the piece replaced for free and I haven't had an issue in the past six days of skiing with it. However after looking at the description of this binding I am a little concerned that something like this may happen again and if it does while I'm charging hard on a steep trail I am going to be in trouble. I consider myself a type 3 skier and at 6'1 and 225lbs I probably gave these binding more than they can handle do to my size. Do any of the gearheads on here recommend that I get rid of these binding and upgrade to a beefier set? I don't want to have my bindings shatter while I am doing 50+ mph.
Whoa! I have never heard that either. Did you buy a used demo ski? If so, was it the demo version of the binding? Or was it a completely new setup that you bought after trying out the demo? Trying to get a clear idea of what that looked like... Was it the actual heel piece that shattered? Or the brake? I would not say it is uncommon for the heel piece to be stuck in the up position after it ejects - a lot of times you will have to stomp that down... Still concerning though.
Crazy! I definitely would not expect that to happen twice, especially if the heel piece was replaced. If it was just the brake, I wouldn't say that is a common problem either, but it is much less concerning.
If you want something beefier, you could go with the Jester! Or I would try out the Rossignol FKS or Look Pivot! Those bindings are bomber. Shoot me an email if you have any questions/comments!
LFeasler@backcountry.com


Good Binding. Good company
Familiarity:

I've put it through the wringer
Had Marker bindings on my last few pairs of skis. I had the spring loaded toe pad crack on me once and move off its tracks and also crashed very hard and broke the heel piece off just below the pivot point. I had absolutely no problem getting a warranty replacement and have otherwise loved these bindings. The amount of weight saved by getting plastic bindings as opposed to metal ones is significant and if your not wiping out all the time then you will not have to worry about breaking these. Perhaps a serious park rider might want something a bit beefier. My warranty pair have been perfect! I would also recommend greasing the sliding toe pad every few months or at the start of each season. Maybe thats why i ended up cracking mine. Ive heard of the this piece freezing and not moving for people in some conditions but it has always worked great for me.