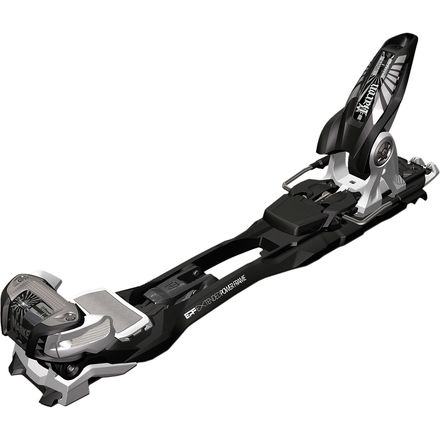 Colors
Description
When you gotta get up to get down.
Combine the reliability and power of a 13-DIN alpine binding with the free-heel freedom of an AT binding, and you have the Marker Baron 13 EPF Ski Binding. Built on Marker's Extended Power Frame, the Baron sits on a wide chassis, giving it the ability to drive wide, big mountain boards with authority. To keep them manageable on the ascent, the Barons feature Marker's Hollow Tech frame, which is a gas-injected hollow construction that is light, powerful, and dependable whether you're spinning laps in the resort, or accessing big backcountry lines. The Backcountry Technology allows the binding to be converted from ski to walk mode with the quick flick of a switch, while a three-position climbing aid lets you adjust the heel lifter between three positions to get the right angle for the slope you're climbing.

4-13 DIN
Power Width Design
Hollow Tech frame
Gliding AFD plate
Inter Pivot Heel
Extended Power Frame
Backcountry Technology walk mode
Three-position climbing aid
Will these bindings fit womens dynafit One-U TF boots??

Hi Ann,

These will not work with those boots due to the smaller heel lug that Dynafit uses on some of their boots.

Ben
What is the difference between the old barons and these new EPF versions?

Cheers!
Hi James,

The EPF bindings have a wider mounting pattern for better control on wider skis.

Ben
Hi. I have a pair of Rossignol Alltrack Pro 100 Ski Boots and was wondering if these bindings will work with them?
Hey Andrew,

Those boots will work superbly with this bindings!

Ben
How will these be for a daily Patrol ski binding with some back country use. I run a 10 din setting 6'1" and 200#. I have a Duke on my Seth Pro Annex, but want something lighter for my daily driver.
Hey Shortie D,



The Marker Barons would be a great choice as your daily driver and will come in about a half pound lighter than the Dukes. I use the Baron in-bounds a lot and I am about the same size as you (6'1" 185 lbs) and have had never had an issue with them. Feel free to shoot me any additional questions directly.



Kyle

Expert Gearhead

klivingston@backcountry.com

801-736-4337
Will these fit the alpine sole of my Black Diamond Factor 110s? Will I need the compatibility kit?
Nathan These will work with the alpine sole of the BD factor. The gliding AFD will need to be adjusted for the proper toe height.
I have a few ? 1. whats the difference between the marker baron and duke? just din setting? Can I use alpine boots with both? I have liberty helix ski 105 under foot and sole size of boot 310. Im thinking small with 110 brakes?
Just the DIN setting which correlates into an overall more durable/ heavy binding. If you ski a DIN of 10 on the Baron you are flexing that spring much more than you would be on the Duke that goes all the way up to 16. I usually ski the Duke at an 11 which is why I went with that over the Baron, if I was a 10 DIN I would have went with the Baron. Your BSL puts you in a sweet spot, you can get either large or small, whatever your preference. Maybe the Large would be more easily re-sold in a few years if you want to move them? Just a thought.
My ski width is 107, and AT boot 25.5, so what size AT Binding would I need? Brake 110....right? Should it be S110 or L110?
Hey Becky,



You need a size Small if you are going with the Marker Barons and brake size 110 mm would be ideal. You could go with a 105 mm brake in another binding and bend it slightly to fit your skis as well.



Feel free to contact me directly with any more questions about ski bindings or if you are interested in setting up an order.



Kyle

Expert Gearhead

klivingston@backcountry.com

801-736-4337