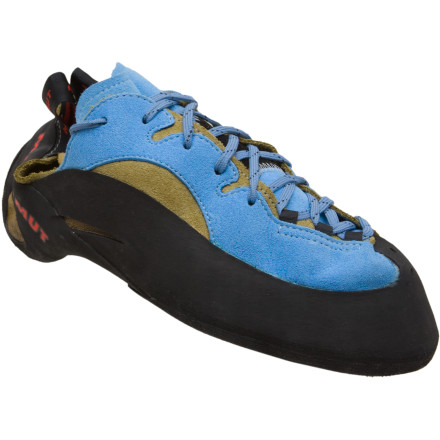 Detail Images

Community Images
Earn the title of Rock Warrior with the Mammut Samurai Climbing Shoe. A dynamic upper composed of suede and synthetic leather takes a beating while keeping your feet breathing during your tussles with gravity. A super-grippy Vibram XSV may as well have fingers of its own: fingers coated in super-glue.
Mammut Testarossa's
Familiarity:

I've put it through the wringer
Heh, These are almost identical copies of the La Sportiva Testarossa's. I am willing to bet production stopped for that reason alone. . but who knows.



I have climbed incredibly overhanging sport and boulders with these and they have edged and gripped like a dream and gotten me through the v5's and 5.12's I needed them to.



I have size 9.5 feet and I got these in 7.5's and they were almost impossible to climb with in the beginning. Now they've molded and stretched to my exact foot shape while maintaining that high downturned toebox. And I love them!



Unfortunately, both toes, where the sole meets the rand, have an ever so slight peel. This has been since the first month of climbing and hasn't peeled further or affected the shoes precision in any noticable way. I would say I watch my footwork too, but even so I think the size stretching is the real culprit here.
Favorite Shoe...best replacement
These are the best shoes I've climbed in, that includes other heavy-hitter such as La Sportiva Solutions, Muira VS and Evolv Shamans. I don't know if the rubber is just stickier than La Sportiva's or the Samurai is just designed better, but my feet seem to hold better to the wall and I am way more confident using small foot holds. This is true of edges, smears and toe work. The Shamans had decent rubber but pinched the hell out of my toes, even after sizing up from my street size. Basically couldn't get a good fit between toe box and heel. For sizing I went with my street shoe (Mens 10) and it was tight at first but stretched perfectly.



I'm assuming this shoe is discontinued, which bums me out. Does anyone else love this shoe and know of a good replacement? I was considering La Sportiva's Testarossas
Amazing shoe, very unique look and great fit. The toe box is fairly narrow which is good for me and my long narrow feet. The heel is very snug, with zero dead space. The rubber on these shoes is excellent and very sticky. Although I have had these shoes for several months now and the edge is starting to peel away (it doesn't affect the performance of the shoe though). These shoes will stick to just about any tiny foot chip you can find at the crag. Also the downturn seems to be quite permanent. My shoes are still as curved as the day i got them. These shoes do stretch out a quite a bit due to the leather build of the shoe, so keep that in mind while sizing. I went down a size and a half from my street shoe and they work beautifully! I hope this helped you out!
I've got a foot that is 9.5 inches in length:

I sized these down to 7.0 originally and I could get my foot in, just barely and with extreme effort. I have a semi wide foot and the laces barely closed the tongue to the upper material for me. The fit was super tight in the toes, but loose everywhere else except the widest point of my foot and my heel.

I then sized up to 7.5 and they are still a struggle to get on but the extra upper material and additional width to the shoe and toebox actually gives me a much more secure fit and it now feels like an amazingly secure rubber sock that turns my foot into a weapon of overhung-destruction.

Multiple people have said these size about a 1/2 size small from the listed US sizes and I'd say that is completly accurate. They will stretch and conform to your foot as well, so take that into consideration.

If you've worn the Evolv Shamans or the Sportiva Testarossas, these have a similar "love bump" in the toebox to give you maximum downturn and fit. Though I've never personally sized the Testarossas.
Winter Gym Climbing Sanity Check
Climbing in my buddies garage during a low snow ski season trying to keep from going crazy until it snows more! The Mammut Samurai is ok, it has a very weird fit and makes your foot distort slightly. The shoes stretch a little so size accordingly. Also the tongue seems to always fold over making them very uncomfortable if you don't fix it before you start climbing. I give these shoes a MEH review.
Good shoe all around. Look exactly like the Testorossa but blue. Heel is a little loose for me, but stretching to fit better. Stretch about a half size. I got 9.5. Wear 10.5 in Evolv Predators.