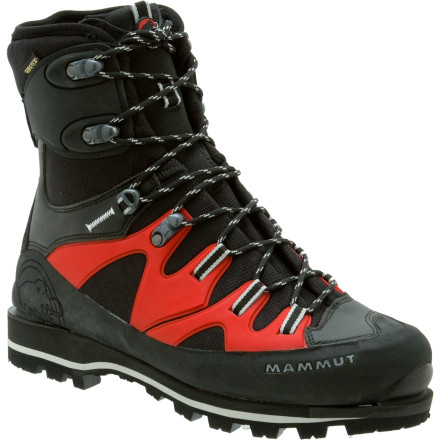 Detail Images

Videos

Community Images
For light-and-fast alpine pushes, the Mammut Men's Mamook GTX Boot gives you the lightweight protection you need to push through difficult technical terrain. A Gore-Tex waterproof breathable membrane seals out snow and water, while the crampon-compatible Vibram sole tackles slabby approaches as easily as vertical ice. A carbon-fiber shank gives you a rigid support platform without weighing you down, and Mammut's Internal Motion Control locks your foot in place.
yeah, they're boots.
Gender:

Male

Familiarity:

I've used it several times
i've held off on this review till I had a few days of both vert ice and mountaineering in them. For which they have served fairly well. It's funny though reading the reviews I am even more convinced that this boot's real short coming is that it's so short (low topped) .

The issue with both the rubbing around the ankle and the slipping heels

(both problems i regret to report) is because there is not enough support holding the boot to the foot. An another 1& 1/2 or 2 inches of ankle on this boot,would solve both of these complaints.

i don't go logging in low top boots and I don't try to ski in sneakers. further, higher tops would allow for lighter materials to be used more extensively, a win win. why then, are these boots so low cut?
These boots were comfortable right out of the box. I wear a 10.5 street shoe, thats the size I ordered in the Mamook and they fit great. They perform well on steep waterfall ice and were comfortable on the longer approaches as well. The only issue I had: We ran into some issues on a really nasty day (below 0 F and blizzarding), I ended up standing around for a couple hours too long and my feet got pretty cold. This probably could have been avoided by changing my socks, wearing liners, or having toe warmers in. Overall I would recommend these boots to anyone. Great boot and a great value!
Mammut Mamook GTX Boot - Men's
I just bought a good, used pair of these...
I just bought a good, used pair of these and would like to condition them with nikwax (or something similar)... any suggestions?
Nikwax leather conditioner would work fine, just be sure that you use the brush-on items and nothing that sprays as you want to keep it away from the leather. Given newer boot construction techniques,you really don't need to apply anything to these in order to set out. What you should do is be sure to log a couple hundred miles of walking so that you don't encounter surprises in an environment where the consequences are higher. Overall, feel free to condition the leather on the boot, but keep it limited to that section, and then go walk a lot before you hit the big mountains.
Another Great Mammut Product
This is my second season in the Mamooks, so I feel that I can qualify my comments. Overall, really good boot for what they are intended for and the price point. I have also used Kayland Apex AT, Millet Radikal (more of a dry tooling boot) and La Sportiva Trango Xtrm GTX. So I have been around a bit!
The Mamooks fit is a bit on the narrow side and good for low to mid volume feet (such as mine). The heel is more narrow than the toe box, but not an issue for me. Underfoot, the Vibram sole is solid but...really narrow? It's NOT a rockered boot, initially it felt..unstable. But literally after a few minutes that sensation evaporated. What was left, however, was a very comfortable mountaineering boot intended for moderate alpine adventures. Great to crampon in, fairly warm (summitted Cotopaxi and Cyambe in them, as well as Eastern Sierra 14'ers), and pretty good in scree and talas. I have used them a couple time as backpacking boots--not what they are intended for but they actually were not all that bad, especially under heavy load. Downhill breaking was really good. I have not had issue with the front rubbing issue that someone else had. Another thing I thought was really interesting that adds to the comfort; take out the footbed and push down on the heel cup. It's soft! Not like many other boots that are hard as the blue groove mountain biking trail next to my house (Old Camp, for those in Southern Cal). I just thought that was really cool feature.
I am in the market for another boot for pushing past the 6000 M mark in colder climates, but these will be in the rotation for a while to come. Still in great shape despite a lot of tough use. I am looking at the Nordwand or Scarpa Phantoms for my next purchase...but if the Nordwand is anything like the Mamooks in terms of quality and comfort, I can't go wrong with them.
great boots but rubbing my shins - any advice?
I got these to replace a pair of Scarpa Mont Blancs, which were killing my heels, so that's my basis for comparison. Just had my first trip in these - 9 miles, 11 hours, 5000 ft elevation gain, off-trail, mostly class 2/3 granite, some firm snow, 25 pound pack, no crampons. Temperatures were 15-25 F. My usual shoe size is 11-11.5 and the boots are 13; worn with polypro liners and thick wool socks. For the most part, I like these a lot better than Scarpas. First the good news and then a problem and request for advice.

Walking:
The Mamooks feel much closer to a regular backpacking boot - lighter, more precise, more agile, more comfortable. You can walk on trail or rock for a long time without feeling like you are walking in a cast. The ankle has enough flexibility so you can walk with a normal gait if you don't lace them tight. The rockered sole and lower weight help as well. I had some heel lift but not too bad. The larger size of the boots means that the heels went up and down a bit but without grinding against the back of the boot so no blisters or even hot spots. I'd much rather walk in lightweight hikers of course, but Mamooks are not nearly as clunky or as painful as the Mont Blancs.

Climbing:
One of the things I hated the most about the Mont Blancs is how unwieldy they were on rock. Too bulky to edge, too stiff to smear, to wide to fit in cracks, and the sole too slippery on top of this. Mamooks are the opposite - stickier sole and more flexible ankle makes for better smearing, they edge with a lot more precision, and the narrower toes fit much better into cracks. The sole is sticky enough to walk up 45-50 degree granite slaps and still feeling solid; this would be out of the question with the Mont Blancs. I felt much better climbing in these.

Size and shape:
I have wide feet, which is why I got Scarpas before. I don't know how Mammut managed this, but the Mamook toebox is narrow on the outside but wide on the inside. I don't get any pressure from the sides, and at the same time the front of my toes never touch the boot even if I kick a wall several times in a row. This is really great for downhill hiking and scrambling and for kicking steps in hard snow. Should be great for front-pointing on ice, too, but I have not tried that yet. I was glad I got size 13 (I normally wear 11.11.5; my Mont Blancs were 12.5 and too tight). This gives me enough room in the toes and less pressure on the heels.

Now the problem. On this relatively short trip, the folds of the tongue gusset were rubbing both of my feet on both the inside and the outside of my anklebone. Lacing them tighter or looser did not help - that fold happens to be in exactly the wrong place. Despite the very thick wool sock and the liner, all four spots got rubbed just short of blisters - still painful to touch several days later. On a longer trip, this would be bad.

Has anyone experienced similar problem with these or other boots? Any advice? I need to find a solution for this or I'll be looking for a yet another pair of boots...

So 3 stars because of this problem, but otherwise really nice boots. I'll revise the rating if I can fix the ankle issue.
Hi, perhaps someone can answer this: I am...
Hi, perhaps someone can answer this:
I am hesitating between the Mamook GTX (the red one) and the Mamook Termo (blue, with integrated mini-gaiter).
My questions:
1. If I understand Mammut's web page correctly, the Termo has no GoreTex. Does this mean it is less waterproof? (perhaps in the idea that it's meant to be used in higher terrain)
2. Does the thinner insulation make the GTX version more precise for technical climbing?
I realize these questions are a bit abstract (who has tested both in the real world???) but am asking with hope. I must make a decision soon and buy...
Thank you (and sorry for crossposting - I asked the same question under "Thermo")
1. no GTX kess waterproof. but still snow-proof
2. The thinner insulation make the boot for mpre summer and less winter
Would these boots be too stiff for noncrampon...
Would these boots be too stiff for noncrampon hiking and mountaineering?
Yeah, probably... They might be good for heavy weight backpacking and serious off trail bush whacking, but ultimately they were not designed for that since they have a stiff shank, extra high top, etc... Though I would say this boot does fall into the soft category of mountaineering boots...
Hi all, I just returned my Nepal EVO. I...
Hi all,
I just returned my Nepal EVO. I tried two sizes of them, they are either too short or too wide and I had heel lift when using front point on steep ice. I have a hard time looking for a real narrow boots.
Compare to Nepal, is Mamook narrower at heel or forefoot or both? I saw people said Thermo is narrower, but consider they have more insulation, fit might be different, I guess?
Btw, how do they compare to Trango extrem. I was going to try this one until I found the Mamook.
Thank you for your answer.
Best,
George
Best Answer
The nepals with the adjustable tongue and lace locks are hard to beat - I probably would have tried a different foot bed to get a better fit as they are the standard. Also try experimenting with few different sock combo's - care not to go too tight, like a climbing shoe, as you need a little but of dead air space to stay warm.

I have only tried these on experiencing the same as to what you describe - they felt a little more narrow than the nepals.
Hi, Ive got a pair of these that i have...
Hi,

Ive got a pair of these that i have been using for scottish winters and alpine peaks up to 4000m.
What sort of altitude and temperatures do you think that these boots will be good in.
Will they be ok for 5000m or even 6000m or do you think i need to 'invest' in a pair of Mammut Malloy Expeditions?
Cheers,
Lou
That question is impossible to answer. You have to wear what you think will help you keep your toes on your feet. And generally, the tradeoff for toe safety is weight and clunkiness.
I've been looking at the Mammut Mamook GTX...
I've been looking at the Mammut Mamook GTX boots but just wanted to know how they fit (large, small)? I have a pair of Asolo 535 in 10. Would they be comparable in size?
My local outdoor shop didn't stock these but had another pair of mammut hiking boots. i tried these on and went with that size and they fit like a glove... or a boot...
Hola, epero que me puedas ayudar en espa?ol,...
Hola, epero que me puedas ayudar en español, quiero cambiar mis koflach viva soft, las cuales han rendido bien pero se me enfrian los pies rápidamente al ascender sobre los 5000 metros a -15 C. Estas botas Mammut Mamook GTX las veo livianas pero me dan la percepción de que no son muy calientes, las recomiendas para 20 horas de travesía en nieve?
Enrique,

Mi espanol no es excepcional, pero yo puedo ayudar...

Creo que estas botas son similares a "La Sportiva Nepal EVO GTX" botas. Los amo, y acuerdo con otros autores, estas botas son muy calientes, pero no sé si los son mas calientes que tus botas... pero creo que estas botas son suficientes a 5000 metros para 20 horas. Yo puedo con las mias. Backcountry.com tiene bueno servicio al cliente y, si tienes problemas, tu puedes los llamar.

Feliz caminos!
Will these kill my feet on a long approach?...
Will these kill my feet on a long approach?
Thanks in advance!
not at all, so long as they are broken in a bit. it also depends a bit on what you consider a "long approach". light weight mountaineering boots like these or the sportiva trango S evos are perfectly fine for 10-20 mile approaches no problem.
Will this be OK on Mt. Denali with a...
Will this be OK on Mt. Denali with a overboot? I am wondering whether I need to buy a better one.
Best Answer
Not to sound like a jerk, but it's Mt. McKinley, or just Denali. Good luck!
1. how do the vibram soles hold up over...
1. how do the vibram soles hold up over time?
2. do these provide good grip over wet rock/ice with the shallow lug soles?
3. what temperature are these boots rated down to?
4. will these boots work w/ Black Diamond Contact Strap Crampons?
5. how is hiking/backpacking in these for long approaches?
any info. or help would be much appreciated. mucho gracias!
I cannot answer all your questions, but here's what I do know:

Vibram soles should hold up very well. I have put many miles over rough, rocky terrain on a pair of boots that I own that use Vibram, and they are still in great shape.

This boot will work with any Black Diamond crampon. The sole has both a heel and toe bail to allow anything from a strap, to step-in.

This would provide very good support for backpacking, especially with a heavy pack due to the shank in the sole.

Sorry I couldn't address all your questions, but hopefully I was able to provide some insight.
Great boot (but not the lightest)
I just bought the Mamooks after trying several pair of various B3 boots for Scottish winter, summer alpine capable of being fit with fully rigid crampons.

Close runners in the end were the new Boreal Cerro Torre (replacing the Ice Master). These were a full 70 grams lighter per boot than the Mamooks. I had them both at home for about a week, and found that both were excellent.

What made me decide in favour of the Mamooks in the end were the way that you could really adjust the fit of the boot using their 3 zone lacing system - loosen up the front for the walk in, tighten them up for either front-pointing up a waterfall or for the long descent down steep, hard pack neve.

And even though they are heavier than the Boreal Cerro Torre, they are still more than a hundred grams lighter than my B2 boots...
Are the sizes in UK or US?
Are the sizes in UK or US?
, ☃bcs_badge_alumni_label☃
Sizes are listed in US sizing.
Are Mammut boots as wide as Scarpa?
Are Mammut boots as wide as Scarpa?
Best Answer
I was wondering this too. La Sportiva's have a narrow toe boz and the few scapa's I've tried on are aittle roomier. how do these compare to either brand? thanks
Write your answer here...
I am upgrading from Scarpa Manta to the Mamook GTX, and I have found that I needed one European size larger...maybe half a British Size. The Mamooks are a slightly narrower fit, especially in the toe box which I assume is to improve climbing feel.