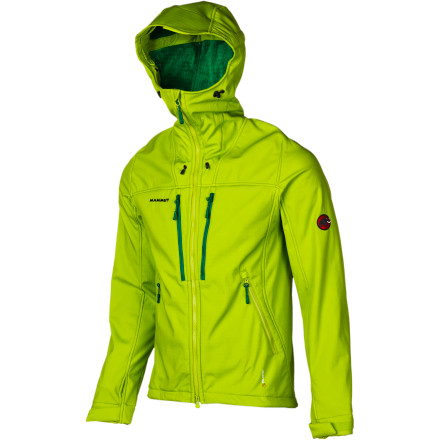 Detail Images
Whether you're swinging tools in Ouray or picking your way up a knife-edge ridge in the Tetons, the Mammut Men's Avers Softshell Jacket has you covered. The Polartec Power Shield Pro fabric shrugs off wet weather with a DWR finish, breathes for comfort during high-exertion activity, and has a soft fleecy backing for warmth and comfort. Plus, the zipped front pockets are positioned so you can access them while wearing a pack and harness.
Polartec Power Shield Pro soft shell fabric provides breathable and water resistant performance
Fleecy Highfloor backing is soft and provides additional warmth and comfort
Fully adjustable helmet-compatible hood protects in stormy weather
Adjustable cuffs and hem keep weather out and warmth in
Two zipped front pockets can be accessed while wearing a pack or harness
Two zip chest pockets keep essential items close at hand
suspect quality
Gender:

Male

Familiarity:

I've used it several times
i bought this jacket concurrently with the Rab Baltoro Guide jacket and compared both in size medium. the Baltoro is a much better jacket and i returned the Avers. the Avers is very tight and binding, the length is short and did not perform, the bottom runs up when i lift up my arms, the result of not having articulation in the elbow or underarms, the zipper snags at the bottom, no inside pockets, no wired peak. when zipped all the way up, the zipper comes inward at the throat area when i tilted my head down, creating a choking feeling. of most concern to me was the Powershield material on the Avers. the Powershield fleece inside the Baltoro is honeycomb, which makes it breathable and lighter. even though both jackets were Powershield, the Avers was solid fleece and was much heavier, which was very very hot, wet and muggy. overall, the Avers fell short on every level.
Does anyone understand the sizing? Why is...
Does anyone understand the sizing? Why is there two mediums/Large/XL?
Got it in medium and put it right back into the package. Are they kidding me? This thing is for a baby not a an adult. Horrible sizing with them. Qaulity seemed decent but comparing to an arcteryx product, this is just insane for the money. Will try a large though just to see what its really like when it fits.



I am 5"10 175lbs
Why does a non waterproof Polartec fleece...
Why does a non waterproof Polartec fleece lined softshell hoody cost almost $400? Am I missing something?


right. i thought about pulling the trigger on this. but for a little extra buck, you might as well go with Arctery'x, which is proven.
Mammut is a somewhat proven brand but their quality has definitely been slipping in my recent purchases of that brand. I just picked up my second Ultimate Advanced Jacket which is giving me lots of quality issues not expected on a $258 fleece jacket. So I doubt I will pay $358 for another Made in China Mammut Softshell that may not last beyond a single season of use. That said at least Arcteryx's higher end stuff is still made in Canada and I've had some Arcteryx fleeces and softshells lasting me years of hard use and still looking new.

I agree if you are spending above $400 for fleeces and jackets be sure to make sure the quality is there and the seller has Backcountry's awesome return policy.
Best Answer
Polartec Power Shield Pro is essentially waterproof. I think you'd compare this jacket directly to the Patagonia Northwall Jacket ($450, Powershield Pro + R2 lining) and Arc'Teryx Venta MX ($450, Gore Windstopper seam-taped + microfleece lining).



These are all shells blending traditional hardshell protection with softshell characteristics - stretch, better breathability, and warmth.
Cal-Hiker;

Thanks for clearing that up. So it is a waterproof softshell. However does the outer softshell layer repell water or does it soak on the softshell and keep it there? I mean waterproofed and dry on the inside is one thing, but wearing a wet cold soggy jacket that is now 5x the weight with water soaked thru it is not cool.

Asking because I recall in the late 1990s The North Face brand put out a line of pricey waterproof fleece jackets that consisted of a single layer of goretex membrane buried beneath spongy layers of nylon/polyester/cordura weavings. The result was the wearer was dry but could'nt do anything whiles wearing a wet soggy jacket that now has no breathability, wieghs a ton, and take days to dry on the trail. Needless to say that line was short lived, forgotten and buried deep in the history of failed and forgotten gear.
I haven't seen the Mammut jacket here, but I have used both the Venta MX and Northwall/Knifeblade. The first, and most obvious thing, to note here is the DWR technology has gotten much better since then, which gives a significantly better "first line of defense" than the jackets of old. I've found these jackets to work just as well as a hardshell in the conditions you specifically mentioned - eventually, the fabric does wet out, and this issue is compounded by the heavier weight of the jacket (thus more fabric to absorb more water).



What you mention, though, is what keeps me from taking even these high tech supershells on long alpine routes. They're absolutely ideal for one-day activities, or when you'll have an extended period of time to air them out, etc. but do struggle with day-in-day out abuse that hardshells live through for days (though, I'll admit, I think that's also due to a typical hardshell weighing less than half what these shells do). The fabrics are getting better--take the Arc'Teryx Gamma MX, which switched to a proprietary from Power Shield for this very reason--but they're not there yet, in my opinion.
I bought the new gamma mx (50%off) near my house. I mean its okay. Is it worth 350 retail? NO WAY. Fact is that it does not block wind at all and really has no water resistant properties. I could see how its awesome if you are really working hard. The thing is as soon as you stop, you just feel cold wind cutting through it. I just bought this jacket and will give it a try. My concern is the fit of mammut. I am a medium in Arcteryx and chose a medium here. The chest measurment seem odd.



Is polertic power shield pro water proof or water resistant? Noone has given real life examples of this.
Powershield Pro is, in real-world use, waterproof. It tests better than a lot of low end ($100ish) waterproof rain jackets, for what that's worth. Certainly snow proof - which is when you'll likely be using a fleece-lined softshell anyway. For more bomber protection, I recommend the Arc'Teryx Venta MX. This shell will breathe better than the Venta, but block significantly more wind than the Gamma MX.
This is by far the worst softshell jacket on the market. It has odd sizing and it offers nothing for the money. My arcteryx hyllus hoody smokes this thing in every way.