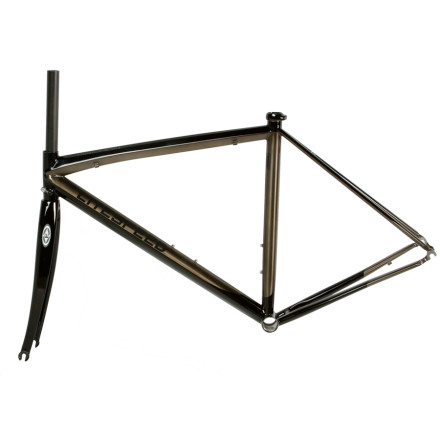 Detail Images

Community Images
Not much can be written about the Litespeed Archon Frameset that hasn't already been said by folks far more qualified than we are. It's simply one of the most advanced titanium road bike frames ever built. Don't believe us? Bicycling Magazine praised the Archon's ride as 'akin to…some high-end carbon bikes' and it won first place in the Road Bike category at Eurobike 2007. How 'bout them apples?
Frame and fork only
Fully wrapped, double-butted head tube provides lateral response notoriously lacking from previous ti designs
Wide, oval cross-sectioned seat stays deliver outstanding vertical compliance and lateral resistance for enhanced drive-train efficiency
Ovalized seat tube wraps bottom bracket for increased power transfer
Compatible with all 35mm front derailleurs
Includes derailleur clamp for a braze-on front derailleur
Hi, current ride is a Madone H2 fit 56...
Hi,

current ride is a Madone H2 fit 56 cm.

Looking at the Archon Ti, but concerned about the lower front position so considering a L rather than ML.

The differences between the two on the sizing chart are fairly small. Would it make that much of a difference?

I am just under 5 10 in height
Crikey, I see you never received a reply; I do hope you got your information... and bought an Archon. What an incredible frame! I'm 5'9", and ride a size M. For a 5'10"er, you could go with an M if you don't like too much top-tube reach. An ML would allow you more standard reach (and stem length). I think a large would be huge for you.
Great frame. Had a good carbon bike before, and used the parts to complete the Archon. It smoother over the road that the carbon, and more comfortable on century rides.
Looks great and is different from the Carbon heard.
I have been riding a Litespeed Vortex frame...
I have been riding a Litespeed Vortex frame for the past nine years with ultimate pleasure and satisfaction…I would like to know what new frame is comparable to the Vortex ?

Best regards,

Jaime
the vortex was indeed a great framset.but its also 9 years old.and alot has changed since then.and lightspeed has spent tons of time and money to improve the quaity and durability and overall performance of all the framsets they produce.i would certainly say that the archon is without a doubt comparable to the vortex that u rode in the past.im sure that once u mounted it u would notice subtle or even large diferences in the overall build quality,geometry.and performance.but without a dought this frame would not disapoint.another great choice would be xicon or the merlin xlm 25th aniversary edition they both alittle easier on the pocket book.but certainly would not disapoint.the archon is obviously the better of the three,and if u have the money i say go for it.u will soon forget about the ol vortex real quick because this frame is a thing of beuty and a true proformance mecheine.i would recomend carbon every were u could use it.Such as seat post,stem,bars,and a decent saddle.im sure youre fimiiar with the regidity of titanium,its not always the easiest on th body,all the carbon would help reduce and damper some of the road chatter and impact that youre body would nomaly be taking.to sum it all up.Do i think u will be disapointed with the archon after riding the vortex for 9 years the answer is a big NO!!just check the sizing and geometry charts for sizing to make sure you get the proper fit,because im sure they have changed some things in the past ten years an get the one closest to the geometry of youre old bike and ull be happy u upgraded im sure of it.hope this helps
I have acquired a friend's "crushed"...
I have acquired a friend's "crushed" Litespeed Avior 61cm/700C Bike. What are the best options for buying a replacement frame for that bike?
CD
well first thing is the size.is 60 cm the size that you ride as well?if not go to any lbs and get sized profesionaly to make sure you buy the proper sized bike for youre replacement.second i would say would be youre budget,becaue sometimes the option for th replacemenet isnt always the most affordable option for the replacement.third would be do u want to stay with titanium?Not saying ti is bad but it is pretty rigid and youre body does feel the effects of that,expecialy if youre a rider who does long hauls with not the smoothest terrain.If you are then maybe i would consider carbon.And u certainly can get a very fine carbon frame in the same price range as ti.Carbon is much easier on youre body expecialy if youre a rider who likes to put on the miles,but if u want to stay with ti and simply reuse the groupset and componants off the crushed frame,any product litespeed makes is good!there very reputable and produce some quility products.so even a framset on there lower end of the price scale is ggoing to be a good bike.but if you want one as close to the avior as u can get u could always try ebay to actualy get another avior.or google the geometry and specs of the avior and find a bike in there current llineup thats as close to it as u can get.if u are unable to do so any litespeed dealer would gladly help u do so.or at least they should..but first i would start with the size.go to a bike shop that sells litespeed and mess around with some current models even test ride a couple if they will let u.and get properly sized on an actual litespeed frame because thats far more imposrtant than looks,cost,comonants,anything realy.u need to be on a properly fitted bike to get its full potential on a ride and ur body will pay the price if u dont.if u know the size u need ans simply are looking for a litespeed u can buy and simply swap componants.do like i said and google the avior's geometry and all the componant sizes meaning clamp sizes, seatpost size,bb size im not sure if they would change that but check,and buy the one that u can simply do that with.just make sure u got the proper size,its an underated part of getting a new ride and the most important bye far if u need help ill gladly do so bradystoff@yahoo.com hope this helps o ya once u get sized for a litespeed and find what u need make sure u come back to realcyclist.com to make the final purchase 8)
Need a size chart? Here Ya go!
Here is a size chart for the Archon:

http://litespeed.com/bikes/current/archon.aspx
What cost shipping to the Netherlands? ...
What cost shipping to the Netherlands?


Regards
S.Hamerling, that is a super good question. Please click on the "live chat" button on the top right of this screen to get an answer to available shipping options. Live Chat should be available 24 hours a day.
I rode a M/L demo model of this bike with Dura-Ace and HED Ardennes wheels. I'm 5'10", with average legs and torso, and the 56cm top tube felt about perfect. Light weight and good stiffness made the bike a capable climber, and the steering was neutral enough that I could tuck in carve down a curvy decent intuitively. The ti took the edge off bumps nicely, but the overall stiffness of the frame was felt in the saddle by the end of a longish ride.

The details are as good as I'd expect for this level of frame. All the reviews describe the tube shapes, but I also noticed the great quality paint on the white frame. No cheap decals or stickers. The price is high, but a serious rider could enjoy the Archon for a long, long time.