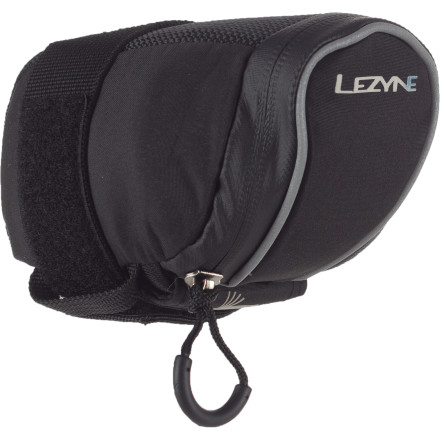 Community Images
What's the expression? Set it and forget it? Something like that. When was the last time you had a flat, only to realize that you hadn't brought a tube? Has it happened since the last time you heard some know-it-all say 'set it and forget it?' The Lezyne Micro Caddy Saddle Bag will keep your tire levers, CO2 shot, and tube in one place and it will hold them there, uncomplaining, until you need them. Now you'll never have to worry about whether you brought a spare.
The Micro Caddy has some cool stuff going on. The neoprene attachment band dampens vibration so you don't sound like a silverware vendor coming down the trail. Water-resistant zippers keep your goods safe and dry when faced with a sudden unexpected shower. Lezyne even hooked the Micro Caddy up with some reflective stripes to make you more visible if the ride goes longer than expected.
The Lezyne Micro Caddy has a capacity of 40 cubic inches (0.6L) and is available in Black or Black with white trim.
Zipper is beat
Familiarity:

I've used it once or twice and have initial impressions
broken zippers make this a poor choice.

I have gone to another brand after zippers failed to hold up .

Only opened it once to fill it...then i noticed a broken zipper shortly thereafter.

bummer...love all the pockets and thought that went into this bag.
good price but poor zipper
Familiarity:

I've put it through the wringer
I bought this about a year ago for $10. I liked the compact size and how it stays nice and tight to the saddle. I didn't have a problem with the velcro or fabric wearing away but the zipper just crapped out on me and I'm betting I only opened and closed it a dozen times tops. So while it was inexpensive I was still hoping to get another 6 months to a year out of it :)
Just enough room
Familiarity:

I've put it through the wringer
29 er tube is tight but it does fit my levers and a co2 pump.

Not sure I would do white again.
minimal and practical
Familiarity:

I've put it through the wringer
I got the Medium one, and it fits my iphone5 perfectly in terms of width and length, with no extra space left, that gives you an idea of how small the interior is (width and length). I like how it has an external pocket for the tool set, I have the CrankBrothers Multi-19 and it's a little too big for the pocket, but i can still barely close it. The zipper is kinda tight, it's not a bag I would prefer to use for everyday taking things in and out of, but it's great for tool and emergency stuff.



Material is nice and it feels very secure with the way the mount is. This is good for someone looking for minimal and practical.
Nice Little Pack for minimal needs
I have the older Small version with the nylon (or what have you) strap.

Great bang for the buck. Sturdy construction, I haven't had any issues with the weather proofing, and the reflective trim is a nice touch.

Packs tight with 1 tube, 1 CO2 cartridge & trigger, pair of levers, patch kit, and small multi-tool.

My only gripe is that I pretty much need to take it off to get at the contents. That is the trade-off for such a low-profile bag. As little as I need to get into the bag, it is only a minor inconvenience.
Great for dropper seatposts
Gender:

Male

Familiarity:

I've put it through the wringer
I've always used a seat bag however the typical attachment for a seat bag doesn't work with a dropper. The micro caddy works wonders with a dropper. The bag only attaches to the saddle rails and not the seatpost. So get that dropper on your XC hardtail and now enjoy going downhill.
Good design, bad quality
Familiarity:

I've put it through the wringer
The size, shape, and attachment style of this bag seemed perfect -- and they were for six months -- but then the zipper broke. Looking at it now, I think the curved line of the zipper mixed with the rubberized/water-resistant zipper cover is a recipe for failure.
Lezyne micro caddy
Familiarity:

I've put it through the wringer
Good little bag! Fits 1-29" tube, 2-20oz co2, inflater, tire lever, small multi tool. Everything you need for a short trail ride.
Best seat bag yet - no shorts rub!
Familiarity:

I've put it through the wringer
I use the small on my road bike and the medium on my mtb - perfect size for each to carry just what's necessary (tube, tire levers, patch, kit, CO2 cartridge and chuck, folding tool - and der cables and small bolts for my mtb).



Attaches very securely to the saddle - no scrotum-like schwing.



It doesn't wrap around the seatpost so your expensive bibshorts don't rub against the bag and turn fuzzy, frayed or bare.
'L' series bag in Large...
By the time I finally got a camera and was able to take a pic, it seems this model is temp. sold-out. So, when it becomes available again, I would recommend it, and that you order the "Large", because, it really isn't!

Great little bag. Holds 2 tubes and necessary tools. Gets some of the weight out of the hydration pack, so that's good!

Label reads:

" Designed in California/made in China".
Liked it, but too small
Gender:

Male

Familiarity:

I've used it once or twice and have initial impressions
I bought the Medium sized Lezyne saddle bag to use while road biking. Wanted enough space to fit a 700X23 tube, tire levers, 16oz CO2 cartridge and small Planet Kiss inflator, chain tool, wallet, iphone and cleat protectors. This saddle bag will NOT come even close to fitting all this. Besides the fitment issue I really liked the quality and design of this product.
Honestly not a big fan of any saddle bag, but this was a nice compromise. Went with the Small and was pleased at how neatly and securely it tucks directly beneath the saddle. While you should expect a pretty snug fit, the Small should fit a single tube, a C02 cartridge + inflator, and a pair of levers. There's also a clever external pouch on the underside of the straps for your multi-tool, which is especially handy as it grants quick access to this regularly-needed tool without forcing you to dig through the pouch. Bear in mind that if you plan on carrying your phone or any snacks in the pouch, I would recommend getting the Medium size.
Good bag, but stick with black
I've had the small white for a couple of months now. I've got a tube, levers and patch kit inside, with a multi-tool in its separate pocket. It fastens securely, and I never feel it moving, or rubbing my legs. I guess my complaints come from having the white version. It experienced its first rainfall the other day, and the next time I rode, I noticed that it had developed brown-ish spots on the white material where there are tools inside. I know it's picky, but it just looks dirty. Also, the white zipper seems to be fading to a yellow-ish tint from the sun.

I like the bag, but if I had to do it again, I'd go with black.
Sometimes you just dont know....
Previously, i gave this bag high marks....I guess it is because I never needed it before today.

I flatted and went for my tube in my Lezyne bag.
UNFORTUNATELY, there was a hole in my bag (i suppose from rubbing against my seatpost?).

This compounded my flat tire problem. Why? Because there was a hole in my bag, there was a huge hole in my tube.
Super lame! I am really disappointed. I pimp lezyne pumps, the fire break hydropack, patch kits, levers, etc...but to be let down by a product thta is to add security is inexcusable.
fits great! functions well! carries what you need!
excellent bag so far; doesn't rub my legs and looks good on the bike (as well as a seat bag can, at least). my only gripe is that i wish the velcro didn't bulk up so much at the bottom; makes it bigger than needed and spoils the sleek look somewhat.

this easily fits one road tube, lezyne sv10, two CO2 carts, lezyne trigger drive head, park patch kit, sram powerlink, tire boot and tire lever. and that's without using the external multitool pouch. people who say it's not big enough are either carrying too much with them or not packing it well!

if you're going to carry a seat bag, i highly recommend this one. you could do much worse.
I bought this saddle bag for my husband and it is very sleek and compact. It was easy to attach and has a very convenient tool pouch for his Lezyne tool. It is a very tight fit inside the main compartment, has enough room to hold two levers, one tube, two carbon dioxide tubes, and a very small CO2 pump.
I like the velcro enclosure on this bag. It keeps the bag secure and snug under the saddle. I do not worry about losing it over rough roads.

There is enough room for a tube, patch kit, and a slimline tool, perfect.

The downfall comes in form of the material. After 6 months of use, there is already a hole in the tope of the bag (I guess from rubbing the saddle?) I thought it might be more durable.
I have ridden about 50 miles over fairly rocky terrain and this bag has held up great. It doesn't look like there are any signs of serious wear. The bag attaches to your seat using neoprene and velcro straps - they are surprisingly sturdy. It has a little outer pocket for your multitool. I have a Crank Brothers tool that is as big as you can with that pocket. It seems like it is a quick access type thing, but with the main body packed, it is hard to get the multitool out. The inside fits a CO2 cracker, extra CO2 cartridge (in addition to the one in the cracker), thin 26" spare tube, and Pedro's large yellow tire levers. I jammed a patch kit inards and powerlink in there too. It is real tight, but zipped shut and is pretty much perfect as an emergency toolkit when I don't want to wear a pack.