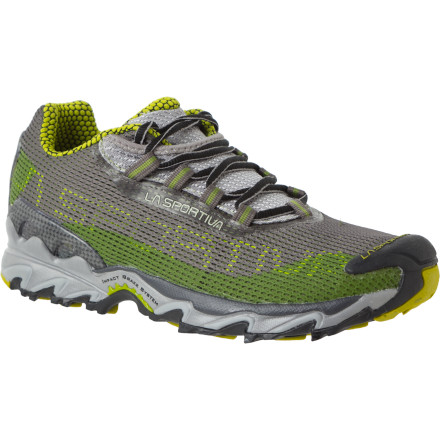 Detail Images

Videos

Community Images
Description
Light, cool, fast, sticky.
La Sportiva outfitted the Men's Wildcat Trail Running Shoe with its ultra-sticky FriXion sole to ensure traction in any conditions. Whether you're in steep, loose dirt or traversing a rock slab, these La Sportiva shoes keep you upright and going strong. An AirMesh upper ensures plenty of ventilation in hot summer heat as well, so you don't have to stress over nasty, sweaty, blister-prone feet.
Very comfortable
Familiarity:

I've used it once or twice and have initial impressions

Fit:

True to size
These shoes are great. They are light, comfortable and super breathable. They are sturdy and the soles are stiff and rugged. They fit true to size and if you are not familiar with EU sizing, the sizing chart on this page is accurate.
LIGHT, COOL, FAST, STICKY......that's it
Gender:

Male

Familiarity:

I've put it through the wringer

Fit:

True to size
These are very comfortable, lightweight and have pretty sticky rubber. I use them mostly for approach shoes for climbing as well as light hiking. The fit exactly like the older version but they don't have the nice heel pull tabs any more. I'd give them 5 stars if they still had the pull tab otherwise they're a solid shoe. I typically wear a 9.5 and went with a 42.5 and they're perfect.
Unanswered Question
LaSportiva Wildcat Trail 3.0?
Great Shoe for Long Distance Hiking
Familiarity:

I've put it through the wringer

Fit:

True to size
I did a lot of research for a shoe that I will be taking my Pacific Crest Trail thru hike in 2015. This is the shoe for me. After trying out a few different brands that cater to my foot shape, this shoe has proven to be the most comfortable with ample room in the toes to spread as my feet begin to flatten out and become larger. I have yet to have any blisters, with about 150miles on the shoes so far. I will update this as I go along. So far the shoe has been very durable and has very little signs of wear. From my research this should last around 1000 miles.

POST PCT: First pair - 800 miles

Second - 300 (Sierra Snow/wet/fire)

Third - 1,300 miles

Forth - Still going strong 200+miles
3rd Pair
Familiarity:

I've put it through the wringer

Fit:

True to size
A great shoe for hiking, working out or every day.
Good and supportive trail runner
Familiarity:

I've put it through the wringer

Fit:

True to size
I needed a new pair of trail running shoes as I got a new dog and didn't want to wear her out in the 1st 15 months of her life by taking her MTBing. So I figured I reinvent my trail running skills. I tried a lot of different trail runners and settled on these. They are certainly in the traditional vein but they have a very solid platform and lots of support. I also found the traction on these is great. Cushion is average to cushy and I just like the way they perform all the way around
Please don't ever stop making them!!
Familiarity:

I've put it through the wringer

Fit:

Runs small
I live in southern NV and these shoes are perfect. Good stability, traction, and cushioning on the hard and rocky trails. Also, the mesh construction helps keep the feet cool and is surprisingly protective and rugged. The soles are super grippy both up and down; whether rock slab, packed dirt, or scree. The toe protection is solid. I've gone through four pair and am on my fifth, I hope they keep making them forever!
Meh
Familiarity:

I've used it several times

Fit:

True to size
I tried these shoes on my Applachian Trail thru hike. They are a popular shoe on the trail so I was disappointed that they didn't work for me. They felt very comfortable when I walked uphill or on flat ground - my heel felt very secure, cupped in the shoe. But downhills were awful in these shoes. My feet would slide down in them and my toes would get squished. I also felt like water soaked through really easily whenever I stepped in a puddle, and didn't dry out very quickly compared to other shoes. But like I said, I know a lot of people who love these shoes, so your milage may vary. I would wear these shoes for running on flat ground, but not for anything steep.
First trail shoe!
Familiarity:

I've used it several times

Fit:

True to size
This was my first running specific shoe of any kind. Being new to the sport, I really like the light weight and the mesh. I have done some road runs and it definitely wears the soles out. A great option for day hikes as well!
Great shoe
Familiarity:

I've put it through the wringer

Fit:

True to size
I used thee pairs of these shoes to hike the AT this year and I couldnt have been more satisfied. Each pair lasted between 700 and 800 trail miles plus any of the extra curricular walking I had to do.



These shoes were light, breathable, and for the most part durable considering the outer is mesh. My first pair had zero rips in the outer mesh, and my second pair had one small rip. The third pair did not hold up quite as well because of the amount of rock I was hiking on. So if you plan on hiking on/over alot of rock you might want to reconsider this shoe.



In my opinion these shoes gripped as well as anyone elses I saw. You cant blame shoes for taking poor steps and slipping/falling. My favorite part about these shoes were how quickly they dried. On a warmer day my feet could get soaked and be pretty dry in a couple of hours. Because of this and some general foot care I only ended up with one small blister the entire hike.



I would definitely buy this shoe again and recommend it to anyone who wants to do some trail running and hiking.
New Favorite Hiking Shoe
Familiarity:

I've put it through the wringer

Fit:

Runs small
I was looking for a breathable 3-season hiking shoe that would be able to get wet and still be comfortable without that squishy feeling you get with most of the waterproof/Gore Tex hiking boots. I was worried these shoes would not offer enough protection on those rocky areas and would not be sticky enough on slick surfaces but I have put them through the ringer on some brutal terrain and these shoes get the job done with comfy feet at the end of the day. I've used them for about 200 miles now to include many wet, rocky trails, bushwhacking for miles through moss covered rocks and thick spruce and heading down brooks with cold water and wet, slippery rocks everywhere. These shoes have taken everything I can dish out (including a Mt. Whitney summit in CA and a Mt Washington summit in NH) and they are the most comfortable, breathable pair of hiking shoes I have ever owned. Even a full day of hiking in wet conditions did not produce those "prune" feet at the end of the day, these shoes let the air in. I will definitely buy them again.



The only thing you have to watch out for is they seem to run a little small, I'm usually an 11. The 11 1/2 were too tight, but the 12 fits great.
Excellent Product!
Familiarity:

I've used it several times

Fit:

True to size
When I was looking for a good general use summer-time shoe, I had three basic requirements. First, they had to look cool. I know this is subjective, but these work really well for me. In fact, I think they look better in person than in the stock photos. Second, they had to breathe extremely well. There is nothing more annoying and uncomfortable than hot feet, especially when hiking or running. These are absolutely wonderful in that department. If there is a strong enough wind, you can feel the air blowing on your feet. I've used these for trail running and hiking and my feet stay nice and cool. Third, they had to have a strong but grippy sole. A nice big piece of rubber on the toe guards against kicking into anything unexpected. The soles are strong, yet provide plenty of shock absorption while running. Nice and cushy.



Trail running shoes should be a perfect combination of a hiking boot and a running shoe and these fit the bill. I generally wear a size 9 (8.5 in Salomons if that helps) and the sizing is true to size. I have used these for trail running and hiking and they work amazingly well. Exactly what I was looking for. I find myself wearing these for casual use quite often. This is my first experience with a La Sportiva product. Based on these shoes I would certainly consider their other offerings.
Good Construction, Poor fit
Familiarity:

I've used it several times

Fit:

Runs small
I have only run a couple of times in these shoes so far. I only run in the mountains on pretty ruff trail and these shoes offer durable protection. Their sole is a bit on the stiff side which offers good protection but hinders a natural stride some. The soles will likely soften with age. My main complaint about these shoes is the toe box. It is too narrow across the metatarsal heads and puts the squeeze on your fore foot. Also the toe box has a shape which is not anatomically friendly. It results in your big toe hitting the front of the shoe on sustained downhills and causing a fair amount of toe jam. Also, I have 42.5 in these, I typically wear a 42, and they still seem tight. Maybe I should have tried a 43 but it seems to be a width issue not length. I bought the Patagonia Tsali 2.0 a couple of months ago and have done a number of 15+ milers in those and the fit is much better but they haven't held up very well, mainly the toe catches on rocks and begins to slowly peel the sole. To be fair, I do run mostly fourteeners and high alpine rocky terrain and never less than 10 miles. I wish one of the companies combined the strengths of these two shoes.
A Great Beefy Trail Shoe
Familiarity:

I've used it several times

Fit:

True to size
When I wore out my crosslites and found my bouder x approach shoes gave me blisters after about 5 miles on the trail, I was on the hunt. I wanted something I could trail run in, but also walk 20+ miles with no issues and scramble over talus or up 3rd, maybe 4th class. The Wildcat is a great shoe. It has La Sportiva's characteristically narrow fit, a great heel box that really locks you in, relatively sticky rubber (compared to other trail runners) and a very breathable mesh upper. The toe bumper is a must on rocky trail and talus and while this one is small, it protected my feet from more than one stubbed toe. Going from the crosslite up to this you immediately notice the high heel to toe drop and beefy heel. This is no minimalist, crossover or barefoot running shoe. It's also heavy compared to the crosslite. My size 47 weighs 29oz for the pair. Compared to an approach shoe, the mesh upper clearly wont last as long as leather and you dont get a full rand around the shoe to protect it. Anyway, for now it's a good compromise. It's a shoe I can walk or run in for 20+ miles, classic sportiva fit, relatively stiff sole to protect from rocks on the trail.
I'm normally a 12 US street shoe and went with a 46.0 on these. They fit nicely (I like a little extra space in my shoe than most probably). The shoes feel sturdy on the trail with solid soles, but not overly heavy or bulky. They also breathe reasonably well (even in San Antonio heat). Overall, I'd recommend 'em.
Unanswered Question
For a male, I have a small heel. The...
For a male, I have a small heel. The Montrail Mochist fit me perfectly, so I'm curious if this shoe also would be a good fit. Also, I typically wear a US10.5 (Brooks & Asolo), but I wear the Montral US11), so should I go with the 43.5 or 44? Thanks again for any feedback.
La Sportiva Wildcat Trail Running Shoe
Great trail shoes
Gender:

Male

Familiarity:

I've used it several times
I have only had these for about a month, I have been running trails in them. They grip well. They quickly drain and dry when i have run through deep water. These are going to be the shoes, I run my 2nd Tough Mudder in. Will let you know how they do.
great for trail running/scrambling
Gender:

Male

Familiarity:

I've put it through the wringer
I use these almost every weekend for trail running in the San Gabriel Mountains and love them. They're also my go to for hiking and easy scrambling. I've had them for about a year and have probably put ~200 running miles on them and they're still in great shape. Will buy another pair once these wear out.
Unanswered Question
what is the differance between la sportiva...
what is the differance between la sportiva raptor and wildcat