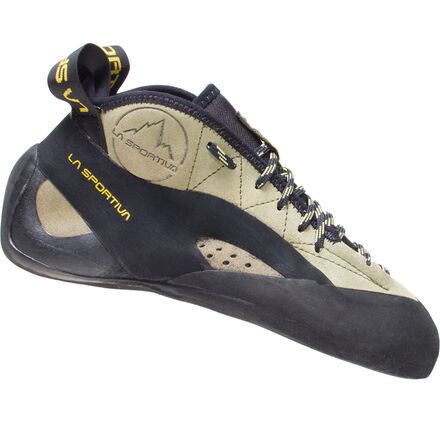 Detail Images

Videos

Community Images
Description
The world's most innovative trad shoe designed by the world's best trad climber.
Designed by big-wall legend Tommy Caldwell with the long, technical routes of El Cap in mind, the La Sportiva TC Pro Vibram XS Edge Climbing Shoe combines edging power with crack-climbing prowess. Inexpensive? No. One of the most high-performance trad climbing shoe ever created by humans? Damn right. That's assuming you think Tommy Caldwell is human. This mid-height climbing machine features light ankle padding to ease the pain of vicious off-widths, and the vented tongue and rand help ward off sweaty feet during marathon days on the wall.
P3 platform for technical footwork and increased support on long pitches
Lightly padded flat toe for stuffing into cracks
Vibram XS Edge rubber sole for friction on the thinnest footholds
High-top design adds protection in wide cracks
Synthetic lining eliminates stretch
Padded tongue for more comfort when sending the Stovelegs
I am a 41.5 - 42 in the Miura VS and yet a 40 in the tarantulace. Whats a good size on these?
These will stretch and form to your foot over time - judging by the sizes you gave for the tarantulace and miura VS - i'd say you would be good with a 41.5
Worth every penny!
Familiarity:

I've used it several times

Fit:

Runs small
These are hands down the best climbing shoes I have ever used. Great edging, comfortable (for climbing shoes) and good rubber. I would not hesitate to purchase another pair, but that will be a while because these are holding up very well.
Hands down the best!
Familiarity:

I've put it through the wringer

Fit:

True to size
I climb hard, cracks, faces, slab anything and these shoes hands down hold up better than any shoes. The rubber is still good even when it's worn all the way down. They are uncomfortable till you break them in but after you can wear them all day without sore feet after! I don't think I'll buy anything else except for those hard bolder problems
The best.
Familiarity:

I've put it through the wringer

Fit:

True to size
Great edging and jamming, stellar granite climbing shoe. All day comfort as well.

If you really like thin cracks, or dislike shoes with low sensitivity, might want to check out the Mythos. But for everyone else, this is a quiver of one trad shoe that can't be beat.
just got em, and got em quick!
Gender:

Female

Familiarity:

I've used it once or twice and have initial impressions

Fit:

True to size
After knowing i wouldnt be home for UPS the second day after ordering these (you're so quick, its #goatworthy), i checked my shipping status (out for delivery) on my drive home, saw a UPS truck, they didnt have my package but sent me on a hunt for the truck that did and after pulling up in front of her and waving my arms, ahhh there was my box with TC Pros in it!
Climbed in them for 3 pitches, day of, out of the box. getting used to the edge for trad, coming from mythos. love the edge! you can stand on these-learning to trust it. and got to climb the most splitter crack at my local crag in them, they ROCK. these shoes are the TRUTH. i bought them in the same size as my mythos, due to my heel (achilles bursitis occasional) and the usual aggressive tightness of slingshot rands on shoes. im still early in my climbing career, and considering i only have one body, but can buy many a shoe, if necessary, i ordered for comfort (and cuz backcountry didnt have 37.5 only 37-i thought would be too small).
they crack climb like a dream. my feet had been getting beat up this week from laps on my favorite splitter, no pain in these on the 3rd day of laps(1st day in the shoes).
will update as the time goes by. I LOVE THESE SHOES.
the tongue is the only weird thing, kinda curly, just put your shoes on mindfully, and it'll all work out...
and hey Tommy, is coming to a crag near us this weekend, how fitting.
oh i almost forgot, some people said they weren't great for smearing, i found them to be fine out of the box, so far..
Worth the Hype? Hell yeah!
I got a pair of these recently, mostly because several of my friends' never ending praise for these shoes. I was a little skeptical they would be a big improvement on what I already had and worth the extra money. But having taken them out a couple times now, I can easily say that these shoes are totally worth the hype! They just stick to granite so much better than any of my previous shoes. I am not a confident slab climber, but in these shoes I feel like a mountain goat! A special rubber blessed my the hands of Tommy himself? Probably.

They jam beautifully in cracks and edge really well on those non existent chips. The laces are great and I can get a good custom fit for my funky left foot. The high top design keeps my ankles protected, and will help prevent me from painting the rock so much with my blood. The stiff sole lets my feet stay flat to get into those tight finger cracks. With all this glowing praise, could this all really just be in my head? Maybe. But a lot of climbing is all in your head! And the Dawn Wall didn't go down with any run of the mill shoe!

Anyways... back to the review...

The sizing seems to be true, but if you are looking for a comfy all day shoe (which these are designed to be) try bumping up a 1/2 size or full size from your normal toe crushing boulder shoe size. They are stiff enough to still edge really well if they aren't deathly tight, and having the feeling in your toes is far better for climbing than having a super tight fitting shoe, at least in my humble opinion.

Ok now for the cons. These shoes really suck at fixing computer viruses! I set them on the keyboard and they did nothing at all. Go figure. Also, when I got really hungry the other day, despite the pleasant odor they emitted, they tasted horrible! Come on now! How can something so magical on the rock suck so much at other things? Oh well.

So grab a pair and drink the included punch... you will be glad you did!
Protect Your Ankles
Familiarity:

I've used it several times

Fit:

True to size
If you are looking if a comfy all day trad shoe these are the go to. I bought these specifically for offwidth climbing, but will be using them for multipitch as well.



I got these in a 38 and they fit perfect!



For reference

Street size: 8.5

Five Ten: 39 (Anasazi LV, Moccasym, & Blackwing)
Very happy with these shoes
Familiarity:

I've used it several times

Fit:

True to size
I wear a 9.5 US and bought 43.0. Excellent trade-off between comfort and performance. These shoes edge very well. I can wear them a long time w/o much discomfort. Highly recommend.
Performance and Comfort
Familiarity:

I've put it through the wringer

Fit:

True to size
The TC Pros have been a very solid shoe for me. I have used them at the City of Rocks ID, Fisher Towers in Moab, and Devils Lake in Wisconsin. These climbs include everything from granite to sandstone. I am able to jam up cracks, spear up slabs and edge very well with them. The best thing they have going, is their comfort. It's a very solid shoe for long multi pitch trad routes, or a long day at the crag.
worth it
Familiarity:

I've put it through the wringer

Fit:

Runs large
These shoes are great, as every other review you've read about them, so I'll try not to be a raving lunatic about how much I love them! Pretty much the only thing I'll go into is how I sized them. Get ready for some blasphemy! First I sized them with wearing a thin pair of socks(gasp!), and with my toes a tad bit curled. The reasoning behind the socks was a) I hate stinky shoes b) they are stiff enough so you don't feel much anyway c) it adds padding for jamming and d) makes them warmer for winter rock. The toes curled was a mistake at first, I thought that they would stretch more, similar to mythos, but they didn't. But, it worked out well. First off, many people complain that they can't get these shoes in any crack smaller that perfect hands(which having your toes curled doesn't affect comfort-wise) because of the thick leather and rubber. So for any crack smaller than hands I ended up using these shoes edging power to stand on tiny little edges around the crack, or sticking the rand in and twisting the bejeebers out of it. Sizing them like this also makes them good for hard face climbing(as proved by TC). They are actually relatively comfortable for a few pitches, but who actually likes keeping their shoes on at a belay? All in, solid high performace shoe that works for all climbing on granite, but if your trying hard sport routes or jamming in the creek, these probably aren't for you.
Sizing:
mythos 45(toes flat, uber comfy after a break in)
TC pros 46(toes barely curled, good for a few pitches)
Miuras 44 (sport bouldering shoes, not comfortable for anything longer that a single pitch, don't use very much)
Street shoe 49(14.5 US)

All Day Comfort
Familiarity:

I've used it several times

Fit:

True to size
After a few years of jamming my feet into aggressive shoes, it was a hard transition into an all day shoe like this. I kept trying to buy them too small, or tighten them too much so that they would feel the way climbing shoes are 'supposed' to feel. Once I allowed myself to be comfortable in them and stop tightening them so much, I realized the performance remained without the discomfort. Now I am loving these shoes, but dreading the next time I have to put on something more aggressive.
Great shoe, sized larger than Katana
Familiarity:

I've used it once or twice and have initial impressions

Fit:

Runs large
Comfortable for a shoe of this performance level. I'll compare it to the Katana which I have had a couple pairs of. In sizing this is sized at least half a size larger than the Katana. I ended up getting a 44 in the TC Pro and it is about the same length as my size 44.5 Katanas. Compared to a size 44 Katana they are noticeably larger. I determined this by placing the shoes sole to sole. The TC Pros also have a wider toe box than the Katanas, which allows all my toes to lay flat, whereas the Katana scrunched up my smaller toes even in a size big enough for my big toe to lay flat. Another significant difference is that the TC Pro is not downturned. Overall it feels like a much better all day trad shoe for me. They climb well, and I won't feel like taking them off at belays.
Great all around shoe
Familiarity:

I've put it through the wringer

Fit:

True to size
Just purchased my second pair of these and love them. They really can't be beat for crack and slab climbing. Very solid in all other forms of climbing I have tried as well.
Simply amazing
Familiarity:

I've used it several times

Fit:

True to size
All around great climbing shoe. Slightly more aggressive than my mythos, which are also very good. Let's get things straight here, I'm no pro climber, and I'm not sending fallen arches anytime soon or probably ever for that matter. I do lead 5.9 trad and follow into the 10's so that's where I'm coming from. I'm impressed with the edging, smearing, comfort, and crack ability of these shoes. It's my go to in lcc, loved them in the gunks, and got on some pretty polished routes in Boulder canyon where they still smeared pretty nicely. Another feature I really like is the higher profile, not as many cuts around my ankles these days. I generally wear an 8/8.5 in street shoes. I wear a 40.5 in both these the mythos, and the Boulder x approach shoes I have. they stretch nicely after a few days and are very comfortable on long routes or multi pitch climbs. Great on granite and quartzite but haven't jammed them into any sandstone yet. Still stoked on them and would recommend them for sure.
How much can I expect these shoes to stretch? I am looking for an all day shoe for multi-pitch trad and alpine. I just ordered a size 42 and 43. 42 is performance tight (toes slightly curled) and won't fit the bill for an all day shoe. 43 is very comfortable, and I could probably get a sock under it if needed. I've had people tell me to expect a 1/4 size stretch. If that's the case 42.5 might be what I'm looking for after the break in. If the won't stretch that far, I'll just go with the 43. What do you folks think?
Best Answer
Mine stretched just a bit, I think 1/4 size is probably pretty accurate. They are very comfy and will make a great all day shoe for sure!


If the shoe fits...
Familiarity:

I've put it through the wringer

Fit:

True to size
I honestly bought these not knowing a lot about climbing shoes. I ski a lot, and therefore have some pretty gnarly bone spurs on my heels, making buying footwear (especially tight fitting performance footwear) a real chore. These ones were more expensive than some, but they fit very well and so i bought them.

After climbing in them a ton, they have shown very minimal wear. they are super comfortable for the longer multi pitch climbs, and i really like the high-top so i don't scrape the hell out of my ankles when I'm looking for that desperate tiny foot hold. I would definitely but these again! Really can't think of anything i dislike... i guess a velcro version could be nice.
Best All Around Shoe
Familiarity:

I've put it through the wringer

Fit:

True to size
TC Pros can be worn all day long, on routes, on the ground, then back on the route. I trust them in crack, slab, and very thin flakes or nubs. They amaze me ever time I stick a hold that looks too thin. I have size 43. I tried 44 and 43.5 for a bit cause they were good in the store.. but they loosened up too much so I went a little smaller. They're leather so after a few weeks of climbing they settled into my feet really nicely.
Not bad, Not great
Familiarity:

I've used it once or twice and have initial impressions

Fit:

True to size
I bought a pair of these mostly based on reviews that I read here and other sites, as well as from people who use them and love them. I was looking for a shoe that could do anything well, that could jam up a crack, edge without issue, and smear up a slab. Everybody said this is the shoe for the job! So I bought a pair, not impressed. They were very comfortable, and the high top is great for OW, and they do edge great, but thats where it stopped for me. I had a very hard time smearing in them, and jamming cracks. They probably work great for most of the people, just not me. Very well made shoe, not an issue there. Try before you buy, if you can.
Unanswered Question
I've got a pair of cobras in a 38.5 and they are pretty tight and very good at edging. Looking to getting a pair of these for longer trad routes but having them also be proficient on single pitch cracks and face climbing. Any size suggestions?