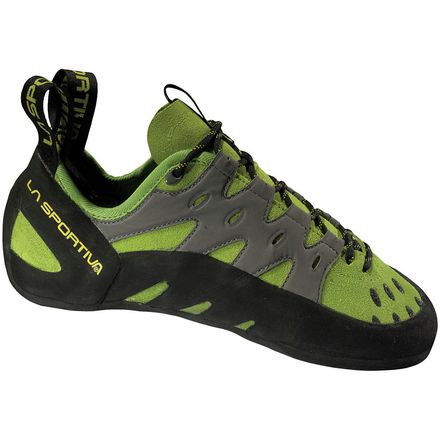 Videos

Community Images
Description
Serious comfort.
The La Sportiva Tarantulace Climbing Shoes use an unlined leather upper to mold to your feet so you can climb longer and suffer less. Of course, all the comfort in the world doesn't mean much without performance, so La Sportiva gave this shoe a super sticky FriXion rubber sole.
Unlined leather upper will stretch about a half size
Synthetic leather lacing overlay adds support for beginner to mid-level climbers
Aggressive rubber heel rand and FriXion rubber keep you glued to small holds
Quick-pull lace harness mixes easy on-and-off with support
Great first shoe
Familiarity:

I've put it through the wringer

Fit:

True to size
Not overly stiff, but it does everything that you need as a new climber! I recommend the lace version over the velcro!!
First Climbing Shoe
Gender:

Male

Familiarity:

I've used it once or twice and have initial impressions

Fit:

Runs large
Thanks to Bill P. of Backcountry for lots of help and much patience I have a pair of climbing shoes that fit properly. As the title reflects, these are my first climbing shoes so I have little to compare them with. Whether my abilities are improving or whether the shoes make climbing easier is a question I can't answer at this point. I wear a size US 12 and euro size 46. My width is aa narrow. I was recommended to buy a full size smaller and so I ordered the 45s. It fit as recommended with my toes snug in the tip of the shoe with a slight bend in my toes. I was told they will stretch out with use. Because my foot is narrow I usually have excess room in my shoes which I don't with these. They form fit to my foot with room to tighten much more in the event that they stretch out. I have only used them twice and have worn them for as much as 4 hours without significant discomfort. I'm happy with them so far. They get five stars because they meet all of my expectations at this point.
Great first shoe
Familiarity:

I've used it several times

Fit:

True to size
This is my first climbing shoe. I got the men's version because the women's version is too narrow. A lot of people told me to try this shoe to start out, and so far it has been great. The Tarantulace is pretty comfortable. I can usually leave them on for about an hour before they get a little too snug. The laces obviously slow down the process of taking the shoes off and putting them back on, so it's nice that their comfort is enough to prevent that process needing to be repeated too many times. So far, I've only used the shoes in the gym, and they have performed very well. As always, the Backcountry price is the best one I found.
Very comfortable. Great for long multipitch routes. No need to take off your shoes at every belay.
Great Shoes
Familiarity:

I've used it several times

Fit:

True to size
These shoes are great for beginners. However the first few times you wear them they are hard to fit in and slippery while grabbing onto rocks. Best for beginners.
Perfect for a new climbers first shoe
Familiarity:

I've put it through the wringer

Fit:

Runs large
So I got these as my first climbing shoe and I have to say they are the perfect first climbing shoe. They have everything a new climber needs and nothing they don't. I ordered them 1/2 size down from my street shoe they were definitely too big, I wear a size 11 and my shoes were a size 44. If I were to buy these again I would probably get them 1 and 1/2 sizes down so a 43 or 42.5. I climbed on these shoes for about five months before I got Miura Laces for harder projects. In my time with these shoes I did a ton of bouldering and top roping at climbing gyms and I did a lot of bouldering on sandstone. I was climbing up to v4 and 5.11d in these shoes. These shoes are super comfortable and great for gym climbing or training circuits. However what they have in comfort they lack in performance. Edging sucks to get my foot on any small foot hold I would have to use a ton of the real estate on the inside edge of my toe it was not precise at all. Heel hooking sucked but thats just because they were too big. Toe hooking was okay but I found my feet slipping a bit on boulders. Smearing works good in these shoes but I have limited experience slab climbing so I'm not an aficionado of smearing but they work well enough for smearing on normal routes. So all in all these shoes are perfect for the new climber but thats it. As a climbing shoe for experienced strong climbers this shoes falls short in what you need.
Good starting shoe, needs breaking in
Familiarity:

I've used it several times

Fit:

True to size
These are my first shoes, and a good first purchase after lots of gym shoe rentals. They took a while to break in, and still aren't super comfortable even after about 6 months of fairly regular use. I always take them off between climbs so that I don't have to stand in them while I belay. I have wide feet and they did stretch a bit, but they can be tight in the heel. They've got great soles though, and I always feel very secure in my holds on the wall. I had trouble finding the correct size and fit; I was used to climbing in rental Evolvs and their sizes run bigger than these. I had to send my La Sportivas back to get another size--if possible, try to go in to REI or another outdoor gear store and try them on in person to get your correct size, then order from Backcountry (prices are better!).
Comfortable but short lived
Familiarity:

I've used it several times

Fit:

True to size
Size & Fit
I would say a 5 on size and comfort. The fit was as I expected, some stretch as I knew there would be. I've used the shoes both in the gym and outdoors, and it's performed well in both locations.

Durability
I rate these a 4 on how quickly they wear out. I have used them a half dozen times and no problems so far, but I have a brother that has the same shoe and wore through them in a year climbing mainly in the gym 1-2 days a week.

Construction
The shoes are made of great material. The laces are strong and don't fray easily, and the materials are comfortable and supportive. Overall a well-built product.

Overall great comfort, good price, great beginner/intermediate shoe that is comfortable to keep on for extended periods.
Ideal as a first pair or gym shoe
Familiarity:

I've put it through the wringer

Fit:

Runs large
These shoes fit great and are quite comfortable. After 1 or 2 sessions you will fall in love with the fit and they conform great to your feet. However, they are not the greatest for thin footholds or jamming your toes into tight holds on roofs. They make a great starter shoe for simple straight forward routes or as a shoe to take to the gym for a few hours.
Great for beginners
Familiarity:

I've used it once or twice and have initial impressions

Fit:

Runs large
For starters, you should probably know that I typically prefer to climb in very aggressive shoes. I climb at Rumney and in indoor climbing gyms. My favorite pair of shoes is a size 5/6 and my street shoe is 7/8 (but they're not evlov; I can't remember the brand to be honest).



I have these in turquoise. I really didn't like these shoes at all. I wore them a few times, each time trying to give them another chance, but I really just don't like them. But I gave them a 4 star-rating because I think they are great for beginners, I just am very unhappy with the lack of downturn and general aggressive traits in general. Not good for edging really, although the rubber is notably very sticky. They are also really comfortable.



Also, I worked at a climbing gym over the winter and my negative opinion definitely seems to be an unpopular opinion. Generally, actually for every person I've talked to with these shoes, they are loved by beginners looking for something cute and comfy to start off with. I probably wouldn't recommend for bouldering.



I'm probably going to sell them on eBay/Amazon whenever I get around to it.
Fits wide feet
Familiarity:

I've used it several times

Fit:

Runs large
I bought these shoes a few months ago when looking for a first climbing shoe. I have wide feet, and these fit pretty well! They have been pretty comfortable so far, and I've had no problems staying on small toe holds at the gym.
Comfortable, performs well, but wears
Familiarity:

I've put it through the wringer

Fit:

Runs large
I wore these for 9 months, 1-2 times/week indoors top rope and bouldering. I also climbed outside about 4 times, sport and trad. I climb easier 5 10s inside and lead 5 8s or so outside. I personally prefer being comfortable climbing all day over having the best performing shoe, and these fit that role for me. I am between 9 and 9.5 running shoe, and I wear 41.5 in these. My only issue with these is after 9 months I have holes in both toes!! But $65 is such a good price that I just picked up another pair ...
Great shoe for a beginner
Familiarity:

I gave it as a gift but have feedback to share
I picked these up as a gift for a friend. She's just getting into climbing, and these have been PERFECT. She's been bouldering a bunch, as well as getting on the ropes too- mostly in gym, as we're getting into winter. She says that this shoe is awesome though, fits her foot well and she's got a lot of control on the wall. Plus they're not super painful- always a plus! Sounds like she likes them, which makes me stoked to have another climbing partner!
La Sportiva Tarantulace Climbing Shoe
Gender:

Male

Familiarity:

I've put it through the wringer

Fit:

True to size
I just ordered my second pair as after almost a year of inside and outside use , they have stood up very well. To get almost a year of a lot of climbing shoe is a sign of a good climbing shoe, an excellent buy.
I forgot to mention that I'm also re-souling my old pair as well.
Love these shoes!
Familiarity:

I've put it through the wringer

Fit:

Runs large
These shoes are great! Very comfortable and they conform to your feet. I don't know how long the rubber will last on the outside but they might last a good six months or longer with climbing twice a week at a gym. They run big so order a size or two smaller.
The fit on these is wonky. Definitely run large.



Jared D.

Expert Gearhead

800.409.4502 ext 4055

jdowns@backcountry.com
Good shoe for beginners
Familiarity:

I've used it several times

Fit:

Runs large
It's comfy and not an aggressive shoe. I do think they run a little large compared to other shoes, so you should probably size down a little bit. My experienced climbing friends recommended these to me and I'm definitely pleased with the purchase.
Good all-around shoe
Familiarity:

I've used it several times

Fit:

True to size
I've had these shoes for about a 2 months and they are a really good all-around, non-aggressive shoe. The size runs fairly true. My foot size is a US 10 (Euro 43). I stayed with that size and they perform well, but in retrospect, I would go down bit more.



After 2 months of gym climbing 3-4 days a weeks, there is a small bit of the sole pulling from the rand and a small bit of the gray leather that has ripped. All of that to say, they still perform really well.



My next pair will be more aggressive and a bit more snug, but if you're a beginner looking for a quality pair that are easy to fit, the Tarantulace is a great option.
H i, m new to this and I was wondering...
H i, m new to this and I was wondering since I wear a size 44 in my Vibrams what size should I get? The whole size smaller than street size confuses me.
Since climbing shoes need to have a snug (NOT TIGHT!!!!) fit, many climbers recommend getting climbing shoes a US size smaller than your street shoe size. By that logic, if you wear a size 44 in street shoes, you should aim for a size 42-42.5 for your climbing shoes. La Sportiva fit, though, is a strange animal, and tends to run much smaller than street shoe size. I wear a US 14 (Euro 48) in street shoes, but a Mythos 44.5, a Testarossa 45, and a TC Pro 45.5. The only way I know this is because I tried on lots of shoes until I found what fit.



Unfortunately, getting well fitting climbing shoes isn't quite that easy, as several people have pointed out. Different shoes fit differently, and the only way to know is to try them on. These are definitely good starter shoes, and you can send them back to Backcountry if they don't fit. For your first pair you want something that is snug, but not painful. These will stretch (as will most climbing shoes), so starting with a pair that is a bit snugger than you think is comfortable is advisable. Good luck, and welcome to the rabbit hole that is climbing shoe fit!