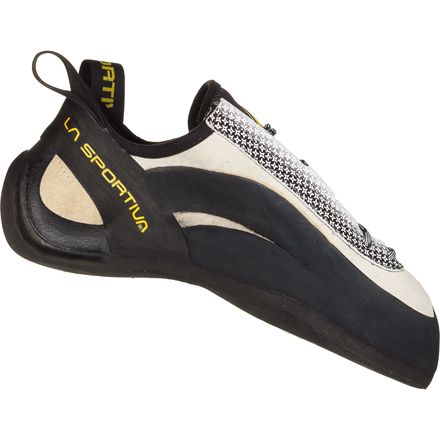 Detail Images

Videos

Community Images
Description
The technical women's shoe that tackles sporty overhangs and boulders.
Stick to the most crimp-tastic routes when you put on the La Sportiva Women's Miura Climbing Shoe and edge wart-sized footholds. The Miura's high curvature and downturned toe give you more friction on the smallest holds or smears with the sticky help of Vibram XS Grip2 rubber. Shaped forefoot edges let you rest on tiny ledges between overhanging pitches, while the LaspoFlex forefoot midsole provides comfort during belays and longer routes. A synthetic Dentex lining prevents the leather upper from stretching, drastically reducing the necessary break-in time.
Versatile and comfortable.
Gender:

Female

Familiarity:

I've used it once or twice and have initial impressions

Fit:

True to size
I used the shoes a few times so far, and i really enjoyed them. I also own a pair of solutions & mythos(i love those as well).

Relative to the solutions, the fit is a little bit more forgiving, they run a little bit larger, and the laces, while adding a bit of time to do up, create a more custom fit to your individual foot, therefore being more comfortable. The toe in the miuras is not as turned down as the solutions, and so they are a bit more versatile for walls too. Awesome shoe for training in the gym with a variety of walls, boulders and caves.

Sizing wise, i own:
solutions in a size 36
miura in a size 35.5
mythos at 35
My street shoes are US 6-6.5; European 36-36.5 and my foot is a little wide, but low volume.
Get across the roof with these on!
Familiarity:

I've put it through the wringer

Fit:

True to size
These are my second pair of climbing shoes, and I'm so happy with them! Much more aggressive than my other pair (La Sportiva Nago), but not too much -- just right. These edge like nobody's business, and you can smear to your heart's desire.
I went down 1/2 size from the Nago's, since the Nago's now feel like street shoes in comfort. The break in period was painful, but worth it. If you're edging and working some good toe and heel hooks, you want to fill the shoe in, especially the toe box. Walking around in these is not fun, but when I point my toes, my feet are in perfect position, and I think that's what you're going after for roof routes and serious overhangs.
Men's sizing:
Familiarity:

I've used it once or twice and have initial impressions

Fit:

Runs large
For a comparison of sizing I usually wear a size 10.5 street shoe. I wear a size 42 TC pro which took a bit of a break in before they were very comfortable. I bought these shoes (women's miura) in a size 42 and they are a bit larger than a TC Pro 42. If I wanted something a bit tighter for thin edging I should have went with a 41.5, but the 42 will allow for foot swelling on long routes. I don't think they will stretch much because they are heavily lined. A lot less stiff than the TC pro and with a more pointed toe, this shoe is good for more sensitive climbing and pockets.
so far so good
Familiarity:

I've used it several times

Fit:

True to size
I've had these about a month now, they were rough to break in but now that they are stretched a bit I am really liking them. They do slightly bother my heels and ring finger toe but they are great shoes, but the more I wear them the more comfortable they become. They are just aggressive enough. I ordered a 36.5 and I wear a 7.5 sneaker and 7 in heels. My other shoes are Katana's, 37, but they ended up stretching too much for what I wanted, I couldn't even heel hook unless the velcro was very tight. I also love the laces because you have more control over the tightness of the shoe. I have yet to tie my laces.
Just aggressive enough
Familiarity:

I've put it through the wringer

Fit:

True to size
I wear a size 7 street shoe and I actually bounced back and forth between the 36 and 36.5 for the Miura lace-ups. Ultimately, I decided on the slightly more aggressive fit (36) since they do break in decently after awhile and I think it's definitely made a difference for the better. They're great for edging, as well as heel hooks. They're super grippy and tactile. Basically, awesome for upping your footwork game. The heel can bite a bit in the beginning, but again, they break in pretty well just with use and movement. A great step-up shoe from the Scarpa Helixes.
Unanswered Question
Any difference in sizing between the men's miura lace up and the women's? I usually wear a 42 in the men's version but was thinking I would maybe prefer the women's as I have a low-volume foot and narrow heel.
Comfy
Gender:

Male

Familiarity:

I've put it through the wringer

Fit:

True to size
As a guy you miss out on all the great climbing shoes girls get. These are the comfiest climbing shoes I've worn. Highly recommend these shoes to anyone.
Everything I Needed!
Familiarity:

I've used it several times

Fit:

True to size
After wearing through my very first pair of climbing shoes ( an old pair of velcro Evolvs) I really wanted to graduate to something slightly more aggressive. After testing out the Solutions and finding them a bit too intense for my needs, I decided to opt for the Miuras instead and can happily say I am more than satisfied! The fit is fantastic. These perfectly contour to my foot, are snug in all the right spots but yet still comfortable enough for long gym sessions or outdoor sport and bouldering routes. The profile and curvature on these make them ideal for edging, and they will stick to just about anything. Overall, the Miuras are extremely versatile. Wear them for slab, overhangs, and just about any problem where you need more technical footwork. As far as sizing goes, I typically wear anywhere from a 7.5 to size 8 in street shoes. Because the Solutions are more aggressive, I was able to fit an 8 in those. However, for my Miura's I opted for 7.5 since I can get away with a snugger fit and wanted to allow room for them to stretch but still be tight where they need to be. Definitely my favorite pair of shoes I've climbed in so far and I look forward to getting plenty of use out of them this season!
A Poem to a Great Shoe
Familiarity:

I've put it through the wringer

Fit:

True to size
Ahhh muiras, how I love you. Oh let me count the ways...



I love you on slab

I love you on face

I love you on overhang

I love you when I have to wear you for way too long (order up a 1/2 size)

I love you when I need a good edge

I love you when I need a good smear

I love you for your soft, supple lining that sits right below my ankle, but doesn't go too far into the foot bed

I love you for your quality, hand-stitched craftmanship

I love you when I get in a bad situation, because I know I can always depend on your quality rubber

I love you when you are old

I love you when you are new

I love you in the winter

I love you in the summer

I love you!!!!



The end.


Edges like a champ--great for Squamish!
Familiarity:

I've used it several times

Fit:

True to size
Checked the Miuras out on the recommendation of a friend I really trust. Needed a shoe comfortable enough for all day crack climbing but still secure on tiny edges. These (so far) are fitting the bill fantastically. Only complaint is that the top of the heel cup cuts in pretty hard to the back of my ankle. Well, at least it keeps my heel from slipping! This is the only reason I gave them 4 stars instead of 5. Hoping this issue will be fixed by more mileage and break-in. Otherwise fairly comfortable so far--have done a few long routes without taking them off at belays and wasn't dying by the end. Aaaand, whatever discomfort the heel causes is still well worth it considering how well these shoes edge. A little security for some of the delicate footwork in Squamish is worth solid gold, if ya know what I mean!
An excellent intermediate shoe choice.
Familiarity:

I've put it through the wringer

Fit:

True to size
My favorite style of climbing is technical slab/face and this shoe has been a perfect choice. I don't have any complaints actually, the edging is fantastic, I've climbed on extremely small and delicate feet and the Miuras are perfect.



If you want a step up from a beginner climbing shoe, and especially if you're getting into technical and small footwork, but want something that isn't extremely aggressive yet, these are your shoes.



Since I bought them (about 10 months ago) I've climbed at the gym 3 days a week and taken 6 outdoors trips on both sandstone and limestone and one sole is beginning to tear in the toe. I do think that they are very durable considering how much smearing and edging I do. My last shoes were La Sportiva Nagos and it took about 4 months before quarter-sized holes formed in both toes.



They take some breaking in but nothing unusual or unexpected. Once you're used to them they are decently comfortable.


My go-to shoe.
Familiarity:

I've put it through the wringer
I cannot stress how much I love these shoes. I've gone through multiple pairs over the years, actually.



My street shoe size is 7-7.5 women's and I wear a 36 which was slightly painful at first (meaning that for the first month, after bouldering for about 20 minutes I had to take a break and take them off for a bit) but they stretch out and conform to your foot quite well.



I find them great for delicate footwork, and aggressive enough for bouldering. I find them comfortable enough for sport climbing as well. Great all-around shoe.
different than I expected
Familiarity:

I've used it once or twice and have initial impressions

Fit:

True to size
My old climbing shoes is a Miura - Men's. Being a woman I thought this would be more comfortable. I do not know if it's because I was already used to my old Miura, but I found this new one a bit weird. Maybe because it's still new, but it bothers my ankle.
Best edge.
Gender:

Female

Familiarity:

I've put it through the wringer

Fit:

True to size
These shoes have the best edge. They are a very good all around shoe. Once they are warn in, they feel perfect and perform great. I used the water method to break these in (wet with warm water and wear until they are dry) and they perfect. As with all La Sportiva shoes, their rubber and edge will last a very long time. You will definitely get your money's worth.

I am a 8.5 street shoe and the 38.5 are the best fit, for me.

Hit me up, if you have any questions.

Emily Jenson
Expert Gearhead
ejenson@backcountry.com
801.746.7587
Hi, will have you have size 37 in stock...
Hi, will have you have size 37 in stock soon?



thanks



chris
Hi Chris,

Unfortunately as of right now, we do not have any more of the 37.0 ordered to come in, sorry about that!
amazing shoe
Familiarity:

I've put it through the wringer
I absolutely love this shoe, its honestly my favorite out of all the shoes I've tried. They do stretch out, i wear a size 7 1/2 - 8 in women's and i had to downsize to a 37.5 (so about a 6 1/2) so that once they stretched they would still be tight... I've used my pair for 3 outdoor trips (each a week or so long), I also wore them on a two month trip, and i train in them as well and they are still in excellent shape even after a year, the rubber definitely lasts if you have decent footwork. overall i would definitely recommend this shoe to anyone.
Great shoe, prefer the Women's Miura VS
Familiarity:

I've used it once or twice and have initial impressions
Thought I'd provide some feedback for those deciding between this shoe and Miura VS. I ordered this shoe after climbing in my Miura VS shoes for almost a year. I wanted to try something different to see if I was using the best shoe for my foot and was looking for something even narrower.



This shoe did fit narrower than the VS which I really liked, but it didn't provide enough of a benefit to make me stick with the laced version when I can have the easy on and off velcro. If you need something super narrow you can get that with this shoe, if not - I think the VS is better for the ease of getting them on and off. Both are great shoes though!
Great Beginning Shoes
Familiarity:

I've used it several times
I absolutely love these shoes. I've had them for a little over a month and used them several times (2 or 3 times a week indoors and once outdoors). I really hated the shape at first, but I'm totally used to it now and I don't think I could have asked for a better beginning shoe.


I Love La Sportiva
Familiarity:

I've put it through the wringer

Fit:

True to size
I love La Sportiva rock shoes. My favorite pairs have always been Sportivas. I had the Katanas for a while, and those were an awesome beginner shoe, but these were perfect for graduating to a somewhat more aggressive shoe. The rubber is great, nice and sticky, but very durable (they have the longest lasting toe rubber I've experienced so far). The fit is definitely downturned enough for bouldering, though if you're climbing super technical overhanging problems, you might want something pointier and more asymmetrical. I went with my street size and don't regret it . I could have gone down a half size and been fine, but I'm prone to tendinitis in my feet and find that the half size of room makes a big difference. My only teeny complaint about these is that the laces, while super durable, like to come untied more than thinner laces do.
got these for my wife. she wear a 7.5 street shoe, and we got these in 36.5. she's been able to stretch them out some, put they're still too tight. would have been better in a 37. she can wear them on steep routes or bouldering though.



aside from getting them too small, she loves them. she notices a distinct power advantage and is much more secure on dime edges with the muiras. good durability too.