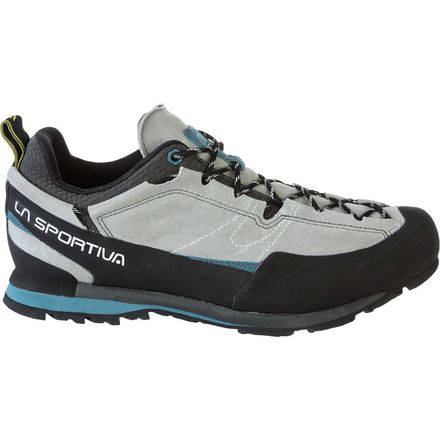 Detail Images

Videos

Community Images
Description
Put on the Boulder X and avoid the easy, boring way.
Make good time navigating miles of house-sized boulders when you wear the La Sportiva Boulder X Approach Shoe. Even with a heavy expedition pack, the sticky rubber tread and Impact Brake System give you confidence on wet or dry rock. With two layers of soft EVA in the footbed and midsole, your feet can make it from the car to camp without bruising or blistering. On the most demanding approaches, the leather upper and rubber toe rand hold up to your foot dragging and stone kicking, and the mesh liner covering the tongue and rear-foot add some breathability to summer rock hops.
In general most shoes fit me as a size 11.5. In these shoes I would need an 12 or 12.5.
Last forever
Familiarity:

I've put it through the wringer

Fit:

Runs small
I had my last pair of these shoes for almost 7 years. When the toe stitching blew, it was even repairable, but I figured it was time. This is my go-to shoe for anything in the mountains under 20 miles. They perform best for me above treeline--hopping over sharp rocks and talus is a breeze, as you can't even feel it through the very stiff and supportive sole. The leather is bomber, and the extensive around-the-ankle lacing really allows you to dial it in. The rubber is amazing, even wet--the pointed toes and toe rand allows you to climb hand cracks all day if you don't want to put your slippers on.

I will be buying another pair of these to put in my closet for the next decade when I want another, just out of fear they will ever stop making them!

A word of caution--they're definitely a good half size small, but do "pack out" a bit inside after some moderate use. They also get warm, but the benefits outweigh that my a large margin.
Great Hiking and Approach shoe
Familiarity:

I've put it through the wringer

Fit:

True to size
I have used this for 3 years hiking and a little climbing. I have hiked the rim to rim to rim, twice in it with no problems. I climb in them on easy terrain when in the mountains <5.8 but that will probably depend more on the comfort ability of the climber and the climb itself.
great approach shoe
Familiarity:

I've put it through the wringer

Fit:

True to size
they walk and grip grip great. Slightly weighty, bulky for the class when harnessed. toe cap is way too thin/fragile for aid climbing....otherwise this would be the best big wall shoe on the market. i am going to buy a 3rd pair...because they hike so well...and just wear 5.10's when jugging is required..
Tough shoes 3 years of abuse still work
Familiarity:

I've put it through the wringer

Fit:

True to size
I bought these about 3 years ago and have put these shoes through the wringer! Despite a small tear in the leather on top of the shoe and some of the leather eyelets coming apart, these approach shoes have stood the test of time. I've used these hiking up mountains in Afghanistan, on the trails at home and in everyday casual life. The Italians know how to make shoes last. Highly recommend these. Get them brand new, I bought mine after market on sale and I believe they may have been a defect (hence the tears in the leather).
Hi guys!!Are these shoes supposed to adapt to the length and shape of the foot? I found a pair on sale but my toe slightly touch the tip of the shoe wearing a pair of hiking socks!!
They will stretch a bit but not much. Be careful if you have wide toe base, the leather may stretch too far as mine did if too much pressure is put on them. Overall, I would suggest these pair because they are comfortable and great to travel with. One suggestion though, have a cobbler reinforce the leather eyelets so they don't come apart when climbing or using during every day situations. Hope that helps.
Approach this!
Familiarity:

I've put it through the wringer

Fit:

True to size
I love these shoes. They are very comfortable and sticky. They do a great job on approaches, as well as being an around-town shoe.
Hanging out in Maple Canyon
Jared D.

Expert Gearhead

800.409.4502 ext 4055

jdowns@backcountry.com
From the city to the slot canyon
Familiarity:

I've put it through the wringer

Fit:

True to size
I use these shoes for everything. Super protective, super supportive, and super grippy! I have had them for 1 year and have put a beating on them. I have a rip at the toe of one but it does not go very deep. This is my first pair of approach shoes and I will always have a pair in the closet from now on.



One interesting thing I have learned about approach shoes from a customer of ours is that they make a fantastic golf shoe!



Eric Watford

Expert Gearhead

ewatford@backcountry.com

800-409-4502

Ext. 6069

Instagram: @ericwatford
One Shoe Quiver
Familiarity:

I've put it through the wringer

Fit:

True to size
The hike to Priord Lake involved spongy bogs, sketchy log crossings over swollen streams, rocky talus fields, and double-digit mileage. The Boulder X Approach shoe took it all in stride. I like the Boulder X for backpacking because it blends the light and agile feel you get in a trail runner with some of the support and protection you'd get in a traditional hiking boot. Plus, you get climbing-shoe-inspired elements like the sticky rubber sole and a super precise lacing system. In short, it's a true one-shoe quiver.
Great heavy backpacking shoe
Gender:

Male

Familiarity:

I've put it through the wringer

Fit:

True to size
I've used these on all kinds of hikes & backpacking trips, & even taught school in them most days for two years. They have been comfortable & dry & grippy as heck - true to running shoe size 12's. They did feel a little snug when i 1st got them (like a climbing shoe), but the leather naturally formed to my foot, & they've been a great fit for two years. Our last 9 day backpack the left toe rand finally developed a hole after a 26 mile day on the JMT (& a previous 24 mile day going up Whitney). Truly a great shoe! A little heavy & stiff, but that is what i wanted for carrying 50+ lbs of bear cannisters. The leather never gave out, but the lining around the heel finally wore through, tho was never uncomfortable.... & the toe rand eventually wore through also. i've done a fair bitof class 3 scrambling, where they grip wonderfully, but no technical climbing. I highly recommend this shoe for backpacking & all types of hiking!
Solid Fit - Great Traction
Familiarity:

I've put it through the wringer

Fit:

True to size
I wear these puppies all the time from approaches to the occasional hike (mainly for hikes that will have sort of technical sections.



Fit:

Over all the fit of these is pretty great. The heel sits nicely, the arch is supported but not too much. The lacing system works nicely but occasionally comes a tad loose.



Toe Box:

So the front of my feet are kind of squarish. Most climbing shoes are rather pointed in the from near the toe box which ain't fun. These approach shoes have a great fit to them and don't cramp my toes style.

Lacing:



Traction:

I get great traction on approaches and in spots where a little edging is necessary. The rubber is super durable. I've logged many miles in my pair and they're holding up like champs. Currently they don't look like they have that much wear on the outsoles. Makes me happy knowing these will last for some time to come.



Problems:

I had these a bit loose one day while we were descending the west ridge of Grandeur Peak and holy heck was that my mistake. Also sorts of fun painful bruising in my big toe due to the constant toe bang. This is my fault for letting the shoe get loose. So keep em tight.



Jared D.

Gearhead

800.409.4502 ext 4055
Favorite shoes
Familiarity:

I've put it through the wringer

Fit:

True to size
I use these shoes for light bouldering and mainly quick and light overnight to weekend long backpacking trips. They provide great support and I can comfortably carry a load with them. This is my second pair, and my first pair I use for work now. The first pair are almost 4 years old and still going strong.
Backcountry, Are the Boulder X's only...
Backcountry,



Are the Boulder X's only available in Grey/Blue or do you have any 42.5 still available in Grey/Orange?
Hey C-RaigTheEl,



Thanks for your question.



Then inventory we have on hand at this time is only the 'Light Grey' which is grey/blue as pictured. The orange and grey in the 'detailed pics' is most likely an older color from a previous model.



Sorry about that.
Favorite for wandering slickrock
Familiarity:

I've put it through the wringer

Fit:

True to size
Very durable, great sticky rubber, and awesome lacing system. If I'm in the desert, and can keep my feet dry, this is the shoe of choice.
Solid Construction
Familiarity:

I've used it several times

Fit:

Runs small
So right now I'm living in the Hindukush system and I do a fair amount of walking. That said, I have only worn these for quick walks to and from...



After mixed reviews about running small and fitting true, I decided to order a .5 size large (I average an 8.5 to 9...so I went with a 9 or 42) and thought that that would be fine.



My initial impression when I first put the shoe on was that they were snug/narrow but the length was true. They were not uncomfortable and knowing that approach shoes should be just that...snug...I decided to keep them. After about a week or so and 8-10 hours a day in these shoes, my pinky toes hurt to the point that my entire foot felt like it was in a vice. I do not have a "high volume" foot at all. On the contrary, I have a pretty bony foot that is very prone to the cold at the slightest whisk of a breeze.



So besides needing to return these for maybe another .5 size larger than I have now, the quality of these approach shoes are impressive. I definitely like them. The wrap around lacing system is genius and the sole and rand are solid. I fully recommend these, just go a size up.



For sizing reference: A pet peeve of mine is when people complain about sizing and don't list there comparable sizes. I?m 5?8? and 155lbs. I comfortably wear a 9 in Lowa Zypher (my favorite boots-until they recently changed the design), a 9.5(42.5) in Salewa Snow Trainer Insulated, and an 8R in Belleville. I bought a 42 in these and plan to switch them out for a 42.5...pending Backcountry.com approving my return, of course.


Comfortable, sticky, good on scree
Familiarity:

I've put it through the wringer

Fit:

Runs small
These are my favorite approach shoes. They lace snug, and the rubber rand comes in handy more than you would think. This is actually a "reserve" pair, in case LaSportiva changes them before my other one's wear out.
Anyone feel like these need a break-in...
Anyone feel like these need a break-in period or are they good out of the box?
Best Answer
Dan,

I don't have this exact same shoe but I have had similar approach shoes from La Sportiva. My experience is that very little if any breaking in is required. I would make their first outing only a mile or two, but beyond that you should be good.
I agree with Mike there is really no break in required, as long as you buy the right size.