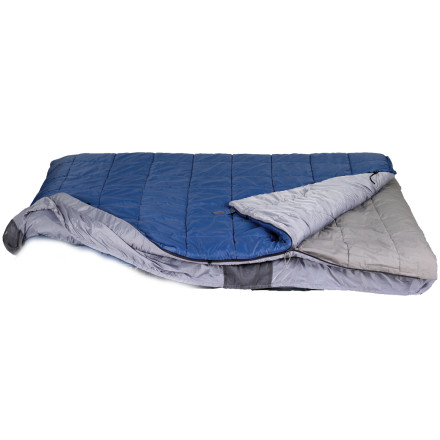 The Kelty Satellite Sleeping Bag rivals your comfy bed at home so you and a partner can wake up refreshed and ready for a full day of hiking. Featuring a fitted-sheet bottom that attaches perfectly to the Kelty Sleep-Well airbed (sold separately) or any other queen-sized air mattress, the Satellite is ready to orbit you with total comfort.
Rated to 30 degrees for camping trips anytime from mid-spring to mid-fall
Fitted sheet-style bottom fits over a queen-size airbed (airbed not included)
Synthetic CloudLoft insulation arranged in a two-layer, off-set quilt construction provides warmth during cooler spring and fall nights in a campground
Top half zips off and can be used as a blanket or lightweight, single-person sleeping bag
Ripstop outer fabric takes years of abuse while the soft polyester and cotton lining surrounds you with smooth comfort
Drawcords tighten the bag around you to help seal out chilly air
Side pockets store a flashlight or cellphone while you sleep, just in case you need to venture outside in the dark
Zipper draft tube seals out cold air
Roll-up straps simplify storage between campgrounds
Key Features
Familiarity:

I've used it several times
The skirt around the bottom of this bag is what makes it worth while. Other than the skirt, there are better options for double bags out there, not that this is a terrible bag, its just that it serves it's purpose and nothing more. The skirt is equipped with a drawstring to help secure it around the mattress. I've used it more in the house than while camping, but it's always done the job keeping us warm.

Bottom Line: If you're using an air matress, go with this bag, if not, look elsewhere.
I am wondering if you have to have a air...
I am wondering if you have to have a air mattress for this sleeping bag. I am really just looking for a sleeping bag large enough for my husband and I when we go camping, but we do not want to bring a air mattress.
Alicia

This particular bag is designed for an airbed, but if you want a double bag to sleep in without an airbed I would look at the kelty eclipse double.

http://www.backcountry.com/kelty-eclipse-sleeping-bag-30-degree-synthetic-kel0726
There is little to no insulation under you with this bag. intended for airbag to provide insulation from the ground
This bag is great for an airbed. My partner and I recently tried it out and it was both comfortable and fit nicely on one of those jumbo air mattresses. One instant drawback was the cord that tightens the bag to the airbed. We pulled and pulled to tighten it but there was so much extra rope that we didn't get a very snug fit. Regardless the bag didn't move around much on the bed so it wasn't a real issue.

I liked the side pockets and the bag was comfy.

This is one large bag, so I hope you're using it car camping. If you are, then it's the perfect addition to luxury camping.