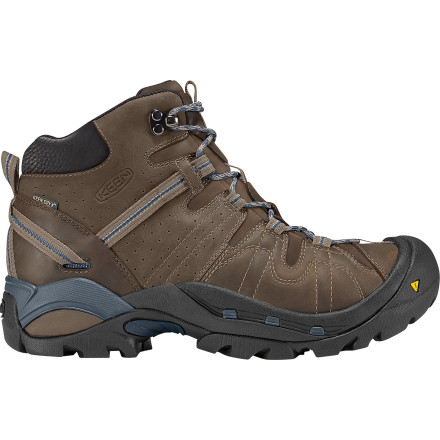 Detail Images
Hike through lodgepole pines, across boulder fields, and up switchbacks with your feet securely ensconced in the KEEN Men's Klamath Mid Hiking Boots. These mid-height boots feature KEEN's waterproof breathable membrane for the muddy trails, snow fields, and stream crossings you might encounter during your mountain trek. Full-length plates in the midsoles help stabilize your feet and protect them from rocks. Cork and EVA heel inserts cushion your feet so they can hike longer. Multidirectional lugs give you traction on whatever trail conditions you encounter.
comfortable out of the box
Put them on and took the dogs for a 3 mile walk. The next day I walked 18 holes in them. Then I went backpacking in them to a soggy mountain lake area. - great comfort, waterproof. I am very happy with these boots.
I love these boots! This is the third pair. I have a pair at the cabin, a pair at work and usually wearing them....that is unless I am sleeping. My wife thinks they don't belong in the bed.
If you have a wide foot they are certainly the boot for you.
68 year old foot fits with custom orthotic
Most hiking boots have a tapered toe box. The Keen boot has a more square toe box making room for spreading of the forefoot as one gets older. Get a half size longer than your foot and fit the boot with a custom orthotic. Also the ankle cover provides much more support when not on a trail. The sole design grips uneven surfaces very well.
Hi Gear Freaks, I recently bought these...
Hi Gear Freaks,

I recently bought these boots to take backpacking in the canyons of Utah. I wore the boots around for 3 days prior to going and felt the tongue was uncomfortable at first but no other problems arose. I have wide feet and high arches and love all my other Keen shoes. As a gal with large feet I often buy men's shoes.

After hiking seven miles on the first day over rocky and sandy terrain my arches were very painful. It just got worse from there. I don't know if it's the boots or the backpacking. Has anyone had a similar experience or suggestions to improve this problem. Otherwise I love the boots.
I've found my arches get a little sore after wearing my keen targhees, but I've added felt padding for arch support under the footbed and they're fine now. Sounds like you need better arch support. I also found the tongue on these to be a little uncomfortable, but ended up returning mine because of it.
Keen Klamath....cold shoes
these are nice boots.....but don't wear below 32 dregrees as there is no insulation between the rubber soles and your foot. Very cold.
My mom's side of the family lived around Klamath and Tulle Lakes for over 125 years and they would not like these shoe becasuse of the fear of frost bite.
These are pretty good boots as most people who bought these have testified. The boots are totally waterproofed up past the ankles as I did a few minutes of submerged tests in river water and about 10 to 15 minutes of walking in shallow rapid waters and mud. Boots are quite comfortable, has fairly good support with a firm sole, and fairly good traction. The only reason why I didn't give it a 5 star is only because of the fact that the DWR finish on the boots wear off fast, even after spraying a light layer some water repellent silicon on the boots. Most of the leather dried off quickly except for the creased area of the boot near the toe bend. It has taken a couple of days to dry. I can just see that part of the boot wearing out very quickly. Another minor gripe is that I wished that each boot came with two pairs of speed lace hooks rather than 1 pair per boot. I guess you'd have to spend twice the money and get the Pyrenees to get the steel eyelets the extra lace hooks. Other than that, the boots are snug and fits a pair of wide feet just perfectly. After 3 or 4 hours of walking, jumping, and running around in wet trails and creeks, my feet and socks remained dry - except for the top of one boot where I ran across some deep water to avoid getting water overflowing through the top.
If you're looking to tear-up the urban jungle, this is the shoe for you. I think it has awesome style, and I must admit they fit my feet (wide with high arch) right out of the box. This said, these shoes lasted me less than a year before the soles (both right and left) started to detach and the stitching started to unravel. I wouldn't suggest this shoe for any serious hiking, unless you plan on re-outfitting every season.

Hope this helps!
I bought these boots because I have had a comfortable and durable pair of Keen sandals for 6 years. I went on a 12 mile hike in Zion last week and they were wonderful on sand, slickrock, snow, and ice. I usually have to wear arch supports in hiking boots, but I do not need them in these boots. The price is very reasonable. I do not care for the reflective tape on them.
I have wide feet with high arches. Keens always fit me well, and are extremely comfortable.
I have wide feet with high arches. Keens always fit me well, and are extremely comfortable.
Great boot, like all Keens runs 1/2 size small. Good support, good waterproofing. Not a light boot but very comfortable
cozy comfy fit, and wide...one of the better designs for keen. i don't like the look of a lot of their products, but always hear the rave about them being comfy. took em snowshoeing and they did fine. waterproofing works great on em. if you're looking for a more durable sole, practically anything vibram or skywalk.
Very Wide . . and Satisfied!
I haven't owned a pair of hiking boots since I was 8. Now at 48, I'm getting back into it and I'm so glad a Cabelas store salesman turned me on to Keen which I knew nothing about. I have difficulty fitting technical footware such as ski boots and now hiking boots as I have relatively wide feet (11W) and almost a 1/2 size difference between them due to a broken leg at 12. These boots are incredibly comfortable with NO BREAK IN needed. All their sizes should have a (WIDE) designation next to them but they don't. The larger toe box area is very nice as well. I have used them on two extensive day hikes in the White Mountains of NH and not a singe incident of discomfort or blister. My Wife tried the brand in women's, but she has normal to narrow feet and could not find a comfortable fit. This model gives a little more positive ankle support than the Voyagur or Targhee.
I have tried on every brand of hiking boot and these fit me the best. My ankles are on the narrow side. One boot fitter said the front of my feet curved inward. The net result is these boots provide enough space for my big toe. My only complaint is that the sole is not as stiff as a Scarpa (or other expensive boots) of equal weight and they do not seem to be made as sturdy. On the other hand the center of gravity is lower. I have found that the Keen sizes run about one size small. I have been told I am a size 10.5 many times and I require a 11.5 in a Keen
Seemed like a great boot, but they are running a half size small and unfortunately I could not find a 11.5 anywhere.
Hey Gear Freaks, My Keen Targhee II's...
Hey Gear Freaks,

My Keen Targhee II's wore out after only a few short backpack trips. Any idea whether the Klamaths are better made?
I concur, the targhee is best described as a light hiker...its weak point being not enough support and not enough rubber sole.

I'm very satisfied with the "Mid" cut design. I'm wondering if the Klamath is more durable.
Best Answer
they're made in a better shoe. sometimes the longevity of keen products are unimpressive. they're comfy and wide, but the construction and materials used, more specifically their soles, get worn out real quick. i'm surprised it's such a popular brand, and should only be used for an occasional hiker. if you want hardcore boots go la sportiva, vasque, or any shoe with vibram or skywalk soles.
I haven't tried the Targhees, but I have put alot of hard miles on my Klamaths. Honestly, the sole doesn't look worn in the slightest. I'm actually very impressed with the durability of the sole and upper! My boots are mid to late 2010 boots.
The Klamanth is certainly a much beefier boot, better underfoot support and has some nylon shank. Can't speak about durability, but the ORegon PCT boots, which are similar to the Klamanth, are much more durable than the targhees.
i have really wide feet would you recommend...
i have really wide feet would you recommend these
Best Answer
keen's are well known for being wide and ugly so you're good. hehe. nah but these are one of their better looking pairs. however there's some longevity issues so as long as you aren't gonna wear em everywhere you'll be fine.
Keen boots are not particularly wide, just broader in the toe and more volume in the heel/ankle. If you have very wide feet these might be too narrow still - definitely order a half or full size up though if you try.
I have a pair of keen shoes and sandals....both...
I have a pair of keen shoes and sandals....both size 10.5....would you expect the boot size to be the same?
Best Answer
Hey Paul,They do fit the same as their shoes.
No - some Keen shoes (e.g. Austins) are a true fit, others, like the Klamanth and Targhee, run about a half-size small.