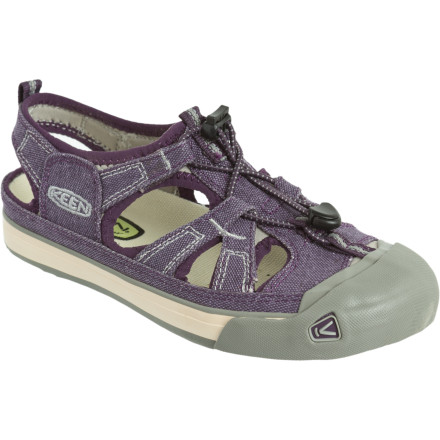 Keen uses a natural canvas upper and a recycled PU and cork footbed in the Women's Coronado Sandal so you can enjoy foot comfort and support an earth-conscious company at the same time. A closed toe protects against stubbing when you're out for a stroll, and an Aegis Microbeshield controls bacteria and fungus without using earth-harmful substances.
Keen coronado sandals womens
These sandals are comfy and cute! I love them. I like having different shoes. Everybody asks where did I get them??
Comfortable, cool and substantial
I just bought a pair of these, my first Keen's. Wow. What a comfortable shoe - feels like a slipper. I bought them as my main shoe for a month long motorcycle ride back to the midwest and east, where the temps have been over 100 for weeks with high humidity. They are substantially made, kind of funny looking (purple), but endearing and fit like a glove. You think you are wearing a tennis shoe (so substantially made, yet lightweight) until you feel the breeze on your back heel--the hybrid tennis shoe sandal, I suppose. I am a size 9.5 and they are perfect. I'm very happy.
I purchased a size 6 they fit perfect are very comfortable (I have a high arch). I did not think they vented well though. My feet are a little warm in them so I wear them on cooler days. I have several pairs of Keen's and this is the only pair I've had that problem with. Other than that they look great wear well and are comfortable.
I just received the cornado in 7 , I...
I just received the cornado in
7 , I usually wear a 7 or 7.5 but they seem to run small. Need to order larger, 7.5 or 8. What is the difference in length between 7-7.5-8. Don't want to order wrong.
The size chart lists the centimeter length difference. There is .5 cm difference between each half size or 1 cm difference between a size 7 and a size 8.
Awesome KEEN Coronado Sandal
These are super comfortable, very light, true to size, I ordered size 8.5 and they fit perfectly, also they are super cute. I bought the Black/Beet Red color and the only thing is that in the photo above shows a white line on top in the front part of the sandals however it is not like that, that part is all black. I checked pictures in other sites and they are supposed to be black, so you know :-)
perfect sandals . perfect brand , perfect price
Bought these because I love the fit of Keen shoes and the price was fantastic. From the minute I put them on they felt great. The footbed is a little bit wide, but my size 10 foot fits perfectly. I have worn these in a rain storm and at the pool and all around town. They dry fast, and look pretty cool. One thing I noticed was that the sole was a little bit slippery on certain surfaces, It is not the same stuff they put on the bottom of say the Venice sandal...
I have a pair of Keen's for winter that I...
I have a pair of Keen's for winter that I love. Does this shoe have good arch support?
Best Answer
aj the Coronado sandal is for kicking around, it does not have as much support as the winter boots. KEEN makes a couple of styles of sandals that do however. The Newport, Newport H2, Venice and Venice H2 has the support that you have in your winter KEEN's and are designed for all sorts of uses, like rafting, hiking, walking around town and for just kicking around.
Is the Coronado as lightweight as the...
Is the Coronado as lightweight as the Whisper sandal?
Best Answer
No, the Coronado is 11.7oz and the Whisper is only 8.8oz
I own a pair of Keen sandals that are great...
I own a pair of Keen sandals that are great for hiking during the summer. They are also waterproof and I've hiked through deep mud with them! I was wondering whether these sandals would be comfortable and durable enough for hiking in mountainous areas (not *really* tricky areas, but difficult enough that you cannot wear sneakers). Are they waterproof? water-resistant? or is it gross and uncomfortable if they get wet? They look so much nicer than my Keen hiking sandals which is why I ask. THANKS!
iccirene,

These are not waterproof, water resistant, but not gross and uncomfortable when they get wet. Keen hiking sandals have all the technical features for numerous activities of what Keen calls "Hybrid Life". The Coronado sandal is part of their casual line and should be used primarily for casual excursions, but not for muddy terrain with diverse features.
First pair of Keen's. Purchased Coronado: off White size 8. LOVE THEM!!!! Usually wear Merrell's for comfort and these will certainly compete. Bought these for trip to Disneyland & Sea World (for 50th b-day) in April. Expect them to be super comfortable & able to get wet.
Read reviews which stated these shoes were "way smaller than normal" and "way wider than most". I own LOTS of shoes and wear an 8, sometimes 7.5 in sandals. The 8 coronado has a pinch of extra room at toe and might be a little wide for a narrow foot; but I would say: true to size. Footbed is better than many shoes, And it's CUTE!
Wearable right out of the box!
Hi, I'm going to Hawaii in Oct. Would these...
Hi,
I'm going to Hawaii in Oct. Would these be good walking shoes, beach shoes?
I love all Keen shoes. I wear their sandals daily in my work and so does my husband. If anything, they last too long! I have a hard time justifying buying a new pair because my "old" ones still look like new after four summers. And I get in the lake all the time with them on. I highly recommend all Keen shoes.
There's no shoe for the sand... go barefoot & carry flip flops. When you come out of the sand - this shoe would be awesome!
An open toed shoe (or no shoe) would be best for sand in my experience, the toe protection holds in sand. Also there is a shoe liner and it's not rubber not the best water shoe (but otherwise a great shoe).
Keen Coronado Sandal-Women's
I loved the sandal but had problems with the stitching on the first pair I purchased. I wore the sandal only 3 times and the stitching pulled loose on my right shoe and the strap would have torn loose in time. Thank you to Backcountry for replacing the sandals.
Will this sandal accommodate a wide foot?...
Will this sandal accommodate a wide foot? I usually wear 6.5 wide.
Best Answer
Keen is usually a little wider than other brands,it is not a "wide" but will most likely work for you.
Is the Keen Coronado Sandal water proof?...
Is the Keen Coronado Sandal water proof? water resistant? Thanks! Peggy
This one is made of canvas...like an old pair of Converse classics, so they will definitely not be water proof or very resistant. If you're a fan of this style. Here is one that is very similar and has a waterproof leather upper.

http://www.backcountry.com/outdoorgear/KEEN-Venice-Sandal-Womens/KEN0022M.html
these are absolutly amazing shoes, just got them 3 days ago and i will not take them off! apart from being wickedly stylish they breath very well and will be great for upcoming camping trips(no more stubbed toes!)im sure there will be pics to follow...
Hello - Just wondering if you had the Keen...
Hello - Just wondering if you had the Keen Women's Coronado Sandal in Iguana in size 10.5?

many thanks!
Nope. The inventory list is updated in real time, so if it's not in there, it's not in stock. If you get on Live Chat, they can tell you when the next shipment's coming in and even set you up for email alerts.