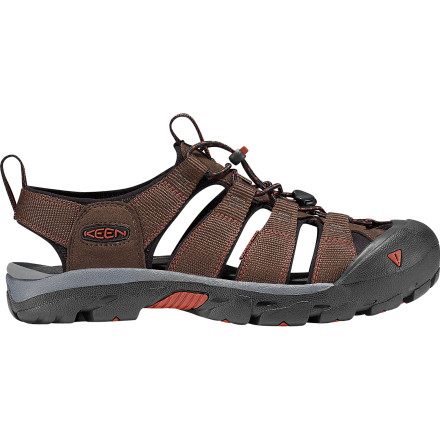 Detail Images
Share your thoughts
What do you think of the
KEEN
Commuter Cycling Sandal - Men's
? Share a...
Identity Crisis-- Terrible Sizing
I'm a big fan of Keen products but I think Keen really dropped the ball on this one. These looked to be the perfect hybrid between cycling shoe and cycling sandal; with the covered toe-box and relatively high strap coverage for sandals they promised better protection than open-toed sandals... and perhaps they do. I really wouldn't know because I was unable to even buy them the fit was so terrible! When I tried these on I essentially envisioned the Newport with an SPD plate on the bottom-- I couldn't have been more wrong. My feet barely squeezed into an 11, one half size above my typical 10 1/2 size fit. By the time I found a pair even close to wide enough, either 12's or 13's, they were so long it would have been awful to imagine doing anything in them. I don't have wide feet. I've never had to buy wide versions of shoes. I get that bike shoes are typically rather small and tight for more efficient power transfer and the cycling market is saturated with this type of gear-- I suppose mainly to appease the "race" faction of cyclists who need the tightest fitting gear possible to get that second advantage. But let's be honest Keen, do these shoes, the "commuters", need to cater towards the race-specific fit? Is anyone going to buy these for their maximum power transfer? No and no.

I emailed and called Keen and asked them if they had the Commuters in a wide size (normal size in my mind) and they do not although they said that many other people had called to complain about the sizing also saying they were too small. They acknowledged this information begrudgingly although they were firm on defending the fit as a traditional cycling shoe.

The Newports and H2's have over 200 reviews on Backcountry. This shoe doesn't have any (excluding mine) and Backcountry is selling them at 40% off-- basically trying to get rid of them. That's hard to defend.

Potentially this is a great product. A cycling sandal that offers higher protection than most but retains the casual sandal feel. It could be a great option for commuters and casual cyclists. Keen, stop over-thinking this product and listen to the people; make the Commuters fit more casually like a Newport with an SPD plate or at least offer them in a wide (or in this case normal) version that is more democratic in its sizing and people will buy them and love them.

Bottom line: if the shoe doesn't fit (in ANY size) it doesn't make the grade. The only reason I'll even give this 2 stars is for the potential they have in the future and the possibility that they work well if you can actually fit your foot comfortably inside them. I do not recommend these for anyone who isn't the stereotypical lanky cycling build.
Unanswered Question
How do the sizes run, i think I ordered a...
How do the sizes run, i think I ordered a 13 (my normal size) in another Keen shoe and it was way big and had to return it for a smaller size.