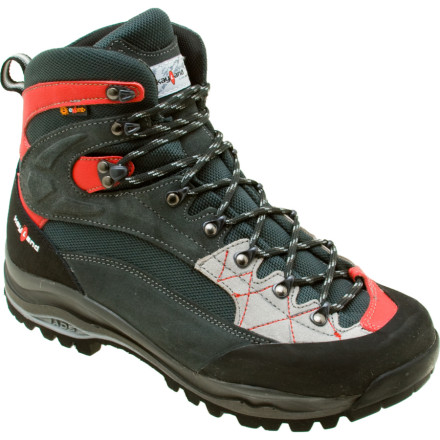 Detail Images

Community Images
Lace up the Kayland Contact Rev Boot and turn miles of rugged trail into a freeway of wild discovery. The Contact Lacing System locks down the waterproof breathable upper to your foot as you face any and all weather on your trek into mountain mystery. Thanks to the Contact Rev's medium-rigid sole, hauling your life over rocky passes and gaps feels like a walk in the park.
Waterproof breathable eVent fabric seals out rain and melting snow, but quickly expels the sweaty foot vapor that leads to blisters
I.A.D.S. Pro midsole's dual-density PU absorbs the shock of backpacking while its injected shank delivers stability on the most rugged trails
Vibram Foura outsole anchors you on the side of the mountain when trails turn to goat paths
Contact Lacing System features asymmetrical, free-floating lace points for a snug fit on any foot
Quick-drying Cocona liner fights blistering feet and smelly boots
Rubber toe rand and PU-infused leather heel resist abrasions from miles of trail abuse
High-top design supports your ankles, preventing dangerous injuries in the backcountry
Share your thoughts
What do you think of the
Kayland
Contact Rev Boot - Men's
? Share a...
I got my girl friend a pair of 2010 contacts a year ago and have been jealous of them since she got them. They are very good quality boots. I finally got a pair of them about a month ago.

I had to buy these boots from another vendor (was out of stock in my size) but wanted to just comment on these a little- I love these boots. They are true to size, stiff and have good sized toe box. They also lock your heel in place really well. I wore them right out of the box on a technical and difficult trip where I carried around 40-50lbs of gear round trip about 30 miles. I had no blisters or break in problems.
Spent two weeks trekking through Baffin island with these boots. prior to this trip only break-in was a 14 mile day hike, that left me with one small blister due to me improperly lacing them up.

On my trek on Baffin I put these through just about everything you could imagine. Crossing hundreds of glacier melting creeks, walking through endless marshes and sandy river deltas. Climbing endless moraines and glaciers. Not to mention the days it would rain and rain and rain. These boots got me through it all and without a single issue. I am a solid believer in Kayland boots and Event and will only purchase waterproof materials made with it. The fit was true to my normal size. I did switch the insoles immediately to the superfeet green soles which I loved as well. I felt the toe box had alittle too much room for my liking. And the high volume green soles helped cure this issue for me.

Since then I've used these boots a couple times for some light low angle mountaineering style hikes up the local mountains. And again they have worked flawlessly with snowshoes and crampons.

Bottom line these are great boots!
Where are these boots made?
Where are these boots made?
Disappointed in this purchase. 1 of the 2 bots leaked significantly on the first time I wore it. There seemed to be a leak somewhere underneath the footbed.

Good things about this boot: very comfortable right out of the box. Very natural walking motion. I put on a Kayland Contact Rev on one foot and an Asolo Fugitive GTX on the other. The eVent boot was noticeably cooler and I was actually surprised that I was able to sense a difference. I also really like Kayland's included footbed.

Bad things: it leaked. Wow, I was very disappointed.

Neutral things: Also, this boot was a little bit high for my liking and I prefer a lower-cut boot. I didn't realize how high-cut this boot is, and I prefer to have a little more ankle mobility, particularly when point my toes down. This isn't really a "bad" feature of the boot though, just a personal preference.

Overall Ratings:
- Comfort 5 stars
- Venting ability 5 stars
- Waterproofness 0 stars.
How is the room in the toe box? Recently,...
How is the room in the toe box? Recently, I have noticed that many hiking boot companies construct their boots with a narrow toe box. I have never bought a wide sized boot until this past summer, but find that I need the extra room only in the toe box. I purchased a pair of Lowa's in a wide size and find that is much better than the "regular" size companies have been putting out. I'm looking to try eVent footwear vice Gore-Tex this year mainly due to breathability and moisture control. Anyone have issues with the fit/toe box area with the Contact Rev's? Thanks!
Best Answer
I have a medium volume foot and have found that the toe box is plenty roomy in this boot. Even when wearing a liner sock and a mid weight trekking sock I still have plenty of room for my toes. Just make sure that you try on a couple different sizes to find the one that fits you best. I went through several sizes before finding the best fit for me.
OK toe room in these. More volume than width. Width is what I need - it's ok, but not particularly wide. In the end I am finding them too tight in the toes in my measured size.
Are this boot suitable for rappelling?
Are this boot suitable for rappelling?
If you're planning on using these for general mountain travel, you should know that you don't need any special shoes to rappel, just shoes that have decent grip.

If you're asking because you want to buy special shoes for sport rappelling, these are probably WAY overkill, and a considerable waste of money. For dry areas, I'd recommend an approach shoe, which is shaped like a sneaker but has sticker rubber on the bottom. My favorite is the five ten guide tennie, which is not in stock on backcountry. This Scarpa offering is similar
http://www.backcountry.com/scarpa-quest-shoe-mens

For canyoneering (rappelling in wet environments) I'd recommend these http://www.backcountry.com/teva-avator-sr-shoe-mens
I bought this boot last summer after reading Backpacker magazine's review of it in their editor's choice issue. I have put it to the test through a pretty wide range of conditions for nearly a year and feel that I am now able to write a worth while review.

First as a bit of background, I have very flat, medium volume feet with a wider forefoot and a narrow heel. I aslo have bad joints, especially in my knees and ankles. I went with a boot that offered such a high cuff with the hope that it would provide good support for my ankles, especially on downhill with a large pack.

My first outing in this boot was up the Primrose Cirque route of Mount Timpanogos, UT last July. Kayland boasts a zero break in period on this boot. I took them at their word, but within the first mile I began getting hot spots and had to stop to apply mole skin to both heels. Hoping that would be the end of my difficulties I continued on. Not a mile later I had to stop once again to apply more mole skin to my right ankle where a seam from the tongue was rubbing. In spite of the irritation my feet were receiving, the support of the boot was very good. The Timpanogos Basin was still covered in snow from Emerald Lake to the saddle which required kicking in steps. The boot performed the task well thanks to it's 1/2 shank. Throughout the rest of the hike I had no further problems with the boot. The downhill, which I typically dread due to my ankles, was not a problem thanks to the high cuff which supported my ankles very well.

The next major outing, and the sole reason I went with this boot, was a weeklong trip to the Wind Rivers, WY. I logged over 50 miles most of which was done carrying a 45+ pound pack. The boot performed amazingly well. My feet never felt too heavy even though I was wearing such a heavy duty boot. The breathability and waterproofing of the eVent was outstanding. Even when crossing several rivers with rapid water nearly as deep as the top of the eVent liner, my feet never got wet and the traction on the slippery stones was stable. While climbing Fremont Peak with a lighter day pack I found the boot to be adequetly nimble especially considering the level of support provided.

Most recently I have used this boot for some winter ascents of some peaks in UT (Everest Ridge) and AZ (Humphreys Peak). Even though the boot isn't insulated, I found that my feet stayed warm with only a liner and midweight wool sock (both SmartWool brand) so long as I kept moving. While waiting for my group to catch up at around 11,500' with temperature in the low 30º range my toes did get chilly after 15 minutes or so and I had to get moving again. The boot has worked very well with the Black Diamond Serac strap crampon. Definitely not stiff enough for vertical ice or anything technical, but more than capable for moderate snow slopes.

After nearly a year this boot has seen a vast variety of conditions and has held up very well with nearly no signs of wear. The quality and workmanship is superior to any other brand I have tried. I am very impressed with Kayland and this boot, so much so that I have aquired the Kayland M11+ as my four season boot.

Here's a few useful tips that have helped solidify this in my book as a five star boot. I found that swapping out the footbeds with a pair of green Superfeet greatly improved the arch support especially with my flat feet. I experienced a bit of heal lift initially due to my narrow heal, which is likely the reason for my blisters. I have remedied this problem entirely by altering my lacing to wrap around the back of the boot at the ankle.
Are these crampon compatible?
Are these crampon compatible?
Best Answer
These have a heel bail, but not a toe bail, so they will fit strap or semi-automatic crampons.

Because these are a semi-rigid boot, they will be best with a flexible crampon, like the black diamond contact. These boots don't have the stiffness required for technical frontpointing or kicking lots of steps, but would work for travel on hard snow or lower angle glacier

http://www.backcountry.com/black-diamond-contact-strap-crampon

hope that helps
Solid Boot - Pull the Trigger
I have had this boot for almost a month now and have put about 40 hiking miles on these guys. Carrying just a light 20lb day pack (I am the groups mule) I can't comment yet as to their performance with more weight. However, I can say that there is very little break in time needed for these boots -- but day 2, mile 20, my feet were far happier than Day 1 mile 10. Most of these hikes have been on the PA AT and the rocky trails are just trying to twist your ankles. The traction on the boots was perfect and though I my ankle twisted a few times on these outings there was never a sprain incident. I found that these boots ran true to size - and would recommend going a half size larger if you intend on wearing some thicker hiking socks. Finally I didn't have any rain or water to contend with as such but I trudged through a couple of meters of ankle deep standing water as a test and my feet were bone dry even after doing this for a few minutes. I would get these boots again based upon my experience so far - and will update this after a few longer winter expeditions.
How is the fit on these boots ? I wear a...
How is the fit on these boots ? I wear a 9.5 normally in a shoe -- should I go 1/2 -1 full size larger in these?
Best Answer
Well I am an 8 3/4 truly as opposed to an 8 1/2.. so usually I wear a 9. I went with the 9 1/2 and it fit me well. I would say they run a touch more than half size small.. but the half size up worked for me.
They fit very true to size. Do not size up unless you have very high volume feet or wide toes.
What's the difference between the Contact...
What's the difference between the Contact and Contact Rev?
Best Answer
The Contact Rev has higher lacing - eyelets on the cuff and goes up higher on the boot. It is also 10 grams lighter (750g vs. 760g).
The Contact has a slightly more tapered toe but the width is similar at the pinky toe where the forefoot flexes. It also has a snugger heel due to much better heel padding, and stiffer upper materials, while the Rev does not lock the heel down as well. The lacing is more customisable on the older Contact and locks at the instep, unlike the Rev. The Rev has a much more flexible upper that conforms to the foot better right away, but the contact will probably soften with wear. The more flexible and form-fitting upper along with a better rocker makes the Rev feel more nimble. The stiffer upper and a more rigid toe-box amkes the Contact feel more clunky, though this may soften up with use. Overall they are similar but definitely some differences. I prefer the feel of the Rev but wish it had the heel padding of the older Contact.
I bought both this boot and the Zamberlan 760 Steep GT (because of their awesome writeup in backpacker magazine). After a couple days of wearing them around the house, I decided to go with the Kayland Contact Rev. It has a sturdier heavy duty boot rigidity to it, but maintains an wonderful level of comfort. I flew up to Alaska and took them out in Denali for 10 days, no break-in, and the boot performed awesome carrying a 45 lb pack. The waterproofing was amazing,was hiking through standing water up to the collar for a couple miles and still had dry feet. They felt light when bouldering and climbing, and provided a great level of resistance against the wear that happens on your feet when hiking on glaciers and rocks. I didnt really have any pain points about the boot, I did switch out the insoles for orthotics, but my feet felt great the whole time. No blisters, no hot spots, and I wasnt itching to get out of my boots when I got to camp like I usually am.
Overall, I definitely recommend this boot.

Michael B, Columbus Ohio