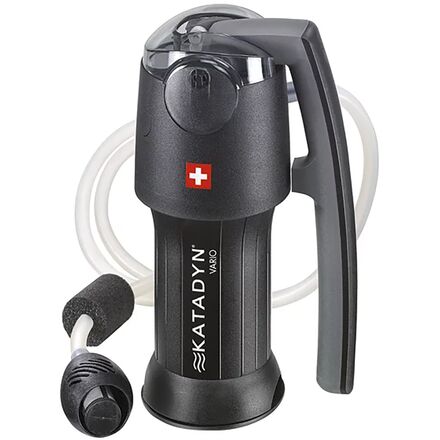 Community Images
Description
Pack Katadyn's lightweight Vario Dual Technology MicroFilter and drink clean water whether you're camping near muddy water or clean mountain streams.
Katadyn's lightweight Vario Dual Technology MicroFilter adjusts for dirty water or normal water conditions, so you get the cleanest, freshest water possible no matter where you're backpacking. A simple turn engages the ceramic prefilter when you're pumping out of a muddy lake so the pleated glass-fiber filter inside doesn't get destroyed. After a long, hard hike, this Katadyn water filter's dual piston pump works smoothly and easily—pumping out up to 2-liters per minute. The Vario Dual Technology Filter removes waterborne bacteria so you can drink safely on your camping trips, and uses a replaceable carbon core and cleanable ceramic disc. Attach Katadyn's adaptor base directly to your standard Nalgene water bottle opening, or use the output hose for larger water containers.
Includes refilter, carrying bag, and cleaning pad
This is it.
Familiarity:

I've used it several times
I'm telling you now, this is your filter.

I've tried multiple Katadyn filters and this is the most affordable, efficient filter of theirs. It eliminates finicking with an inlet hose, instead you just fit it to the top of your water bottle and pump.

It gets you clean water quick, which I appreciate because when I'm thirsty, I'm hangry, if that makes sense.

Speaking from experience and mistakes, if you are debating getting a handheld filter or gravity filter, I would recommend purchasing a handheld first then a gravity feed filter. Handhelds make filling up bottles while hiking more realistic and less of a hassle while gravity filters are better for base camp use.
Great filter-light weight and dependable. Highly recommended!
excellent piece of gear
Familiarity:

I've put it through the wringer
I have used this filter for almost four years now, and it has yet to fail me. It pumps quickly, while still doing its primary job very well. I do have an issue with leaking at the head before the ceramic filter, but as long as I'm careful not to let any of the leaked water into the bottle or along the edges of the bottle's mouth then its not a problem.A minor nuisance really.

Easy to clean, quickest pump I've ever used, and does it's job well. what more could you want?

I would highly recommend this filter.
Great Filter ---Hands Down!
I have owned this model since 2008 & it has been great. I did go some time without using it and did not properly inspect it before setting out on a trip & the gasket at the base by the outflow spout failed. I had to dip into my survival kit for "Plan B" water treatment. This did happen at night. The next morning I was able to easily take it apart and make a quick field repair & then it worked great. It has a fast flow & filtering the water on the Longer Life setting I am still amazed how great the ceramic disc filter works. You can obtain water from a fast flowing stream by Rapids and/or waterfalls where the water is well oxygenated and after your trip you open it up to clean it & BOOM... Dirt, grit & grime loaded on the ceramic disc. It is a bit big & bulky but well worth it.
fast filtering
Familiarity:

I've used it several times
Not the lightest out there but filters water fast. My wife and son were using the MSR MiniWorks and both complained that it was slow. I filtered and filled two Nalgene bottles in the time they did one bottle. This filter is easy to take apart and clean. It has been on about 6 trips so far and I have not had any maintenance or other problems with the filter. We sold both of the MiniWorks and purchased two more of the Varios.
Best Filter To Date!
Familiarity:

I've put it through the wringer
We really love this filter, super easy to use, clean and maintain. The dual pumping action fills a water bladder in no time. We just pull the mouth piece from our bladder hose and insert that into the bottom of the filter and pump water directly into bladder. It's so easy a 5 year old can do it!
Very useful.
Familiarity:

I've used it several times
My husband spent 5 weeks in the Utah backwoods as part of his profession and this came in handy. He was able to filter his water rather than carry it around without getting sick. Plus, the water was nice and cool.
A must have
Familiarity:

I've used it once or twice and have initial impressions
I have owned more compact backpacking filters in the past, but after seeing the Vario in action, I had to have one. I am sure I will still use smaller filters for when weight matters, but on rafting trips, or on treks when functionality, speed and output volume is more important, the Vario takes the cake.



The only two downsides of this filter are its weight (425g compared to 310g for the Hiker Pro) and its complexity of parts, which I imagine could lead to repairs in the future, though I haven't heard many instances of this.



If you are looking for a simple quality product that is very light weight I would favor the Katadyn Hiker Pro. But if you are looking for a faster filter, with replaceable charcoal, and a longer filter life, the Vario is for you.
Essential
Familiarity:

I've put it through the wringer
This pump is MUCH faster than the old sweetwater pump I used to have, even on the long life setting. We have pumped from dirty shallow puddles and heavily silted lakes and continually get clear, good water. It's easy to maintain out in the bush and so convenient to not have to pack water . I wouldn't go anywhere without it.
Awesome Pump
Familiarity:

I've put it through the wringer
This pump is great. Katadyn has really made a great product here. This pump is especially good if you're in a group of 4-8. It may be a little overkill for solo journeys. The ability to switch between fast flow and slower flow is fantastic. The faster flow filters about 2 liters per minute. I went backpacking with a buddy of mine and he had the MSR Sweetwater. We were filling up the same size bottles and mine filtered way faster than his. Great product!



EDIT: After a few trips, my pump started leaking where the pump housing connects to the actual filter. I sent it in to backcountry to be replaced. I'm hoping my unit was just defective. I'll update again after I've used the replacement awhile.
Filter doctor Review of Vario
Another video that I thought was helpful
Good Flow, Little Leak...
Seems like a good quality piece of equipment. It does leak a little before the filter at times, have to be careful not to contaminate your water bottle or container.
Good filter, but leaks under pressure.
Familiarity:

I've used it several times
I like the filter. It's a little heavy, I kind of wish I got the Hiker Pro. I say that because its a little lighter and shares the filter with the base camp filter. But I also read about the handle breaking on the Hiker Pro and this one is much sturdier



I do like how it connects to my wide mouth nalgene bottles. It's like holding one thing instead of trying to pump and hold a bottle too.



My cousin and I both have this one. And both of ours leak a little when you push too hard. It's not that big of a deal because it is leaking before the filtering happens. The solution is to just not press so hard.
Lookin at this, the hiker pro, and the...
Lookin at this, the hiker pro, and the pocket microfilters. The descriptions say that the hiker pro filters out more "categories" of harmful items than the Vario (by far, I might add), and more than the pocket microfilter as well. This cant be right... Shouldn't the model that costs four times as much as this be able to filter out EVERYTHING, and at the very least, shouldn't this Vario be able to filter out at least CLOSE to as much as the hiker pro? Whats the point of a water filter that doesnt protect you from everything that the worlds water can contain?
Best Answer
I think the description for this one is just missing some info.

Based on the specs, this and the Hiker pro both have a .3 micron pore size, so they will remove, basically everything but viruses. (most monocellular life will be .5-1.0 microns, cysts and multicellular bugs like hydra can be up to 5 microns.)

The Hiker Pro will improve taste and odor, as well as remove some chemical impurities, because of the activated carbon.

As far as the pocket model, I didn't see posted specs for the cartridge it needs, but I suspect similar a pore size.
Katadyn / Vario Dual Tech Microfilter
Katadyn / Vario Dual Tech Microfilter
Great Water Filter
Gender:

Male

Familiarity:

I've put it through the wringer
I have really enjoyed my water filter. Held up very nice over the years. Easy to use and clean in the field. Pumps water super fast and very efficiently. I would definitely recommend this to anyone looking for a water filter. A little bigger than the popular hiker pro but a little more efficient in my opinion. Worth the extra size and weight and cost.
Awesome water filter!
Familiarity:

I've used it several times
Happy I picked up this filter. I have only used it a handful of times but each time it never fails to perform and I dont have to worry about my water not being safe to drink. Overall recommend this to anyone looking for a more technical version of the Hiker Pro. It is a little more complex than the Hiker series but not to bad to have to take apart on the go.