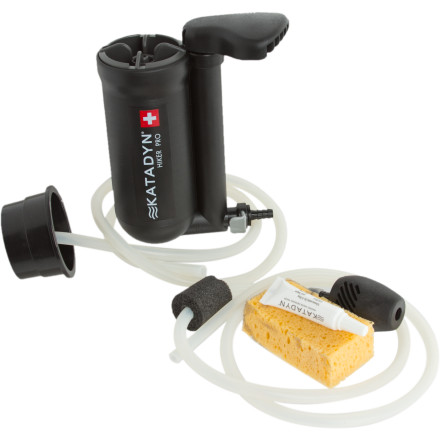 Community Images
Description
An easy, reliable, and durable filtration system that only costs you 11 ounces.
A quick stop at a river or stream with the pump-action Katadyn Hiker Pro Water Microfilter lets you continue on your long trek with hydration packs and water bottles full of clean, clear drinking water. Carrying gallons of water isn't necessary when you have reliable water sources and are carrying this durable 11-ounce water microfilter in your backpack. Since it connects directly to your hydration pack and water bottles, you spend more time on the trail and less time fiddling with your water supply.
Quickly converts suspect water to safe drinking water at rate of one liter per minute, or around 48 pump strokes
Filters all sediment, particles, and microorganisms like giardia and cryptosporidia that are commonly found in 'fresh' backcountry water sources
Filter protector keeps the pleated 0.3 micron glassfiber cartridge (129 square inches) from being damaged, and it's easy to clean in the field
Active carbon core reduces bad taste and odor
Cartridge can clean up to 1150 liters of water, depending on the condition of the water
Quick Connect hose fittings allow quick setup and storage
Hydration connector painlessly attaches to 1/4-inch hydration pack connections (Camelbak, Platypus, etc)
Universal Bottle Adaptor screws onto most water bottles and included carry bag keeps the whole system clean and organized in your pack
Great filter
Familiarity:

I've used it several times
I love this filter, it is easy to use, works quickly, and most important, gives you great tasting water. UV lights are great, but they dont filter particles out of water or improve the taste at all. This can turn muddy slop into potable clear water. It is really quick being able to filter about a liter a minute and weighs next to nothing which is great for its packability. I really like this pump, but havent used any of the other ones on the market
Excellent Choice
Familiarity:

I've used it once or twice and have initial impressions
Used for a 4 day trip into the BWCA. Served as a primary source of water for 4 people. Included drinking water, cooking, and some of the dishes. Very easy to use, effective, lightweight and portable. Definitely a good purchase and a happy camper!
Great Filter
Familiarity:

I've used it several times
I used this on a four day AT backpacking trip starting in Damascus, VA. I was impressed with the ease of use, considering I ordered it several days before leaving, and then used it on the trail prior to ever testing it. Setup was quite easy, and the water flow was excellent. Another hiker commented how much faster this filter pumps water than his own model. The construction feels well-made. I never felt like the pump/handle would break off, which is great since it's made from plastic. I'll also mention it's light weight.

As far as water quality goes, I give it high marks as well. The water tasted like fresh, clean spring water. I didn't get any debris, nor did I get sick from drinking spring water. I can't know whether Giardia was filtered out of the spring, but I assume that microbe filter works.

I really like that it comes with attachments for pumping directly into water bottles and into hydration reservoirs. Though my reservoir wasn't a compatible model, I would like to try this out at a later time.

Final thoughts: Definitely worth it. I got it on sale for $65 with free two-day shipping, so the value is definitely there for me.
Simple & Easy
Familiarity:

I've used it several times
I've tested various Katadyn filters and this one performs exactly as rated, adequate for the job. The amount of water I drink could be called excessive, so my first piece of advice is to spend the extra money and upgrade to the Katadyn Vario Dual Technology Microfilter (item #EXT0059). It has double the output amount and a ceramic filter.



However, if you are in the market for something to just get the job done, this could be your filter. It is lightweight, easy to use, and still gets you fresh water fast.



I've found that the carbon filters are difficult to clean and rarely see a difference after doing so. Other than giving it a quick rinse under the sink there's not much else you can do, unless I missed the filter cleaning memo. If so, please enlighten me!



The tubes on these filters are sensitive, so be careful when jamming it into its case. I had the tube get a small tear where it connects to the filter, letting air in instead of water. It was a simple fix, trim the tube where it cracked and slip it back on. However, if you get a tear in the center of your tube you could end up with a super short inlet or outlet hose, making filtering a lot more interesting!



Overall, I'd recommend this product to fellow backpackers for a great base, no bells and whistles filter.
Affordable, Convenient, and Safe!
I'd previously used liquid treatment methods like the Iodine and Aquamira, but wanted something a bit more economical and fast. Luckily I've been using fairly clean water sources generally free of sediment , so I have not seen any clogging issues yet. This filter processes water incredibly fast and tastes great (obviously depends on the source). Much preferred taste to the tabs or drops. Honestly this doesn't take a great deal of space up in my pack so I take it on day trips now too, not just overnights. Worth every penny.
Filter of Filters
Familiarity:

I've put it through the wringer
When you're many days from your car, running out of potable water one of the biggest disasters you can encounter. This may not be the lightest or fastest filter on the market, but it's definitely one of the easiest to use and maintain.

I just picked up another one of these-my previous pump was the exact same model, which I bought in Boy Scouts in 6th grade. That filter housing (replaced the actual cartridge only twice) had been to hell and back. I replaced the cartridge twice, but never even tore any of the rubber hoses or lost any parts. The carrying case is very compact, has a full length metal zipper to make loading a breeze, and even dividing bags to keep contaminated hoses from the clean ones. My first one I purchased 20 years ago finally had the small handle piece break off at the 90-degree turn, so I replaced it. Any plastic will get brittle over time of course, and it was even still useable in a pinch with that piece broken off.

Solid, and reliable. no batteries, special tools, or BS required.
Quick and easy water filtering system
Familiarity:

I've put it through the wringer
The Hiker Pro makes any backpacking trip a lot less stressful when it comes to water. The filter gets rid of all the junk in there and makes it perfectly acceptable drinking water. Weather you're on the trail for a week or just need a little extra water on a long hike. The Hiker Pro is the filter system you need. Super stoked on the size and very user friendly for swapping out parts.
I've only used it on one 3 day backpack trip so far. It's light enough and pumps faster than I thought it would, plus, with a little modification to one of the quick-disconnect fittings, it plugs right into my Camelback so I can fill it without removing it from my pack. The bottle adapter works well with my Nalgene also. Overall, I think this was a good choice.
Worth it!
Familiarity:

I've used it several times
Great, lightweight, durable backpacking filter. Handy to have on long days fly fishing too, instead of carrying around warm water =)
Seems great!
Familiarity:

I gave it as a gift but have feedback to share
I purchased this for my Dad because he is sick of carrying water on long hikes and wanted a light weight water filter. He hasn't used it yet but it's super small, lightweight and easy to use. His only qualm right off the bat is that when storing the filter you have to wrap the tubes around it. He said he wished there was a more efficient way to store it but other than that it seems like a sweet filter! I'll update once he uses it a few times :)
Just what I needed
Familiarity:

I've used it several times
This is a great product, works well with my reservoir set-up. It is easy to use and I love knowing that it will work without batteries or distasteful iodine tablets. Much lighter than toting around enough water for several days of hiking!
Efficient, Reliable, and Easy to use
Familiarity:

I've used it several times
I've used pretty much every type of filter that is out there and this is by far my favorite. I love the Katadyn Hiker pro because of its reliability and efficiency. I used this on multiple weekend trips and also on a 3-week backpacking trip I went on this summer and never had any problems. It is great for about 1-3 people to use however if you are looking for something for a group of people I would definitely look into the Gravityworks Platypus filters.
Safe Bet
Familiarity:

I've put it through the wringer
This is a classic filter. It's not to bulk to carry, easy to use, fast enough... I definitely recommend it to friends. Go into the wilderness with this thing and one nalgene and you'll never be thirsty!



Well maybe you will... please make sure there's natural water where you are going before counting on using this filter.
Best hiking water filter
Familiarity:

I've used it several times
Recommended by my gearhead Bill.



Super easy to use

Filters water fast

Light for backpacking

Price is reasonable

What more do you need?
Katadyn's official video on the Hiker Pro microfilter, hosted on Youtube.
Great filter, great price
Familiarity:

I've put it through the wringer
It's small, lightweight and tough. The pump is super sturdy and fills pretty quickly. The only time I've had it slow down on me is when I've filtered the muddy water of Coyote Gulch in southern Utah or real silty glacier water.

Quick release system makes the set up and break down quick and painless, though I haven't used the bladder quick release.

The fill end fits perfectly on either wide mouth or narrow mouth Nalgenes

Take care of it and it'll last forever
Fast and tough
Familiarity:

I've put it through the wringer
Great all in one system to grab a cool drink on the trail. Durable and if cleaned and taken care of properly it will last forever. I would highly recommend this to anyone just getting into backpacking.




Great system.
Familiarity:

I've used it several times
I'm a big fan of this system! Lightweight which is nice and opposed to others where you have to stay near water this allows you a nice snug fit onto a Nalgene bottle to fill up and take with you. Fills very quickly, a typical Nalgene will fill in about a minute or less. The weighted tip in the water is nice as well, i've used some that don't have that and it made it a pain to try and fill as it wouldn't stay down in the water. Overall, highly recommend.
All in one kit
Familiarity:

I've put it through the wringer
Great filter that has everything you need to fill bottles and hydration bladders. Nalgene adapter fits snug on the the bottle. Filters water quick and doesnt leave a taste. Breaks down quick and easy for field cleaning