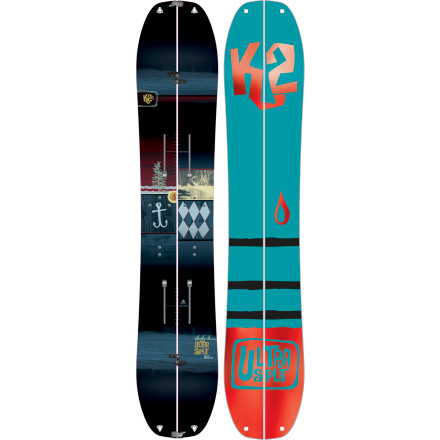 Colors
Description
Explore.
Absolutely nothing in snowboarding beats bottomless, untracked powder. The snowboard, by its very design, makes getting to powder tough. Of all the systems that we've come up with, the splitboard is the most efficient, because it allows you to use your board to ascend. The Ultrasplit Wide is K2's premium backcountry tool for big-footed riders. It uses K2's hottest snowboard technology and its hottest splitboard technology to make your backcountry adventure truly unforgettable.

The Ultrasplit starts with K2's All Terrain baseline profile. It is mostly flat for stability, with more rocker at the tip to keep you afloat in deep snow and less rocker at the tail to prevent wheelies when landing. The Ultrasplit uses K2's splitboard-specific Ultratech construction. This hybrid construction uses a half-height sandwich that's as tough and lightweight as we've seen; the unique sidewall shape is also designed to withstand the constant abuse unique to split boards, as the two 'skis' bang together and try to de-laminate each other. The Ultrasplit sheds even more weight by eliminating the topsheet, and the Bambooyah bamboo core is used for its high strength-to-weight ratio and its sustainability as a natural resource. Carbon Web II carbon stringers improve power transfer to make the board more responsive for greater control at high speeds; K2 finished off the recipe with the ultra-thin, low-static Ø sintered base.

What makes the board even more special is the new Split Track mounting; instead of rows of holes that you need to painstakingly line up with your binding, the twin channels make it fast and easy to set the angles on your Voile setup. Its pinless design is much more glove-friendly, so you don't have to deal with frozen digits in the backcountry. But where it really shines is with the new K2 Kwicker system. Essentially a step-in binding system re-imagined, it eliminates the need for separate bindings and binding plates. To strap in, you simply pop out the binding, click in with your Kwicker Stark boots (sold separately) and go. To speed up the transition process even more, the Ultrasplit includes Z-Clip notches at the tip and tail of the board that pre-cut skins (sold separately) hook into quickly and securely. It all comes together to create a better splitboard that gets you on the trail earlier, ready to ride more quickly, and more confident when you drop in.