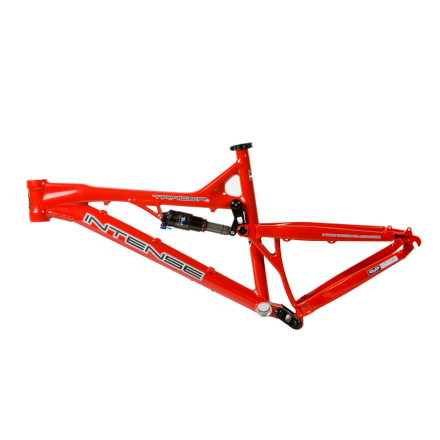 Detail Images

Community Images
Share your thoughts
What do you think of the
Intense Cycles
Tracer VP Frame - 2009
? Share a...
Unanswered Question
How is the rear end on the 2009 Tracer? ...
How is the rear end on the 2009 Tracer? I've read mixed reviews with some saying that there is a bit too much lateral flex.
This bike has done everything I could have asked of it. There's no "the one" bike to please everyone, but this is the one for me. Obviously, the components you build your bike with make a huge difference, as do you riding style/expectations/geometry/etc. I actually took a blind leap and got lucky, but go demo one and see for yourself. I have it set up with an adjustable 160mm fork and keep it in 6" mode full time. The bike feels nice and stiff and tracks really well. It climbs amazing and drops beyond my expectations. I have the new RP23 with Boost Valve; no pedal bob and plush enough to handle the drops and rollers I do.
I ride with a guy who was forced to sell his because his shop stopped carrying them, and every time we ride together he says he regrets it. The same guy has a revolving bike collection including a Nomad, a Blur LTC and a Mojo. I think it speaks volumes that he still pines for the Tracer.
I am 5"11 and about 190 lbs. I have been riding a Specialized Stump Jumper. I demoed one of these before I bought it and fell in love. If you want something that will climb like a goat and chew up the down hill this is the bike. My bike came in it at 29lb for a 6" travel bike with platform pedals. It climbs better than my previous bike and instills confidence on the downhill. The frame is solid and does not flex at higher speads like my previous bike. I find I pick rougher lines take bigger drops and it has not slowed me down on the climb. I mostly ride the Wasatch front and take a couple trips to other areas. Favorite trail in Moab is the Whole Enchilada. Wasatch front is the Crest. And Thunder Mountain is another favorite down by Bryce canyon. Maybe not the best xc race bike but 2x the fun. If you have been on the fence about this bike it is great. I am running the fox 150QR fork and If you want a more downhill machine I would maybe go with the 160mm RC36. But I am happy. It's a beautiful bike that is the best trail bike on the mountain.
is it posssible to purv the tracer in this...
is it posssible to purv the tracer in this site with Fox DH5 air ?
I am sorry we are not able to make that upgrade. Thanks
I demoed one of these last year right before they were released and was so impressed. It feels really great on long rides and the descending prowess is second to none. The hydroformed tubes are a work of art and the 1.5 headtube is absolutely genius.
I love this frame. I had a Yeti 575 before getting my Intense Tracer. I thought that the Yeti 575 was the best bike I had ever ridden ... until I demoed the Tracer... and I was sold. Not sure how to describe it -- I feel unbelievably agile on this bike. It's also more comfortable on longer rides.
Is the "CNC Team Blue" frame for $2,399.95...
Is the "CNC Team Blue" frame for $2,399.95 the same as the limited edition Works blue with nickel plated lower and upper links? Also, how can I determine which frames are in stock?

Thanks!
That is the Limited Edition "CRC" color with nickel links. frames in stock are listed under "select options" in the upper right-hand side of the page.
Looking for a large works red. Do you have...
Looking for a large works red. Do you have one and what would shipping cost me to Alberta Canada, T9A3R5
Shipping will cost like $50 or something depending on the option, but the border tariffs will increase the cost on top of that a certain percentage. And there is a large Works Red in stock.