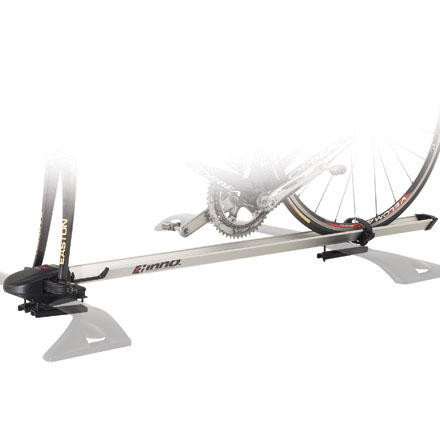 We were looking for a fork mount roof carrier system to fit our Forester factory roof racks, and ended up going for these. They are the best roof racks I have used. They lock the bikes, there is a cut out for disc brakes if you're a MTB'er, they look great, and they are really easy to use. I can't say much more, but these are the best product I've bought this year.
I got this rack to go on the factory rack and crossbars on my trailblazer ext. The rack fits on there with no issues. The directions that came with the rack were good. I rode over 1300 miles round trip with my road bike on the roof, including going through the rough roads on Staten Island, Brooklyn and Queens. The rack is very sturdy and I would definately buy another one. It also has a lock so no need to have someone sit with the car when taking breaks from driving.
Unanswered Question
I'm looking for another bike rack for my...
I'm looking for another bike rack for my wifes bike and am wondering if this rack would fit on the mountings of a 2000 Chevy Blazer.
Great fork mount for existing factory racks
I was searching far and wide for a fork bike mount that could go on the factory rack that came standard with my Subaru Outback. After using many different mounts from a variety of manufacturers over the years, I knew for a fact, that fork attachments are the most secure, has the least air resistance and actually easier to use once you get used to them. The Inno-RV mount goes directly on the factory rack, accomodating different shapes and sizes of crossbars. Its forward plate attachment is wider and more secure than comparable Yakima or Thule, and Inno's oversized lever is actually easier to adjust and lock than either of them. Overall quality appears top-notch and the box says "Made in Japan" for what it's worth. To top it off, the Inno mount is about about $40-50 cheaper than the "brand named" ones and unless proudly displaying Yakima or Thule is part of your outfitting you will be well advised to skip the expense of buying their racks (neither will let you use their fork mounts with a factory rack). Regarding installation, I found it best to take the front cross bar off and attach the front plate first, before putting the crossbar back on. As a suggestion, I wish the rear wheel strap had a clamping buckle, but that's really a nitpicking.