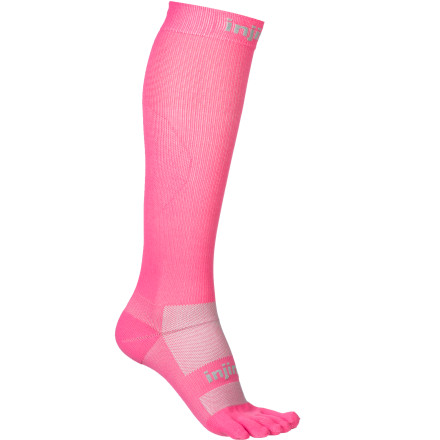 Community Images
Barefoot performance with graduated compression for optimal energy and recovery give the Compression Ex-Celerator Over The Calf Toe Sock the best of both worlds. Toe sleeves give your foot natural splay and motion for increased muscle stability for proper form and enduring function, and graduated compression increases blood flow for maximum output, reduced risk of injury, and shortened recovery time. Moisture-wicking, breathable construction protects against blisters and keeps your foot cool, dry, and comfortable on enduring runs, hikes, or soccer games.
Lycra Energy with patented AIS technology provides moisture-management and breathability in a graduated compression for optimal blood flow and energy
Graduated lower-leg compression stimulates blood flow for improved performance, reduction of injury, and shorter recovery time
Toe sleeves allow toes to splay and align naturally for barefoot performance
still testing, jams my big toe
Gender:

Female

Familiarity:

I've used it several times

Fit:

True to size
As a person with varicose veins, who wears 15-20 mmHg medical compression socks everyday, I am not sure about these yet.

The compression is pretty intense, 28 mmHg at the ankles and decreasing only down to 18mmHg going up the calf.

I wore these for an 7 hour work day, on my feet the whole time, and the compression hurt my leg the first time worn, but was more comfortable after a few uses, except for jamming my big toe. My toe is not long, so I think they just did not put enough fabric for the toe area.

*Color BLEEDS when I wash these socks!!!

Note: I wear 9.5 in running shoes, 8.5 in sandals, my calves are 14.5", and the Medium size fits alright for me.
I usually wear jobst brand compression socks, size M also.
I hike off trail through mud and streams in the back country of Colorado and simply put, blisters happen. When I decided to take part in an OCR race I quickly looked into the recommended gear and these socks were advised. After the event, my feet felt great and I did not cramp. Did the socks help??? I think so.
If you have not tried toe socks before then you may find that it takes some "getting use to". After a few runs with them, I hardly noticed.
Great for chilly weather running as well
Gender:

Female

Familiarity:

I've put it through the wringer

Fit:

True to size
These have been great for my winter and spring runs, during and after. They have definitely helped keep the recovery time down to a minimum. I have been washing and drying them like normal clothes. I think this may be a bad idea, as they are not as hard to put on any more. I advise avoiding the dryer and just air drying these for longevity.
Legit compression
Familiarity:

I've used it several times

Fit:

True to size
Injinji compression socks are the perfect combination of my favorite sock with a compression sleeve. The compression level is great for race day, hiking, and even a recovery run. They do take a little patience to put on, but once you have them on, your calf muscles will thank you! I think the price is spot on when you compare this product to all of the other compression items on the market these days. If you think about it, you are getting your socks and compression sleeve all in one at one price. The toesock design prevents my toes from overlapping each other and the compression helps speed up the blood flow in my calf muscles thus making my experience on the trail or in the gym much more enjoyable.
Tight.
Gender:

Female

Familiarity:

I've put it through the wringer

Fit:

True to size
These have a strong compression level, which is what I was looking for. They must be sized for men. I usually wear a medium in women's socks. The small size works perfect in these. I've used them skiing and they keep my feet warm, if I warm up my boots and feet in the lodge or a warm room first. Then I'm just toasty toasty!
These socks are tight
Familiarity:

I've put it through the wringer

Fit:

True to size
as in, cook, hip and basically 'good'. The compression means I am more conscious of my calf contractions which allows me to keep that feedback loop going, maintaining great form and rhythm. The tightness also means I'm feeling on top of it even when I start to get exhausted. Psychological perks abound, and they look awesome and feel awesome. I experienced extreme soreness the first few runs out and thought "wtf mate", but it abated in les than a week. Maybe just my muscles getting used to this compression(?). 4/5 ticks off for price, hard to put on.
Better than Port and chocolate
Familiarity:

I've used it several times

Fit:

True to size
Okay, well maybe they aren't quite THAT good. But, the Injinji compression socks ARE the next best things to sliced bread. I have been wearing Injinji toes socks when I run for years now - except for a brief sockless foray into triathlon. I have also lamented the creation of the calf compression sleeve for just about as long. My legs swell, not so much during training, but definitely after. I recall a teammate and I joking we were the only two women who GAINED weight during a stage race. Wearing a compression sleeve helps, my calves, but then I either end up with a swollen line where my socks don't quite meet the sleeve, or swollen feet, if I wear sandals. Injinji's combo toe sock and compression sock have solved this problem. I, for one am sold and will order them in every color -- even pink!
Injinji Performance Video