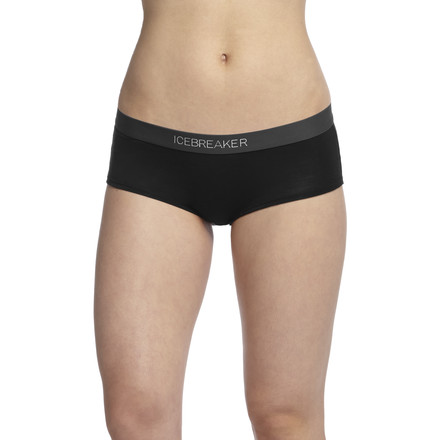 Detail Images
Look hot and stay cool in the Icebreaker Sprite Hot Pant. Made from ultralight merino wool with a touch of Lycra for a great fit, this sexy style has a boy-short cut, low rise, and full coverage. Merino naturally deals with odor so you won't feel quite as stinky on weeklong backpacking trips and hut-to-hut ski tours.

96% merino wool, 4% Lycra
Naturally antimicrobial
Slim fit, boy leg cut
Low rise with full coverage
Contrast stripe detail at side seams
Pretty good...
Familiarity:

I've put it through the wringer

Fit:

Runs large
Quick drying and lightweight. I wish I would have ordered the small since the medium is slightly too big and they ride up. I mainly use these for yoga and hiking but they would be good for camping as well. I do love how well they have held up since purchasing them.
Live in these!
Familiarity:

I've put it through the wringer

Fit:

True to size
These merino undies are a must for camping! They stay comfortable, even after days of wearing them. It's like magic. I won't buy anything else, now that I have experienced the difference.

The waist band is very comfortable and doesn't give that obnoxious love handle line, that most undies do. The rest of the undies don't have a lot of synthetic material, so they aren't really snug. No worries. They don't roll up or go where they shouldn't.

Questions? Hit me up!

Emily Jenson
Expert Gearhead
ejenson@backcountry.com
801.746.7587
Not as good as other Icebreaker products
Familiarity:

I returned this product before using it

Fit:

True to size
Cute cut, but the seams along the crotch panel are super bulky, which is uncomfortable and very very visible under jeans (don't even bother trying to slip these under athletic clothing) . Too bad, since the leg seams don't show at all. The Siren Hipkini are way better, but of course Icebreaker discontinued them in black and they only come in very adolescent colors and patterns now...
Good enough
Familiarity:

I've put it through the wringer

Fit:

True to size
I have to be careful what pants and shorts I wear these with because they tend to slightly loose their shape and bunch up under clothes. The material though feels nice and wicks like a dream.
Love these undies!
Gender:

Female

Familiarity:

I've put it through the wringer

Fit:

True to size
I love these undies! I bought 2 pair a year ago, and I found myself digging through my panty drawer far too frequently searching them out. So, I bought 3 more pair. The reason I am giving 4 vs 5 stars is that there is a distinct difference in the fabric weight of the 2013 vs 2014 version. The 2014, (these), is a much lighter weave than the 2013 version I purchased. I am not sure yet if this will translate into product performance, but it is noticeable.



With that being said, if the 2014 version performs as the 2013 version, they will be well worth the investment, if you want to be comfortable and dry.



I am 5'8", 150 pounds with an athletic build, (skier booty), and the medium fit perfectly. I don't have any issues with riding up or getting holes in them, as described in other reviews. Make sure to wash these and hang dry, don't put them in the dryer. These are so comfy, breathable/stay dry, and stay fresh. Enough said.


eh...
Familiarity:

I've used it once or twice and have initial impressions

Fit:

True to size
I didn't like these, they weren't comfortable for me. I've realized I don't really ever like the more boyshort cuts. I have an ample booty and found that these kept riding up uncomfortably. I got these as bikini instead and love them.
Comfortable but not durable
Gender:

Female

Familiarity:

I've used it several times

Fit:

True to size
I bought 3 pairs of these and wear them only when I go on extensive outdoor trip that requires me to hand wash my own clothing. They are very comfortable, not itchy at all, but sometimes ride up with leg movements. So far I have only wore them on 3 trips and one of them already has a hole in it. I would probably not purchase this item again since it's not a very durable product.
wife loves it!
Familiarity:

I've put it through the wringer

Fit:

True to size
convinced her to try this (no it won't be itchy) and now she loves it, together with the icebreaker hipkini pants.
Best I've Found
Familiarity:

I've put it through the wringer

Fit:

True to size
I bought my first pair of these directly from Icebreaker about two years ago. Since then, I've slowly added more to the reserves and find that I wear them almost exclusively now.



I do, however, have a couple of gripes.



Having purchased them at different times and from both IB and here on Backcountry, I will say that there seems to be some small variances in different lots/years of manufacture. I have two pair that have developed holes in the crotch, which is disappointing, but the others have held up well. I will say that I've not noticed the issue in the newer ones I've purchased, though a part of me wonders if this is simply due to less use, or if there was actually some changes that occurred in the process of making these Sprite Hot Pants. One other issue I've noticed is that a couple of them seem to ride up throughout the day, while the majority do not. Again, I don't know if this is something that has changed with different manufacture dates, or if there is just the occasional pair that ends up with this issue. Honestly, it's a bit confusing because I know my body hasn't changed from day to day.



That said, they are really comfortable and I appreciate the anti-stink properties of merino wool. I am a hip-and-thigh-thick lady, but have a smaller waist proportionately, so sometimes underwear can be a pain to deal with. The waist band on these sits below my natural waist, so I don't have to worry about them being sloppy or rolling. The legs aren't constricting or uncomfortable either, so they are an easy choice for everyday wear or for outdoor activities.



Despite my experience with a couple pair of these, I continue to buy them because they are the best I've found thus far and overall the quality is there to justify the price. I definitely recommend giving a pair a try!
Do longer boy shorts tend to ride up?
Best Answer
Hey Jesse!



I think this may actually come down to anatomy.

If you scan my review and those of Amber and Jessica, you see that none of us experienced riding up or bunching.



Rosanna however DID find them to ride up and she didn't like these at all. However scanning these reviews you see most people were pretty thrilled, so I would conclude that in most cases they don't ride up. I've never had problems with mine.
Comfortable
Familiarity:

I've used it several times

Fit:

True to size
These are worth the high price tag, especially if you are going to be active all day. Extremely comfortable, breathable, fits me perfectly, and they don't ride up at all.
My favorites!
Familiarity:

I've put it through the wringer

Fit:

True to size
I have some other Icebreaker boy leg underwear that I like but I like this style even better. I have some other cotton boy leg hipsters that I don't even want to wear anymore now after purchasing these undies. So much so, that I probably have bought 10 pairs to add to my other icebreaker underwear. These are the ones I gravitate towards when I open my underwear drawer and one of the best features about them is that they don't show a panty line. I am 5'10" and 130 lbs and the M fits me nicely (icebreaker sizing not 100% accurate though).
No ridding up or twisting. Nice.
Familiarity:

I've used it several times

Fit:

True to size
These are great for athletic activities because they don't ride up like a lot of boy shorts and the waistband doesn't twist up. Soft fabric too.
Good, but not worth the price
Familiarity:

I've used it several times

Fit:

Runs small
These underwear work fine, and the cut is pretty good. And merino wool is nice and all that. The band at the top is tighter than I'd like it to be, but honestly there's just nothing about these that impresses me enough that I'd want to spend $30 on another pair. I got these after reading about the wonders of merino, but really I'd rather just keep my Patagonia Active Hipster Briefs. They're $20 a pair, and I don't think these Icebreaker underwear really do anything that the Patagonias don' t do.
New Favorite!
Familiarity:

I've used it several times

Fit:

True to size
These are my new favorite roos! Comfy breathable and if I'm jumping into a lake I don't feel like I look like the crazy woman in her panties. They are well made and I need another pair! pronto! in another color! just cause! - I wash these in the washer then hang dry in my bathroom on a hangar. They are dry and ready to roll when I wake up the next day.
Best underpants ever
Familiarity:

I've put it through the wringer

Fit:

True to size
I love these. My fave underwear, hands down.



While I also own some merino undies by other companies, this style/brand is my fave due to fit. I am a small, but not tiny, 5'4" 130lb woman and my thighs are more substantial than average. Many pairs of underwear are too tight around the thigh if they fit my butt properly or, conversely, if the thigh holes fit, the underwear is too baggy around my ass. These are *perfect*.



I also think they look pretty cute (which isn't usually the case for me with boy-shorts) and the colours are nice. Bonus: the merino feels fab. Whenever I am heading out for a ski or overnight winter adventure, I make sure these are my first layer.
These ain't your grandmas underpants
Familiarity:

I've put it through the wringer

Fit:

True to size
I have bought 5 pair now (over the course of a year and a half). I, like some of the other reviewers, am a strict lacy thong type of gal, but when engaged in sports they just don't cut it. So I decided to give these a try and am loving them!!!

The merino wool ensures that my most important parts are dry and warm. The fit is also perfect for being active as they have more of boys brief feel with thick waist band and wider hip material. For me these are the only things I put on before going on a ski tour as I know I wont be spending my day trying to pick a wedge through my ski pants, getting chafed by my thong, or cold and damp where it counts most.

While they aren't my husbands top pic in the sexiness department, when I a dry and comfortable and kicking his ass up the skin track I win my sexy back :)
my wife says: they're nice. they fit well and merino wool is great. however, she wishes it had a liner or more material. also, she hasn't noticed them performing any better than her Patagonia synthetics. that being said, she's a very not sweaty person.
Love
Familiarity:

I've used it several times

Fit:

True to size
These are so comfy. I bought the medium and i am 5'8 and weigh 155lbs with strong legs, i usually dont like this fit because it ends up being tight on my legs but these have enough give to allow me to move and the material is great.
So Nice I bought it TWICE - then THRICE
Familiarity:

I've put it through the wringer

Fit:

True to size
Ok - yes. These are expensive.

Are they worth it? YES!!! (emphatically Yes)!



I got one pair over 1 year ago thinking it would be an 'investment piece'. These were in the wash every single week - they were the first choice every time I opened my unmentionables drawer. I bought 2 more pairs. Then I bought 3 more pairs. I would say my collection is nicely rounded out at this point.



Some reasons why these are amazing:

* Merino is silky soft!

* Durable, I've had these 1+ years, no major issues, waistband is still in great shape as is the fabric.

* Comfortable, yet also 'cheeky' and flirtatious.

* Naturally moisture wicking, so great for ski touring or other outdoor endeavors, especially in cold OR hot weather.



I know it's ridiculous to spend this much on underwear, but it's absolutely worth it. I've given these as gifts for the past two Christmases, and get nothing but raves from the recipients. They ask for one more pair every year.



Break the bank and go break some hearts because these things are hot hot hot.