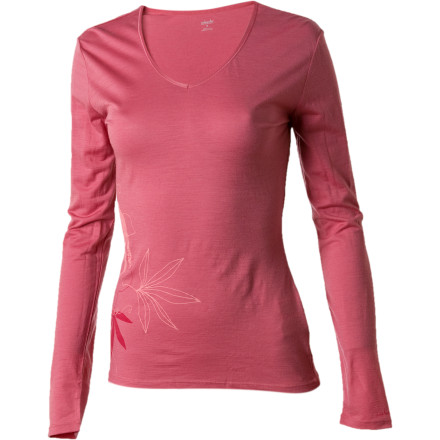 Detail Images
The new Icebreaker Women's Nature Ultralite SweetHeart Long-Sleeve Top has style you rarely find in long underwear. With a low neckline, pigment print, and a slim fit, you won't want to hide this merino wool top underneath another shirt or your jacket. And you don't have to, if you're something of an exhibitionist or you're lounging at home—otherwise, wear the lightweight SweetHeart top underneath your other layers when you hike, camp, or walk to work on a chilly day. Wearing wool as underwear sounds crazy, but Icebreaker's merino wool is not only non-itchy, it's as soft as cotton and as fine as silk.
Must-have item
Familiarity:

I've put it through the wringer

Fit:

Runs small
I wear this year-round. I like to have itwith me when I travel - I always get cold at night, even when I'm somewhere warm. Plus, if you hand wash it and wring out, they're usually dry by morning, which is another bonus when traveling. Even when I'm not putting it to the test outdoors or on the road I often wear it to work under a cardigan, sweater, or with a nice scarf to dress it up. It is very slim fitting. I'm a size M and can only get away with that because I'm very narrow through the chest and shoulders.
Runs small
Gender:

Female

Familiarity:

I've used it several times
I'm 5'7 and weigh 135. I ordered a small and after washing ( and hang drying) I probably should have gotten a large in this.
Could be too short for taller ladies
Gender:

Female

Familiarity:

I returned this product before using it
Hi I'm 6ft 1in and have a longish torso. The top, while fits me nicely in the chest and has long enough sleeves, barely comes below the waist, it's too short for me. I'll have to return it. The fabric and the color are really nice though. I think if you not super tall with long torso the tops might fit very well.
My question is about the color "Bliss...
My question is about the color "Bliss Passion". Is it more of a blue pink or a warm, coral toned pink?
It is more of a warm pink. There are no blue tones in it.
There are so many ways to dress this top up or down. Either way it will keep you warm. I bought this top in Bliss Passion and the color is very pretty and unique. It's true to size. This is a must have in your closet.
This top is so sheer, yet warm when it is cold and not too hot when the sun comes out. I got the Island Bud Blue, and it is vibrant and fun. It feels good and works well with tons of outfits, fitness or casual.
Very comfortable and cute top. You can run in it, go out on the town in it, or travel in it. The fit is slim--you can fit a cami under it but not really anything else. The graphics are a nice detail and make it a little more special for wearing out and about. It's definitely more than just a sports top or an under layer...
Perfect layering for every day comfort
This is my favorite purchase of the season. I live in Park City, Utah and I'm cold all the time, I wear this icebreaker top under my long sleeved shirts and t's and I'm comfortable all day long. It is a bit sheer so it works best as an underlayer. I haven't tried wearing it as a top with a cami underneath but that could work.
thin, super wicking & comfy
I have actually worn this running in the winter. It wicks moisture so well that when I take it off I am completely dry. It is soft considering it is wool. It doesn't feel like cotton but, it does not itch or irritate my skin, even around seams. it is a little rough when you first get it but softens after the first wash.
I wash & tumble dry it although, it is so thin it dries quickly just hanging up.
It fits like a second skin to help with wicking. The sizing info available was accurate for me and I wear it over a cami or sports bra.
I alternate this with another Icebreaker long sleeved shirt, and don't know how I ever survived a winter before. I love it so much. It's comfortable, nicely shaped, great for layering, doesn't choke my neck like crew necks do, doesn't stink. I'm never going back to stinky polyester again!
great, light shirt. I bought it in silk kowhai and its not see-through. my only beef was that I found it on altrec a week later for $15 cheaper and BC wouldn't price match, sad.
This is a great thin first layer top. It keeps you warm enough for a first layer but it's really thin so you can easily layer without adding bulk. Plus, it's a V-neck (not too low) which is practically impossible to find!
Versatile and Comfortable
Fits like a dream and is versatile enough for to be worn with a suit for work or with cargos for hiking. It was not as soft as expected but still very comfortable.
I still like my patagonia wool baselayers better, but it could be just because I've been wearing them for a couple of years and they've gotten really comfortable. However, the fit of this shirt is great. It's form fitting but doesn't feel clingy. It's super light weight. I bought the black color so I'm not having any "see through" problems. :-)
Form fitting but less stretchy than I would like.
Also the neckline is higher than almost all of the v-neck sweaters I have.
I expected the top to be more substantial - It is almost see through. Size was true and it has a nice fit. I could not wear it without a cami, so I returned it.
HELP...what size??? I'm 36 bust (32-C),...
HELP...what size??? I'm 36 bust (32-C), 30.5 waist, 39 hip at widest point. Except for my waist, I meet the Icebreaker size Medium chart spec's. (not fat, just no hour glass)
Could someone out there provide input as to the size I should go with...Med or Lg???? I only own and have experience with Icebreaker leggings.
Best Answer
I'm a 34C, 30 waist, and 38 hips. I weigh 117lbs and stand 5'3". I wear a SMALL in Icebreaker tops and sometimes an X-SMALL, depending on the garment. I had ordered this top in white but returned it as it was see-through and not pure white. I was looking for something in which I didn't need to layer and this top definitely needs a tank top or something underneath it.

I hope that helps with your decision on size. All-in-all, Icebreaker stuff rocks! I'm a huge fan of their stuff and own tons of it.
This top is my favorite. Here in Upstate NY, I practically live in it from Sept. through May as a layering piece. I even wear it on its own in the summer---on cooler evenings, mountain camping trips. It's silky smooth, comfortable in a surprisingly wide range of temperatures, non-smelly, quick-drying, hard-wearing, good-looking on its own. Another plus, the slim-fitting sleeves and longish body keep drafts from sneaking up your arms and back. I couldn't ask for more. In short, perfection.
I have 3, I wear them on their own or layered. Very simple and feminine.
Great shirt for layering to keep warm. The white is a little see-through, so you need to layer to be able to wear it.