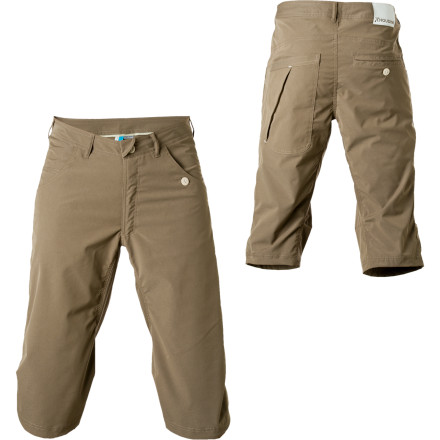 Detail Images
The Houdini Thrill Twill Shorts are loaded with urban styling, so whether you live in the big city or are only passing through on your way to the mountains the Thrill are ready. These shorts feature quick-drying fabric, a gusseted crotch, and pre-bent knees for freedom of motion.
Backcountry.com is the exclusive US retailer for Houdini products
What do you think about this product?
Have questions about this product?
Unanswered Question
What exactly is the inseam on these? PS....
What exactly is the inseam on these?

PS. My legs are very long so "knee" doesn't tell me much, need the number.
Tell me this price is a typo!?
Tell me this price is a typo!?
That's not a Typo. Backcountry is the only distributor of Houdini products here in the US, and currently the exchange rates between here and Europe aren't really too consistent, hence the high price.
The description says the shorts are made with recycled fibers. 170 dollars, what type of fibers were they using? Shredded 20, 50, and 100 dollar bills? Good Lord, straight robbery! And don't blame it on the exchange rate, that's just silly, and a straight up insult to our intelligence. We (the working class stiffs that make up the 99 percent) may be stupid, but we're not nearly as stupid as you think we are.
Unlike most of the other brands whose stuff is mostly made in the Asian sweatshops, Houdini's stuff is made in the EU, that's European Union for you, and where regulations and oversights are put in place for worker welfare and environmental practices. It's your choice: want cheap disposable stuff? Buy Asian-made from the sweatshops.