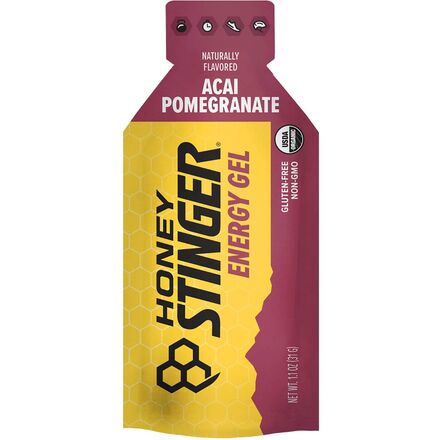 Colors

Detail Images

Videos
Description
Bee energized.
If you're tired of dense, dry energy bars and are over the artificial taste of quite a few gels out there, check out the Honey Stinger Organic Energy Gels. They have real, organic honey for a super yummy energy bump to fuel all your outdoor adventures.
Organic ingredients
Includes organic honey as a main ingredient
Available in multiple flavors
keep on keeping on
Familiarity:

I've put it through the wringer
Honey stingers are my go-to when I need a pick-me-up on the trail without wanting to stop for a picnic. They are easy to toss in my bag and have an my leisure, plus they taste great and since I'm not a huge bar person this is a much more enjoyable experience for me. Here's to getting a little gas in the tank and allowing me to charge a little harder for a little longer.
I make Rod Stewart jokes while ingesting
"Do you think Rod Stewart liked the flavor?"

People tell me it's an urban legend and not true. I don't care. It happened.

I can't look at a Gerbil without thinking about Richard Gere either.

The Acai wasn't too bad. Gel shots just suck when you take them and making a little joke helps the process of getting it down.
I'm a sucker for gels, these are my #1!
Familiarity:

I've put it through the wringer
I've always gone in for the convenience and efficiency of energy gels and they have certainly come a long way! In my opinion, Honey Stinger has put them over the top. I have yet to experience any stomach discomfort or ":::That's::: your idea of _insert flavor here_?!?!?" reactions with Honey Stinger gels.
As others have mentioned, the consistency is lighter in comparison to other gels which makes getting hem down less of an effort. The flavors are a big plus as well: no surprises with honey and the chocolate is remarkably like a chocolate you would actually choose and enjoy, rather than a soviet-issued chocolate-like concoction that you have no choice but to "enjoy".
The fueling aspects are predictable and reliable. Follow the instructions and drink plenty of water when consuming them (like any gel).
My un-solicited advice is to stick to the advised "every 45min", and follow the endurance training/racing mantra "eat before you're hungry, drink before you're thirsty!".
You should of course consult your Physician/coach/guru/mom when designing your training nutrition long before you listen to me though : )
The perfect re-fuel
Familiarity:

I've used it several times
The Honey Stinger Organic Energy Gels are great for providing sustainable energy on long runs or bike rides. The fruit smoothie flavor is a nice addition the the natural honey flavor- not too overwhelming so you can have several gels over a period of a few hours.
love the viscosity and flavor
Familiarity:

I've put it through the wringer
too many gus are too think or too runny, these are perfect and have great taste. Love the caffeine as well
Taste really good
Familiarity:

I've used it once or twice and have initial impressions
I normally don't like any of gel packs because they taste awful and leave a funny aftertaste. I picked one of these up in a few different flavors just because I was doing some extended hiking and wanted to save on weight so I could get the extra miles in with my compressed time schedule.

I was surprised at how good they tasted. It was like eating really good honey. No nasty fake flavor or aftertaste. I have already ordered more and will be keeping an eye out for when they go on sale to throw in my pocket while climbing multi-pitch routes.
all you need
Familiarity:

I've put it through the wringer
have you ever dreaded taking down a gel while on a ride?
well with these gels you dont have to dread having them, they taste soo good, and dont leave a nasty taste in you mouth. if you want quick energy that has a good taste, get these!
Energy Gels, amazing fast fuel!
Familiarity:

I've put it through the wringer
So many times we all eat bars and chews for a snack, but when you're actually burning at a super high pace, nothing has compared to Honey Stinger's products, especially Energy Gels.



Honey Stinger is a rad company that started from their beekeeper grandparents, who in the 50's, started the EN-R-G Bar and 2oz honey energy packets. The majority of their products are USDA Organic and have very simple natural ingredients.



The Energy Gels have been best used in my activities when I can't stop to eat something substantial. While on recent attempts to break a climbing speed record in Yosemite, it occurred to me how awesome it is to have a fast acting and easily digestible fuel source like the Energy Gels.



From my own personal experience, they are perfect for biking, swimming, climbing, running.. basically any and all high intensity activities/sports that require nonstop movement.

On my speed ascent I bring a small nalgene and one Gel with me, 1 hour into it while running down the decent trail I can squeeze in the fuel and can immediately feel the energy and power return, giving me the strength to keep it up 100%.



Both Strawberry Kiwi and Fruit Smoothie are very tasty and offer different benefits (S/K containing caffeine). They digest easy and don't require a gallon of water to wash down.. cough.. Clif Bar.



These are the only flavors of HS Energy Gels I've tried, while I also have two of every HS product including their Organic Honey, none disappoint!



You can eat these as a tasty snack, and you'll love'em! But bring them on your next adventure and see how well they keep you fueled and active!
tasty
Familiarity:

I've used it several times
Had these on some runs, Ragnar, half marathon,... Can i just say, great taste and goes down nice. Also gave me a boast.
Yummy!
Familiarity:

I've put it through the wringer
Absolutely the best "freshest" tasting energy gel made right now. There really is a taste difference in using organic ingredients only and I'll have a hard time switching to anything else. Very tasty + easy to digest= happy stomach and quick energy.
Honey Stinger Organic Energy Gel
Love the taste!!
Familiarity:

I've used it several times
Its so easy to eat while riding, and it tastes to good, I had to stop myself from having too many during a medium distance ride!!!
tastes great, works great, easy to eat
Familiarity:

I've used it several times
great energy shot, with thinner than average consistency (easier to swallow) and great natural honey flavor/taste. efficacy is solid, with easy to digest energy being quickly absorbed. the basic gold is my favorite so far (honey flavor). organic ingredients makes them even better, don't need extra preservatives when these do the job just as well or better than others.
As a fan of Honey Stinger's waffles and energy chews, it was obvious to give these gels a try. They contain fewer calories (100) than their sister products (160). The pack also costs more but that's because you get 24 gels instead of 16 or 12. I bought them in fruit smoothie. There's no hiding that it's sweet. That's something I'm a sucker for so I found them tasty. Fruit smoothie had a stronger honey note than I expected. Between that flavor and its consistency, the gel most reminded me of tasting honey out of the bottle. They're a great extra energy boost while biking or touring, particularly knowing they're organic. I have not yet been able to test how viscous the gel becomes in cold temperatures.
Best gel on the market - Organic too!
Familiarity:

I've put it through the wringer
Kudos to Honey Stinger for making USDA Organic products such as this energy gel! Have you looked at the crappy ingredients that are in Gu, Hammer, Powerbar, and other products? I've been using Honey Stinger products for my on the bike food and have never had any problems with stomach issues or taste - and this gel is by far the best I've tried.



I have gone to a strict only USDA organic and Non GMO certified diet and the results are astounding - more energy, faster recovery, better overall mood, and pretty much a happier person. I'm amazed how much of a difference the food we put in our bodies makes!
all natural
Familiarity:

I've put it through the wringer
i like these a lot. They provide quick energy and are gentle on the stomach. Since they are made with honey my body seems to absorb them better as they are natural. Highly recommended.
Great switch option
Familiarity:

I've used it several times
I enjoy options that aren't as brutal a gu gels, these fill the gel options for long rides or hikes. I actually prefer the taste of honey stinger products, I don't have to chug as much water with these as I do other options.
The gel packet is great for running because it is small and fits in your pocket. It gives you the energy to push an extra few miles. The taste is not the best but I am impressed with the product overall.
ok, but taste is off-putting
Gender:

Female

Familiarity:

I've used it several times
I tried the pomegranate flavor for this and it's ok, but the honey taste is a little too syrupy sweet for me. I prefer clif bar gels or gu's instead.
Tasty! Less thick in a good way
These are really tasty. I love that they are not as thick as Gu, which means they are easier to get down when I'm out of water.