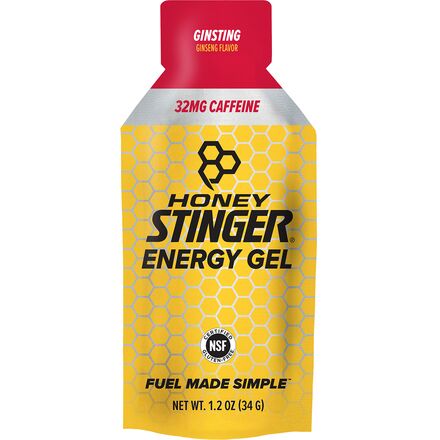 Colors

Detail Images

Videos
Description
Honey buzz.
Take a break from artificial-tasting gels and chalky, dense energy bars with a pack of Honey Stinger Energy Gels. These gels are made with real honey for a naturally yummy energy boost to fuel your many outdoor adventures.
1:1 fructose to glucose ratio
Includes honey as a main ingredient
Available in multiple flavors
Ginsting...? It wasn't bad, but it was very honey'ish. Ginseng? I have no clue what ginseng tastes like. I am not some hippy dippy person who eats that crap.

This is decent stuff. It is like if some honey bee got into some ginseng and made some honey out of it.
Keep This Handy
Familiarity:

I've put it through the wringer
I always have a couple of these in my pack of gear must-haves when mountain biking and I need some quick energy. I'll have one before a longer or challenging ride as well for a good start. I buy these always by the case before going to Moab for the weekend, and always come home with an empty box (my friends indulge as well). I go for the Gold. *** Questions? Need other product recommendations? Hit me up at klindsey@backcountry.com
Exactly What I Was Looking For
I was originally confused by these and the organic flavored ones and ended up getting the latter in Fruit Smoothie. I'm still not totally sure I understand the difference but nonetheless liked them although that specific flavor was a little too fruity. Gave these a try in gold as a result and they're exactly what I was looking for to keep me fueled while biking/hiking/skiing. Thanks America.
one and only
Familiarity:

I've used it several times
love these. my friend let me try her GOLD gel on one of our first (running) races, and i just stuck with it. i'm training for the marathon this year and have used it in 5 races so far.

needs to be taken with water as they are slightly thick and concentrated.

had a hard time finding them in-stock at local stores, so i ended up buying a box so i wouldn't have to worry about finding them before every race!
not buying again
Familiarity:

I've used it several times
I'm a big fan of chocolate, but the chocolate honey I can't handle. And the gel is thicker than any other I've tried. I'd recommend GU or Hammer Nutrition over this stuff. Other flavors may be better, but I'm not going to buy it to try it- a free sample I'd give a shot though
YUM, Honey!
Familiarity:

I've put it through the wringer
These are sooo good (well soooo good in terms of an energy gel anyway). The Honey goodness is so much better than other artificial sugar rich gels from other brands. It may not sound like much, but the 20 or so extra calories in these really make a difference when you desperately need the calories, and a 90 calorie gel just doesn't pack the same punch. I would like to see a more complex electrolyte profile, but that's not really what this gels main goal is. It's quick energy when you need it, with natural honey that's actually easy to get down.
These are pretty darn good for gels, the worst of the robot-foods in my mind. But they certainly give you a perk, and not that crash you might expect. And unlike some of the others, I don't dread eating them. In fact I look forward to it. And if I'm feeling crazy, I squeeze some onto a Honey Stinger waffle.
Pretty awesome
Familiarity:

I've used it once or twice and have initial impressions
...But, not nearly as effective as the new Huma Chia Seed Gels. They're all natural, have fruit puree as the first ingredient, and don't make my stomach feel weird going down/shortly after. I think it will be big. Plus, they're so damn tasty.
HONEY SHOT
Familiarity:

I've used it several times
These are seriously as good as eating honey right from the comb! Sometimes it could be a little too intense so i recommend not swallowing until you take a squirt of water and mixing it up. You will enjoy mother natires natural energy in this convenient little pouch!
The flavor of this is not pretty good, at least I don't consider it to be offensive. I like the texture. Its very thin and easy to get down. I love Clif shots, but sometimes have to chase them with half a water bottle to get the thick gel down. The energy the provide is good, I don't notice much difference between any of the major brands. I do find that these can be a bit more expensive than other brands in stores, but a box on BC is pretty reasonably priced.
Definitely an acquired taste
First tried on out on a hot, sweaty run -- and gave the box away when I got back. The honey taste is just too much in those conditions -- fruit-flavored stuff just seems to go down better. On the other hand, that one pack I did choke down did seem to do a good job of keeping me going, so if you like the taste it's a great choice.
Got the banana flavor, and it's actually pretty good. Still mostly tastes like honey, but with a hint of banana. A lot like banana runts actually. I was hoping these would give me a huge turbo boost of energy after eating one, but so far I haven't really been able to tell much of a difference. Then again, I'm not racing or anything. I'm sure it must do something, right?
Taste Is Interesting, But It Works
I went the chocolate flavored direction on this and it certainly is more honey than chocolate, but still pretty good. What I found intertesting is that it worked more than decently when it comes to supplying energy.

To further explain, I am a more anaerobic individual when it comes to my work. Which is saying whatever I do (run, bike, ski, etc.) I go all out, 100%, at all times. So, when I am on my 4th straight day of activity, the body begins to break down and I found that I could get more out of this gel at those times than the normal gels. It doesn't outdo the caffeine addled ones, but the only thing that would beat those out is human edible rocket fuel.
The first Honey Stinger Ginsting I had I almost threw up. But I had bought a box so I wasn't going to let them go to waste. On my second race with these I had become used to them and was able to put three down successfully. They do their job at preventing bonking and i like the taste a little better than Gu.

They are honey so they consistency is a little lighter than the Gu. Like most gels try and make sure you finish every last drop before you throw it in your pack or in your bike shorts or you will have honey all over your stuff.
Better than the rest, almost
As others have said...the honey taste outshines other gel "flavorings". It has to be the honey.

The thickness is a slight issue in cooler weather. But that is the same for all.

I prefer the banana, myself. It is tasty but doesn't linger.
Better than the rest, almost
As others have said...the honey taste outshines other gel "flavorings". It has to be the honey.

The thickness is a slight issue in cooler weather. But that is the same for all.

I prefer the banana, myself. It is tasty but doesn't linger.
These taste like honey, obviously! What that means is, they go down a lot better than a gluggy gel when you need to slam it down in a real hurry! I try to avoid gels where possible, but with 20km to go in a race, I love to get one of these Honey Stinger Gels down to give me a great little energy kick.
Gag me with the wrapper it came in
My hat goes of to all of you who found this product "edible". Seriously makes me wanna toss my cookies. We have bees here at my house that was NOT honey. I know it's not trying to be honey exactly, but it's still disgusting.
By far the best tasting energy gels I've tried. Great for triathlon's or long runs/bike rides when you gotta fight the bonk.