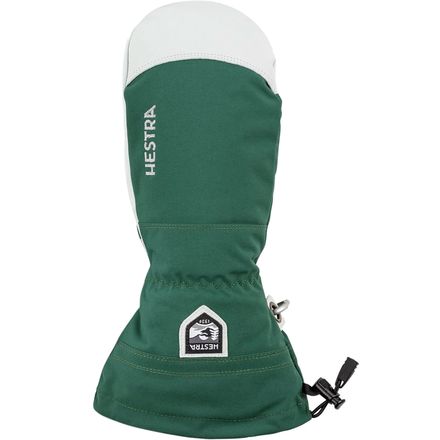 Detail Images

Community Images
Description
Options for winter and spring.
Wear the Hestra Heli Mitt's removable liner while you skin up to the hut, and slide the liner into the weather-blocking shell when you get ready to shred.
Army Goat Leather and wind- and waterproof Triton/Entrant fabric keep the wet out
Wear just the removable liner when you're working up a sweat on the skin-track or trying to keep your hands from freezing on the heli ride or the drive up to the resort
Wear just the shell for slushy spring skiing
Wolf Paw design reinforces the fingertips and eliminates seam exposure
Eagle Grip pre-curved design follows the natural curve of your hand for comfort
Hestra Heli Mitten
Familiarity:

I've used it once or twice and have initial impressions

Fit:

True to size
I thought the overall service with the mitten and also the representatives from the site were great. I haven't gotten to be able to try out this mitt yet, but I put it on and it was extremely warm. I was recommended to the Hestra brand by my friend and I think that I made the right decision. I haven't gotten a chance to go on the slopes with it yet but so far so good. :)
can't go wrong
Familiarity:

I've put it through the wringer

Fit:

True to size
Solid, solid, solid glove. I love hestras.
The warmest mitten with great features!
Familiarity:

I've used it several times

Fit:

True to size
I was looking for a ski mitten to keep my daughter's hands warm while skiing. I liked them so much I bought some for myself! I wanted to wait to review these until I used them a few times. We skied there days in a row in temps between 5 and 15 degrees and our hands never got cold. The other thing I noticed is that our hands didn't sweat. They stayed the same comfortable temperature all day. It really was amazing. I love these mittens and only wished I bought them sooner. The only downfall, as with all leather gloves, is they need the balm rubbed on them to keep them soft and supple. A small price to pay for such a great mitten. Would definitely recommend buying them! I bought the size 7 which is just perfect. I measured right between the 6 and 7. So I'm glad I purchased the 7. My hands are small so I thought I should probably get the 6 but the 7 is just perfect.
Great Quality
Familiarity:

I've used it several times

Fit:

True to size
I was really impressed with the overall construction of these. The leather feels really nice, the stitching is even, they feel really sturdy. I haven't had a chance to wear them more than a couple times since this winter has been so warm, but they certainly seem toasty. The removable liners are a plus--makes washing easy. The elastic keeper cuffs are a HUGE pro for me, and much more comfortable than other shoelace type cords on other mittens. I'd say my only gripe so far is the lack of a goggle or nose wipe. For sizing, the BC sizing chart for this item was accurate.
Good Mittens
Familiarity:

I've used it once or twice and have initial impressions

Fit:

True to size
Warm enough for XC-skiing downhill at -5 F in Vermont. Fits well, like the leather.
The Best of the Best
Familiarity:

I've put it through the wringer

Fit:

True to size
Not a chance my hands are getting cold! The mitt style keeps powder from getting trapped with your fingers, and the long gauntlet style keep your hands dry and toasty. They've also included a high quality wrist strap that is completely unnoticeable when riding, and keeps your gloves secure when you need to take them off for any reason. I've yet to have them get wet at all, even though the very supple leather feels like it would. The build quality is apparent the first time you touch these, and I'm excited to put these babies on every time I ride.


Amazing to begin with, then...
Familiarity:

I've put it through the wringer

Fit:

True to size
I don't get how hard it can be to make a glove liner that's both insulating and also keeps its shape after a few weeks of wear. That's the problem with this and every other high-spec glove I've owned. They're thick and fluffy to begin with, and make you feel like you've just put your hands in a pizza oven, but give it a couple of weeks and the dense inner becomes a shadow of its former self, and suddenly your fingers are wriggling around in this cavernous empty space where once there was warmth. Can't NASA or someone find a material that's part springy bathroom sponge part merino part UNIQLO heat-tech?

Otherwise yes the leather on these is lovely and great, they look good, smell good etc. But the past reviewers who say they kept them warm all season.. I just have to assume they didn't use their hands all season for fear of wearing down their glove linings. Yes that's probably exactly what happened.
The best I've owned
Familiarity:

I've put it through the wringer

Fit:

True to size
I wore these gloves through a whole season of working as a lift operator in VT - they were life savers. My hands have been cold in every other pair of gloves/mitts ive worn. Not these.



Side note, I bumped chairs as it was a fixed grip lift, and the leather totally held up. Many of my co workers went through 4 or 5 pairs of gloves throughout the season, these lasted with 0 issues and I still have them. No holes, no tears, just a little wear on the thumbs and palms.
I finally found what I was looking for!
Gender:

Male

Familiarity:

I've put it through the wringer

Fit:

True to size
I was looking for a mitten that didn't have finger separation inside. These had great reviews so I figured I would give them a try. These are better than I was expecting.

I love the fact that there are so many different sizes. I measured my hands and got the size 10. They fit better than any glove I have previously had.

The removable fleece-y inside is so warm and soft. The fact that it is has Velcro holding it in is great. It is easy to remove the liner and dry it overnight (it is polyester so it dries fast). There are no obstructions inside the outer mitt either so reinstallation is as easy as putting on any mitten and making sure the Velcro is stuck.

I have never had a little elastic wrist band that goes around my wrist to lanyard my mitten to me but oh boy, it's such a great feature! Being able to take these off to use a map, cool off my hands on a chair lift, or eat is nicer now that I never have to worry about dropping them.

This was the first time I ever spent more than $30 on a pair of gloves or mittens. I do love the sno-sealed cheap kinco glove you see so frequently for backcountry skiing, hiking, working, etc. and they do have their place in my life, but, for me, those don't cut it for in-bounds skiing or crazy cold days. These mittens cost a bit more than I usually spent in the past but if I lose these (which shouldn't happen because they attach to me), wear them out, or someone who is jealous (pretty much everyone that sees or tries them) steals them, I will definitely buy another pair. For the record, I don't expect these to wear out soon either, they feel durable and the leather palm is nice and supple.

So, if you are looking for a pair of mittens that are high quality, have no internal finger separation, will never fall in the snow when removed, and are built to last, trust me when I say, $135 is worth what you get with these.
The Search has ended!
Familiarity:

I've used it several times
I absolutely love my new mittens But the search went on all winter. My sister and one of my daughters bought their Hestra Heli Mitts several years ago and loved them...so I thought I would try a pair. I actually had to try several pairs before I finally secured a pair that fit well. The first pair I ordered was the women's style and I measured according to the company guide. Because I have slender fingers and wear a size 5 ring I thought the women's style would be better for me. I was wrong. The women's style has a very different construction and feel to it compared to the men's (unisex??). It is much narrower and the thumb is at least a half inch longer which felt uncomfortable when I gripped my ski poles. I exchanged them and received a pair of unisex style size 7. They were so comfortable at first. I really appreciate the gauntlet - no chance of losing a mitten while checking my phone or taking a picture. After the first two days I began to sense a difference between the L and R mittens in the wrist area. The mitten would twist a bit and then it became uncomfortable while gripping my ski poles. This sensation increased and after 4 times wearing them I ordered another pair. When the new pair came I actually decided to measure the first pair. As I was doing this it became evident that there was 3/8" difference between the L and R wrist area. Doesn't sound like much - but it made for discomfort while wearing. Back Country has been FANTASTIC about allowing me to return the first pair. Thank you! Bottom line - buy these mittens if you want warm, comfortable hands, that you won't lose on the ride up if you take them off. They come with leather conditioner and can actually function as two separate mittens as the liner and shell separate easily - and go back together easily. If you don't get the right size to start with don't give up! They are worth the hassle and the price.
so warm :)
Familiarity:

I've put it through the wringer

Fit:

True to size
Ive used these mitts 5 times now, all on Catskill skiing, outdoor temps ranged from 15-30 F

very warm, i would take my hands out to take a phone call or get a snack, once i put my hands back inside the mitts, 10 seconds later, my hands were nice and toasty!

the white leather does get dirty VERY easily, but it washes off easily. I noticed that the leather is already starting to show wear and tear, kind of concerning....

i still rate these mitts @ 9/10
Awesome Mittens
Familiarity:

I've used it several times

Fit:

True to size
I bought these gloves for my husband who had been complaining of ice cold fingers for the past few winters. I gave him these mitts prior to our ski trip out west and crossed my fingers. I don't know what their secret is but he swears these mittens keep his fingers toasty warm and he has not used hand warmers ever since. They are comfortable, not very bulky and warm !!! I am considering purchasing a set for next ski season for myself. Needless to say he skied out west in some very cold temperatures and never complained about his fingers once. I would definitely recommend these mittens.
Can these gloves be tucked under the jacket...
Can these gloves be tucked under the jacket sleeves?
no, the mitts will go on top of the jacket sleeve and then u can tighten it with the draw-string
I live in Big Sky and it gets REAL cold here. This is my 3rd season with the Hestra Heli Mitts. Two weeks ago it got down to -43F, lifts were closed, but I was still outside most of the day and my hands never got cold. They still look great after three 100+ day seasons, but if they ever wear out I will definitely buy another pair.
If you like it hot...
Familiarity:

I've used it several times

Fit:

True to size
These replaced my Burton mitts which I've been using for a while and held up great for snowboarding. They did get chilly on the coldest days especially on the lift. My new Hestra mitt's have been pretty toasty and even a slight bit too warm for 0 degrees when I was last at Whistler. Ultimately no complaints remembering back to those days on the lift when I wished I had thicker gloves. I'm off to Niseko and will see how the leather holds up to some more regular wear from snowboarding. The sizing chart worked fine for me.
SO SO warm
Familiarity:

I've used it once or twice and have initial impressions

Fit:

True to size
I like my mitts to be snug, i wear a Large in gloves. I bought a size 8 Heli Mitt. Its a bit tight in the wrist area when you are putting them on, but after that, they are so comfy and warm. Lets mention warm one more time! I was skiing in 10 degree weather, whenever I would take my hands out of these mitts to grab a granola bar or adjust my bindings, my hands would freeze. within 10 seconds of putting the mittens back on, my fingers were toasty and warm. I actually started to sweat a little in my hands, but I am okay with that. The liner is removable and absorbs moisture very well. Construction is excellent, great stitching. I am a HUGE fan of the wrist straps. I ordered 5 other mittens to try on and these are by far the best.
Toasty
Familiarity:

I've used it several times

Fit:

True to size
After seeing my riding friends loving theirs, I bought my own. They are great gloves. Inside removes easily for drying. Make sure to apply lanoline oil to help preserve. Use for cooler days at the resort when riding lifts. Too warm for backcountry days. Only flaw is that my plastic pull tab broke off on the cuff.
Not for cold weather
Familiarity:

I gave it as a gift but have feedback to share

Fit:

Runs small
After some research, I chose these mitts as a Christmas gift for my wife, who needed some warm mitts primarily for walking our dogs in the winter. As an added benefit, they seemed like they would be good for boarding as well.

Two issues, sizing is on the small side, so no room for a liner if you measure your hand and buy from the Hestra sizing chart; and, they are not warm.

I was excited to receive these mitts just after Christmas, but before we were to go skiing for a few days. Unfortunately, my wife's hands got cold walking the dogs in -4 degrees celsius for less than an hour. Not a good sign. Needless to say, we didn't bring them on our trip; my wife's hands stayed reasonably warm with some $40 mitts, in some very cold skiing temps, -20 degrees Celsius, with added wind chill.

It would also be helpful if these mitts had a pocket for a warming pack, which most ski mitts have these days.

On the plus side, they look good. So if you want some stylish hand wear for temps no colder than freezing, these might be for you.

Oh, and the company hasn't responded to my email voicing my concerns.
For those cold times
Familiarity:

I've used it several times

Fit:

True to size
This is a very warm mitt when both the liner and shell are used. The times I've used them have been for summit attempts on Denali, hanging out at 14 camp of Denali when the sun goes down. Very cold times, and my hands were nice and cozy. I wear a size 10, and would wear a large in regular sizing.