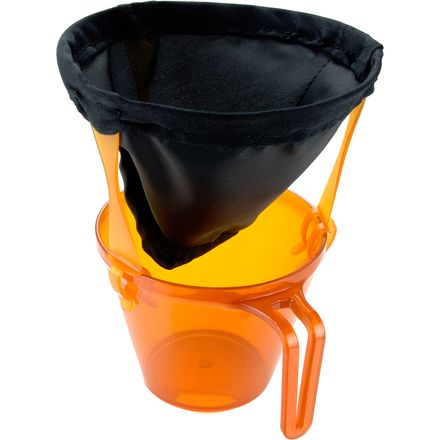 Who says you can't stay light and drink your coffee too? Not GSI that's for sure. The Ultralight Java Drip comes in an ultra-compact design that nests under a standard fuel cartridge, so you don't have to choose between the dark master and food that keeps you from starving. Simply attach the GSI Ultralight Java Drip's sturdy legs to your mug and brew some backcountry sludge.
Pretty good depending on how you use it.
Familiarity:

I've put it through the wringer
I have used this device for a couple of seasons now. I bring it with us car camping also. I find that the best way to use this is with a paper coffee filter in it. You then put the coffee in that and pour your hot water over it. Without the added coffee filter the water pours through immediately giving you some weak coffee. With filter, perfect.

I also like boiling a pot of water, throwing your grounds in it, and then straining it through just this GSI device (no paper filter).

Both these ways have worked great for me. Device is super light, fits right in my gsi dualist kit.
Interesting variety of satisfaction levels....
Interesting variety of satisfaction levels. It suggests to me that it might be a good idea to play with the coarseness of the grind. I notice in the video they talk about grinding it to "fine," but I imagine plugging might become a problem. People without grinders (which I'm guessing is most backpackers, unless they pre-grind at home) probably are using drip-grind, which I imagine might be fine, and may in fact be most people and account for the 5 star folks. I'm going to buy it because it's inexpensive and play with it at home. I do hate weak, cold coffee and would hate it more without my microwave to fix things! :-) Maybe the next reviewers could mention what grind they used.
That would be my guess, GSI does make small light weight grinders that you could take backpacking and from what I have experienced with them they give you a fairly coarse grind.
I have made delicious brew with this simple device using a finely ground coffee. I have Starbucks grind it for me when I purchase a bag of their coffee. Just pour the hot water through the grounds SLOWLY. There will be no clogging.
Java Drip brewed coffee tips
Obviously, it's lightweight and takes up no space, and that's a plus. Functionally, it's worthless if you use it as directed (e.g. grounds in, then strain water through), not so bad if you make cowboy coffee and strain that through it.
Not only did this item waste coffee, unless you put the sock in the coffee water and let it seep the coffee was horrible...OR pour it through twice.
Pass this one up
about the size of the bottom of a fuel canister. weighs nothing and durable. I have had mine for a while now and i dont just take it backpacking i use it every day. if you like drip coffee this is the way to go. you never need filters, just simply rinse when done.
GSI Outdoors Ultralight Java Drip Coffee Maker
I was pleased beyond all expectations.
Light and small, I couldn't tell I was carrying it.
And the coffee was as good as my electric drip maker.
Drip coffee is the best and this thing does it well. The main advantage it offers over other drip methods is that it doesn't require a separate paper filter. That means less garbage and less mess. Who doesn't want that? It might be a little slow but you're in the woods! Chill out!
I even use it when I go to my parents cuz their coffee sucks.
Gotta have coffe in the mornin'
I use a cone paper filter with this and have no problems. The intention was to use it as a fold away while touring on a motorcycle and it works great. It does plug up without the paper filter. Trying to pack a plastic cone filter on a bike was a pain, this solved the problem nicely.
I left it in a hikers box after carrying it 30 miles.
Slow as hell and 15 mind numbing minutes later a cup of weak cold coffee - (cowboy strained filtered w/ the "drip" is served up cold as well).

light coffee options are still...

1)unfiltered cowboy coffee - gritty
2)instant - my choice. - reliable
3)bandanna filtered - messy
4) portable generator + cappuccino machine - considering it.

Left the GSI drip in the hikers box somewhere in Northern Virginia. (if you found it - I left it and um... "lucky you").

Great device in theory - not in practice.

Tip- 1-2 Carnation instant breakfasts (mocha or vanilla) and a heaping teaspoon of instant - hot water. Caffeine and nutrition rolled up into a sweet hearty shake! Good luck 09 thru hikers - EFF'N rain - you poor poor b-st-rds - urban.

P.S. sorry GSI - on the other hand the "soloist" is fairly sweet -
I don't mind the tedious pace this little gadget assumes. I've never been one to drink a full cup of coffee - just a few gulps will be all I need to get going in the a.m. I love how incredibly light and quick drying it is. I've already recommended to several friends.
this item worked fairly well for us but the filter is fast for half a cup then painfully slow for the rest of the way, coffee is cold by the time you drink it and don't even think about using it for more than one cup,unless you rinse it out first.