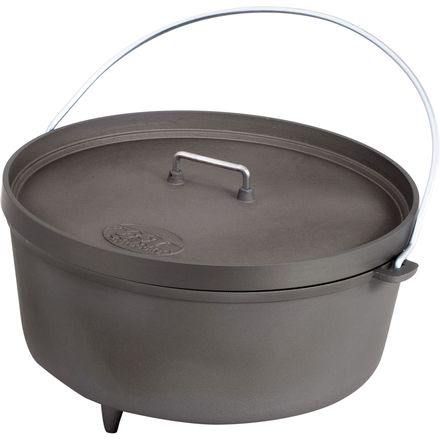 Colors

Community Images
Description
Cook the old-fashioned way with the GSI Outdoors Hard Anodized Dutch Oven.
Get in touch with your inner mountain man/woman while cooking with the GSI Outdoors Hard Anodized Dutch Oven. This dutch oven is ideal for stewing, steaming, frying, or baking on car camping trips and is one-third the weight of traditional cast iron ovens.
GSI's hard anodization process hardens the cooking surface to about twice as hard as stainless steel, which makes cleaning the GSI Dutch oven a breeze
The anodized coating also delivers non-stick performance, doesn't need to be seasoned like cast iron, and seals the aluminum away from your food
To cook, just set this outdoor dutch oven over bed of hot coals and close the lid
To bake, throw a few coals over the tight fitting, rimmed top for even heating When you're done cooking, remove the oven with the sturdy bail-wire handle
Must Have
Familiarity:

I've put it through the wringer
Must have for any backcountry kitchen that has weight restrictions. I have the 12" and use it while guiding fly-out fishing/float trips in AK. I use it as a classic dutch oven, a standard pot, and I use the lid as a hot plate for keeping cakes warm in the morning (put the lid upside down over a burner on low) or warming up tortillas. I nest all of my flatware inside this in my kitchen box as well.
These things are great if you don't want to deal with the complexities of cast iron. They are easy to clean and a whole lot lighter than cast iron. They also do not need seasoning and the other TLC required to maintain cast iron. The one drawback, other than price, is the heat transfer. Aluminum does not transfer heat as evenly as cast iron, making cooking things evenly a little more of a challenge. That being said, it is worth adding one of these to your collection if you have the dough. They last forever, and are great to travel with.
I made this for my 2nd ever meal in this DO (12"). You can see how easily the food comes out of the pan. I did not coat with oil first, I just layered sauce, corn tortillas, spinach and cheese and it came out great! I use a cast iron fry pan at home and love it, but didn't want the weight and maintenance for something I use only a few times a year. A worthy investment (doesn't hurt I got it when it was on sale)!
This dutch oven is amazing. It's very light, with the 12" only being about 7 pounds. The best part is there's no "seasoning" involved to keep this thing from being nonstick, or to keep it from rusting, like the old cast iron versions. That being said, I coat it with a small amount of oil before cooking, it's nonstick, and it washes extremely easy. This is particularly handy for multi-day trips where you're going to want to use it often. I even use it at home on my gas grill, I love it. I'd like to get the 10" version of this which nests inside the 12", making packing super simple. It may be a little spendy, but this is something that will last a lifetime, and you'll probably be passing it down to your grandkids.
I picked up this dutch oven for a river trip, and it cooked just as well, and at pretty much the same rate, as the cast iron dutch oven we also had, but at a much lighter weight and with easier cleaning. Lasagne, enchiladas, and brownies were delicious, and unlike with a cast iron oven, we could wash it with our soapy dishwater. Because it's hard anodized aluminum, things didn't stick to badly, but we also weren't afraid to use a metal scrubber.
I would like to know what Brenda asked...
I would like to know what Brenda asked too. Is it 10 in from inside or total? Also does anyone know if the 12in will nest in the 14in? thanks
This is not including the feet. 10" diameter is most likely inside measurement. These things aren't really intended to nest the way backpacking cookware does. If you're just transporting them in a car or something, it may, I wouldn't count on it.
The 10" version will nest inside the 12", but will not work nesting the 12" into the 14", bummer.
According to the wife - doesn't weigh 100lb, so even she, being somewhat petite and biceps challenged (and does most of the cooking) can haul it around. From my perspective, the brownies were perfect, and it was easy to clean. The lack of a thick coat of oil afterward also makes it easier to justify tossing in the car. Cast iron is definitely cheaper, but way higher maintenance.
This is my first Dutch oven and I was absolutely amazed with this product. While camping I used this oven to steam buns, cook soup, and make a "special" shrimp jambalaya, lol. The oven was used directly under our camp fire and it gets hot quickly. Cleaning this oven wasn't too bad and requires a little detergent when removing the soot from the bottom.
The 14" is 10" deep. Is that the inside...
The 14" is 10" deep. Is that the inside depth or overall from top of lip to bottom of feet?
This is not including the feet.
I just bought my fourth GSI hard anodized dutch oven. I have two 12 inch and now I have two 14 inch ovens. They are absolutely wonderful. They are light weight, cook as well as iron, and don't require the care that iron does. They DO NOT impart aluminum into food as the non-anodized cookware does. I cook pies, baby back ribs, stews, prime rib, bread, and really anything you can cook in an oven.
Anodizing the aluminum brings the melting...
Anodizing the aluminum brings the melting point of pure aluminum, 658°C(1216°F) to approximately 2050°C(3722°F). Or so I have read. So I think it shouldn't have a problem in most fires.
It would take a pretty hot fire to melt this baby!
Hard anodizing is an electrolytic process used to increase the thickness of the natural oxide layer on the surface of the aluminum. Since this is only a surface treatment, I'd guess that the melting point is not changed. However, the melting point of the oven material may be higher or lower than that of raw aluminum, 1220 deg. F., due to addition of alloys.
Doesn't aluminum melt around 1200 degrees...
Doesn't aluminum melt around 1200 degrees fahrenheit? so wouldn't putting this in a hot campfire time after time eat away at it until a hole formed?
Valid point. Fortunately, your average campfires don't often reach that kind of temperature, and anyway that's the melting point of untreated aluminum. The anodization makes it quite a bit more heat resistant.
anodizing aluminum thickens the oxide layer on the outside of the metal, this anodized layer's melting points is well over two times hotter than pure aluminum's melting point.