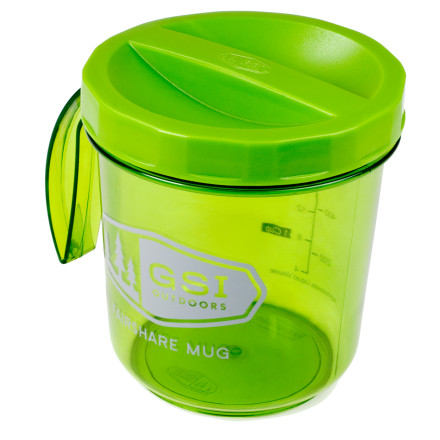 Community Images
Description
Get your Fairshare.
Show up to dinner with the GSI Fairshare Mug and get a hearty helping before your ravenous backpacker buddies beat you to it. This hybrid mug and bowl features a sturdy handle, screw-top lid, and side graduations for easy measuring, storing, sipping, and eating.
All good, except I don't really like the handle when packing in a backpack. I would like something that folds down
Cupperware
Familiarity:

I've put it through the wringer
It's a cup, but it's also a convenient way to transport food while backpacking! You can also measure stuff in it or you can eat food out of it! You can probably even wear it as a hat if you were so inclined - very multipurpose. Really, the sky is the limit with the GSI Outdoor Fairshare.
Perfect for cooperative cooking
Familiarity:

I've used it several times
Update: My Mom started using the Fairshare and loves it. She and the old man are using a JetBoil MiniMo; he eats out of the MiniMo and she from the Fairshare - works really well.

My previous thoughts from a solo cooking perspective:
I don't have any complaints really, I'd say other reviewers are accurate. It's a little big, a little heavy, and it leaks a little bit. It's a pleasure to eat out of, the size is an advantage there. It's great for rehydrating meals & I had fun building my own cozy from foam and camo duct tape.
Unfortunately, I don't use the darned thing. I read so many glowing reviews and became convinced that I had to have one but I find that I really don't need it.
I'm cooking for one out on the trail. I use an MSR Titan Kettle for oatmeal/ramen/rehydrating/coffee, none of which dirties the Titan all that much if at all. Maybe I'd use it more if I did more collaborative cooking. For the weight, I'd rather add a skillet to my cookset.
I want to like the GSI Fairshare but it just sits in my closet. At least it's snug in it's cute little cozy.

Love this mug!
Familiarity:

I've put it through the wringer
I got this mug thinking it would be awesome to take on a Costa Rica backpacking trip! I was right! I never head to worry this mug could not hold enough food. Not only does it hold a ton but the lid makes it easy to wash and store my GSI outdoors infinity stacking cup. I just cut the handle off and I can put in right in this mug. A few people have mentioned that it does have a small leak. I found this to be correct but it takes a lot of shaking and moving of the mug. I found this not to be a problem at all because I am never holding liquid in here when it is in my pack! It is also able to be clipped onto the back of one's pack!
Mmmmug
Familiarity:

I've used it several times
It's a backpacking classic.
all around
Familiarity:

I've put it through the wringer
Great for everything. Use it camping for breakfast and dinner, and it keeps things dry during a rainy day of hiking or paddling. It carries my oatmeal to school without leaking the blueberry goodness onto everything else thrown into my bag. Plenty big enough for everything. even works as a measuring cup in the bc or if the measuring cups are in the dishwasher! Good stuff.
Simply Great
Familiarity:

I've used it several times
It seems like such a simple little thing, but this makes cooking and eating so much easier. A friend happened to give it to me and I thew it in my pack on the last trip to the Wind Rivers. It's just a big cup, but it's bombproof and super handy. Especially great for cooking/eating my ramen noodles at camp.
Mugging up!
Familiarity:

I've put it through the wringer
I love my fairshare mug! Some minor modifications have made it an even better winter camping companion. First, cut up some closed cell foam and using duck tape make an insulated coozy. Don't tape it to the mug, make sure to make it removable so you can clean it. I also removed the handle since it sticks out all awkwardly and makes it hard to pack into a cook kit.
Simple, versatile, and awesome!
Familiarity:

I've put it through the wringer
This mug is perfect for camping/backpacking. It's great for backpacking because you can put stuff inside it when you're packing your pack for the week. I use it as a bowl as well as a mug. I must admit, I wasn't expecting the mug to be as big as it is. I was pleasantly surprised at the amount of stuff it can hold. I love it so much that I got these for my friends as well so they'll stop stealing mine!
Bomber.
Familiarity:

I've put it through the wringer
This is one of my favorite pieces of gear, hands down. Awesome lightweight, semi-indestructible container for food storage. I even use it at home to eat cereal out of because I love it so much...why only use it when I'm camping? The handle snapped off mine when I crammed it into my backpack once, and the one I have is not microwaveable...the newer models might be improved. Fun trail crew tradition: trade different colored lids with co-workers who also have these!
More than your fairshare mug..
This mug is awesome. It is one of the best all around containers for bringing with you. I use it for secure storage when it is stuffed in the pack or the kayak, then when it is time to eat everything is nicely organized so you can get down to business with the food.
Just click "add to cart"
Familiarity:

I've used it several times
Bought two of these for backpacking with my Fiance. They are great because they can hold a lot of small stuff that would otherwise get lost in your pack. They are bigger than I thought, but it's nice for holding whatever you can throw at it! This is fundamental for backpacking.
I like these because they are so deep, they're tough to spill. I have plates and bowls, but food slides off or spills out. The handle is great to hold on to. Mine are the old Lexan material, I'm going to assume the newer polypropylene material is just as durable. These things are basically like a wide mouth Nalgene bottle with a handle.
A winter camping essential
Using a Fairshare mug for the first time is like having a revelation - you'll never go back to anything else. They are deceivingly large, which is where they get their name (you'll have to read the hangtag to get the whole story) and they have a nice secure screw top. As others have mentioned, the top is not 100% leakproof, but it is close enough for me. The advantage of this is that you can lock in heat or carry other items in the mug.



I've added a blue foam & duct tape insulating layer to the outside, which helps keep liquids warm.
Two Fairshare mugs on a cook tent stove board.
After A couple years of service i can say this mug is awesome! i can fit my coffee mug and a spoon it it! its all your ever gonna need! i love it!
Not leak proof but very good mug!
The fairshare mug is great but not leak proof! I've returned it thinking it was a junk one but got the same problem with the new one.



I like it because it fits my whole cooking set in it. Although the fuel bottle needs to be very small in order to fit it all.



Im giving this mug a 4/5 stars just because it leaks when the lid is fully closed. It's not huge but if the mug does tip over, you'll get drips coming out!



Buy this, it's a great mug overall : light, and convenient!