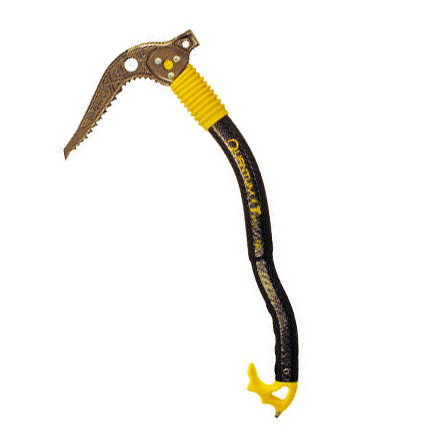 Colors

Detail Images

Community Images
Description
Go light and leashless.
Grivel constructed the Quantum Tech Ice Tool with a carbon composite shaft to decrease weight and reduce ice-shattering vibrations for more one-swing sticks. At only 18 ounces, the Quantum Tech makes other ice tools seem like they're made out of iron. Whether you take on a steep pitch of ice or attempt a large alpine face, the Quantum Tech Ice Tool stands up to the abuse with its burly hot-forged X Monster pick. A large pommel on the bottom of the grip lets you run leashless with this Grivel tool, and a clipping hole accepts your tethers, so you never have to watch the Quantum fall from 20 pitches up a mountain.
Designed for leashless climbing
Carbon fiber composite shaft reduces vibrations for less ice shattering
Bottom clip-in point for use with tethers
Pommel spike for better traction in cane position
Combination of rubber and carbon fiber insulates your hand no matter where you grab the shaft
how many KN does the yellow hole in the hook resists?

It looks made out of plastic. But, I'd expect the frame to be steel or similar. I want to use for anchors and things like that. Thanks!
Best Answer
Unfortunately Grivel cannot legally put a KN rating on the tool. Since it is not intended to be used as an anchor they cannot put that kind of definitive rating on it. I know sometimes they do get used as an anchor the manufacturer just cannot endorse that on the books.
These axes are primarily focused on moderate ice. They do that excellent. Pretty good for mixed. Tools sink super easy and are extremely lightweight. The bottom pommel is pretty annoying and personally the Quantum light suits my needs much more for steep snow ascents. Very low vibration.
Reasons to buy:



Super lightweight

Awesome on low-angle terrain

Excellent for moderate ice

Also do well with mixed - though they do make you look somewhat like an overgrown praying mantis



These are a great buy and if you ever need to get rid of them, they are often on Craigslist for the same price. A worthwhile purchase for sure.
Dont leave home with out them!
This is not a cutting edge ice tools but they are extremely good for allot of very different conditions. I use them for water ice, Mixed routes in the Alps, Patagonia and in Himalaya. I bring them on everything I get on. I have never tried them on modern bolted dry tooling routes and I'm sure you can find better tools for that, but if you only want to buy one set of tools I would recommend the Matrix.



The aluminum version are good for more brutal handling. The only improvement is the rubber grip up at the top of the axe that is not lasting that long.
So light
Familiarity:

I've put it through the wringer
I ended up trading my BD vipers for the techs and couldn't be more happy. They are so incredibly light it's insane, and the swing is nice and even so you get great sticks. The curvature of the shaft makes for barely any knuckle bashing even when clearing larges bulges in the ice, but I do agree that the tools do flex a decent amount when dry tooling and the shafts have taken a good beating form the last two seasons. Overall these tools are amazing on on pure ice and alpine routes and for the amount you pay for them I would defiantly consider these over the BD cobras, but if your looking to do more mixed/dry tooling look elsewhere because the shafts will just get dinged and demolished
Hit 'em up style
Familiarity:

I've put it through the wringer
After initial doubts I am now sold. At first I was put off by the fattish picks, but they have proven themselves on some hard ice now and I am used to them. The pinky rest has proven to be more durable than some have said. They are comfortable to walk with on easy ground and the pole-tip ferule has good bite. If they were available with a thinner pure ice pick I'd give 'em 5 stars...
I used them for 5 weeks straight this year. Amazing stick and the best tool for the weekend warrior. Otherwise, they can get torn up pretty quick. The Yellow Scrunch get ripped to shreds and the carbon fiber can chip even from strictly icefall climbing. These are scary mixed. The flex is incredible and the material isn't reassuring for creative placements. They are EXCELLENT, but if you put in any time mixed at all these would fall apart. If I got a new pair every 100 days on the ice, yes, I'd say quantum all day, but since I'm just a humble climbing-bum I'll get matrix techs to suit my more mixed style.

quick notes:
-wrist flick stick
-the interface between the head and the shaft doesn't look mountain tough
-high gripping these tools by the head sucks!
-buy the trigger and you get a solid high grip/knuckle protector
-steel is amazingly strong, I was impressed thats its as good if not better than the steel on cascade picks
One stick swings? Oh yeah!
These are the tools if you're looking to dance your way up pure ice routes. They make BD Cobras feel awkward and heavy in comparison - I know many people who have made the switch. I can't speak to their ability to climb mixed as I've only scratched around on 5.6 with them at this point in time.

They really do swing like a dream.
I finally exchanged my old sturdy Black Diamond X-15 for a pair of these in january. Been using em several times since then, and I must say they are really good. Lightweight and cool looking. Swing nicely and penetrates ice like a porn star ;) I use em with a pair of Grivel spring leash w/ screw lock, great setup!
Wrangle-Saint Elias Range
First ascent and descent using Grivel Tools.
.....i love them....they swing effortless and bite right away.....the cobra might look a tad cooler, but these just work fine for the purpose they were designed......no regrets......hooked on them.....even the rubber for the grip portion is great.....
These tools are great, and have a few characteristics that I think really set them apart from other high-end ice tools. The double curve in the shaft really seems to open up the pick angle, allowing for a more natural swing, especially on less than vertical ice, than you will get from something like a Nomic. Add a set of triggers to the handle, and you've got what is probably by far the most secure grip on any tool available. The grip, by the way, is now molded rubber. I noticed that the pic on this site is of the older model. I hated the stupid yellow scrunchy things at the top of the shafts, so I replaced them with electrical splicing and insulating tape. Let's just say it didn't affect my one-swing sticks any. These tools get better sticks if you don't swing so hard. It takes more of a flick of the wrist, so they aren't for anyone looking to tee off on every swing. I've been using them lately for dry-tooling. Great for that too, except the shaft is only b-rated. That said, they work great for that, and seem plenty strong enough. The super-narrow head is wonderful for slotting into cracks and chandeliered ice alike. also, the picks are grivel, so they're as tough as they come. Bottom line, these are the tools. Period.
Hi, I bought this axe thinking (and, through...
Hi, I bought this axe thinking (and, through the chat program, confirmed by a gear expert) that they come in pairs, but, instead, I only received one axe (and not a pair). I started another chat session and the next gear expert told me in fact they are sold individually. I am quite disappointed with the confusion but in any way even more disappointed with the lack of logging of the chat sessions, so, I would like a written confirmation that these axes are in fact sold individually (I don't see any confirmation in the website), because if so, I will return it?
Best Answer
Alas - ice tools are always sold individually except on eBay and Craigslist. So they're not just expensive, they're really, really f%$$ing expensive.