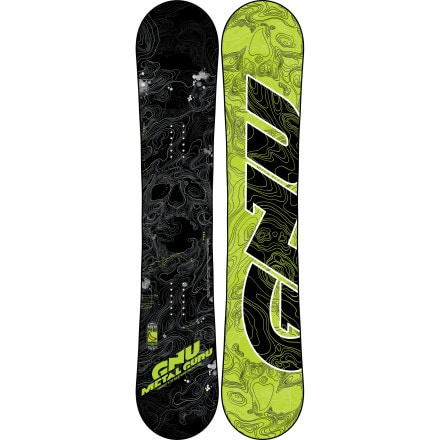 Videos
Description
Psychedelic shred machine built for weirdos, by weirdos.
A bunch of boards claim to be quiver killers, but there's only one Gnu Metal Guru EC2 BTX snowboard. Little is known about the origins of this park-killing all-mountain destroyer, but we can tell you that the EC2 profile blends power with forgiveness for a ride that everyone can appreciate. Think about it, what if your rail board ripped the steeps, and your pow board lived for half pipe laps? Well, when you're riding a Metal Guru, that's your new reality.
The Metal Guru runs on Gnu's EC2 BTX rocker profile. Basically, that means that there's rocker between the bindings, while the tip and tail have a modest degree of camber. What that means for you is a loose, catch-free ride that feels about halfway between the jib-oriented Pickle, and the more aggressive C2 boards like the Rider's Choice. The tech doesn't stop there, with Magne-Traction edges placing seven strategic bumps along the edges. The bumps are bigger between the feet, which concentrates most of the grip there so it feels like you're skating. Plus it's a true twin, for unrestricted switch trickery.
The Columbian Gold core uses sustainably harvested wood for a board that's light, and snappy. Power Transfer internal sidewalls crank up the durability, and they're buffered by UHMW external sidewalls for impact resistance. The Co Sint sintered base runs insanely fast, and holds tons of wax. Best of all, you can rest easy knowing that your snowboard was built in an environmentally friendly facility by weirdos with jobs.
EC2 BTX rocker profile
Twin shape
Twin sidecut
Magnetraction edges
CGA.5 core (Aspen, Colombian Gold mix)
Co Sint sintered base