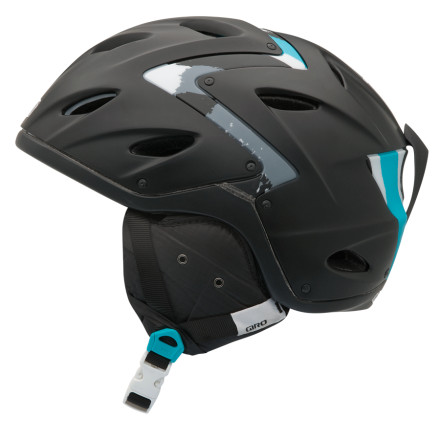 Keep your brain in between your ears with the in-mold protection of the Giro Omen Helmet. This design fuses the outer shell with the impact-absorbing EPS liner to form a bomber lightweight exoskeleton. Wind Tunnel ventilation combines active vents with internal exhaust channels that keep cool, fresh air flowing over and around your head while kicking out the heat. Instantly adjust the airflow in the front or back with the Dual Thermostat Control buttons to customize your comfort and enjoy the easily adjusted fit provided by Giro's In Form system.
Issues with Goggle Holder
Really bad design. Goggles pop out repeatedly. Retainer interferes with clasp on band of lots of goggles so that it constantly slips off. Caught it while ducking under a branch and cracked it right off at the base. I love the fit and venting, but this was enough of an issue that I'm looking elsewhere.
Thought this would be a sweet helmet, but it has a huge design flaw. The strap on the back does not secure goggles. Most helmets attach the strap band holder from the top, when prevents the band from sliding up and off of the helmet. Not the Omen. It attaches on the bottom. If you like to take your goggles of your face sometimes and have them on the front of your helmet (like when you are using the bathroom or wanting to keep from getting a raccoon tan line while riding the lift), don't get this helmet. I almost lost my googles twice on a lift due to them just popping off of the top of the helmet. Also, the dual venting is nice, but it seems to add a lot of weight to the helmet. Overall, I'm very disappointed. A significant design flaw ruined this helmet for me.
Took my new Omen helmet out today for the first time. I was skiing in southern Pennsylvania. The conditions varied a lot throughout the day; from rain to snow, to sunny and back again. Being able to open and close the vents at will was fantastic for regulating temperature in the varying conditions. I love the adjustable dial in this helmet. My previous helmet was a Giro Fuse, which I liked a lot, but it was just a little too big so I had to wear a beanie under it. With the adjustable dial I no longer need to wear a beanie. Overall this is a helmet that has some flexibility with fit so you should be able to get it just right. Another benefit of this is that you can keep you helmet a little loose, but still snug, when on the trails, and tighten it up so it doesn't budge when you are in the park or hitting backcountry jumps.

I installed Giro SkullCandy Tune Ups in this helmet as well. Overall I was happy with them but see my review of tune ups for specifics as installation was a little odd.
Just picked up a new Omen. Fits great. I also purchased the skull candy BT audio pack and will review after i install and use.