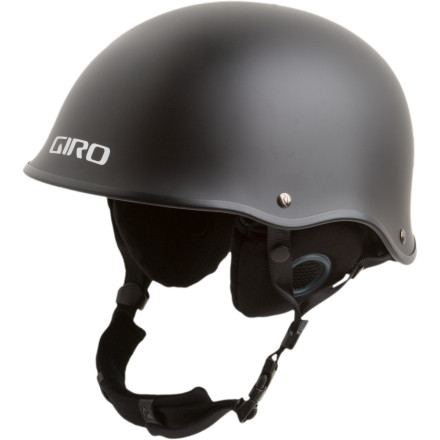 Detail Images

Community Images
Got this helmet last season with the audio. I wacked my head several times and it worked great and its great to rip with the tunes pumping. I'm a skier and this helmet is great for anyone who rips.
Unanswered Question
Write your question here... I wear a large....
Write your question here... I wear a large. I didn't see my size for the sand digi
Why doesn't this helmet have a D.O.T...
Why doesn't this helmet have a D.O.T approval rating? This helmet looks exactly the same as the DOT approved helmet by the BELL company, but much more realistic looking in regards to government issue battle dress uniforms. Is there a difference in the material used in the construction of this helmet? I would buy this helmet and recommend it to as many people as possible if it had an approval for the road!
It isn't designed for the road, it is a ski and snowboard helmet. Designed to prevent head injuries when you hit snow going at a downhill ski speed, not road going highway speed. It is made of foam and an ABS shell.
Bad Lieutenant is no longer in the Giro helmet line. Check out the Revolver, fresher style and an internal goggle channel...very sweet if you like to wear your goggles under your helmet. It also has a cool stack vent to keep yourgoggles from fogging.
Dunno if anyone will be there (I'm in Oz),...
Dunno if anyone will be there (I'm in Oz), but I'm having troubles getting the sizing chart for the Giro Bad Lieutenant helmet to drop down. I've got a 60cm circumferance scone so am thinking that the large size would be for me.
What do you think?
You were spot on mate! Size large fits 59-62.5cm. Cheerio chap!
Write your question here... I have been...
Write your question here... I have been looking to purchase a helmet soon and all three choices do not currently come in large or xl. When will Giro Bad Lt. Helmet be available in larger size? Big Cranium Aversion?
Get the Giro Revolver, way better. Also, get the Large if it doesn't fit you'll have to get a Giro G9 XL, it fits up to 65 cm....PUMKIN Head.
Write your question here...Why doesn't the...
Write your question here...Why doesn't the Matte Black Giro Bad Lieutenant Helmet come in larger sizes? You only show small and xs on the drop down menu. I have a friend that bought it in a larger size some time ago.
Greg
Best Answer
The 2010 Giro Helmets will be coming back in stock in a couple of weeks, so if you wait a little while we'll have the larger sizes.
I had the older version of this helmet from like '04, and it didn't have the rear support band that the new one has, the new one fits more snug because of this. love the helmet, really love the price. I have a g10 mx from a few years ago too that has adjustable ventilation for hikes and such, but for resort bangin laps, this helmet is great
The Bad Lieutenant fits really well, keeps your head warm, keeps you safe, and looks good on the mtn. You don't get that "my head is huge" look either. And with an audio option, it gets even better. What more do you want from a helmet? Oh, ventilation... That's a negative. Oh well, if your head sweats, take it off. Works fine for me! Good overall, get one.
after pulling out some of the extra velcro padding the helmet fit perfect, on warmer days it stays pretty well ventilated and on colder days I have enough room to wear a beanie for extra warmth. i have already slammed my head once pretty hard and felt completely protected. the design and style are pretty cool too, lots of compliments
One of the coolest looking helmets on the mountain. Good protection and great looks.
The helmets are awesome! Lots of jealous friends that want to get the same ones now.
The customer support from this site is second to none. Can't believe how helpful and reasonable they were when a piece broke on one of the helmets. Set up the whole return process for me, prepaid the shipping for the return and sent me an identical helmet back! Only took 2 weeks. The helmet was actually on sale the week I made the return so they even credited me the difference from when I had bought it!

I will certainly be doing business here again in the future. Only wish they had a franchise in Canada so that we could get some cheaper shipping, but even then, it's pretty reasonable as it is!
Pretty good fit. This is my first helmet, so I have no other comparisons. But so far so good. Good snug fit. Padding can be removed for better fitment. Works well with Zeal goggles. Nice and low key design that does the job.
Got this helmet in leather.. Looks sick! Just got back from Vail and Summit County in Colorado. It was 45 degrees one day in Vail. My head got really hot and there are no vents, thats the only downside.. I won't be wearing this helmet in the spring. For winter.. Its BAD A$$!
Me head still hurt from massive cliff jump (more than 3 feet!). Though me skis might never leaved slope, me head tomahawked snow with disastrous results. So much brain damage, me still dealing with results of not wearing helmet. In future me will always wear this cool helmet that remind me of army (who not accept me).
If my forehead measurement is 58.5 cm...
If my forehead measurement is 58.5 cm should I stick with a large or up a size to the xlarge? I'm refering to the Giro Bad Lieutenant in the camo. I'm guessing snug is better than loose, but i dunno anything. Thanks.
try it on in store. the helmet has barely any padding for variances in head size. I'd recomend a size bigger just for the option of a beanie underneath to pad the thing, but you'll get REAL warm fast. Cool looks, light weight, not great on pro if you crack yer melon regularly.
Overall this helmet is great. It keeps your head very warm along with your ears and is comfortable to wear all day. Looks great, pair it with some goggles and you will be ripping in no time.
Deadly Gear for cuttin heads
if you wanna look badass.. and be ruthless and dangerous all at the same time. hit up the Bad Lieutenant helmet and make some head shots down through the pow