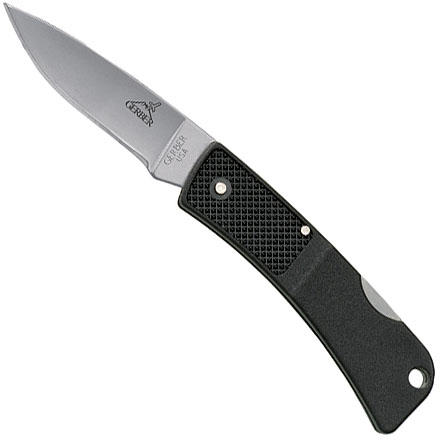 Community Images
Carry the Gerber Ultralight L.S.T. Knife in your backpack or pocket when you head into the backcountry. The Ultralight L.S.T. weighs less than an ounce and has a rugged reinforced-nylon handle. The handle, which Gerber designed more than 25 years ago, is what makes this knife so lightweight, yet it's extremely durable. This pocket knife folds closed, so it's easy to carry on you.
Small Fella
Familiarity:

I've put it through the wringer
This knife is good quality, especially for the price. The steel is sharp and seems good. It's a little smaller than I prefer, and would probably like it a little better if it had a clip.
Perfect size. For some reason, some people think they need a Rambo knife in the backcountry. This knife is far more functional. Light, holds an extremely sharp edge. Go-to knife!
Great little knife!
Familiarity:

I've used it several times
This knife is great! It was my first knife investment (cheap) and it works wonders on easy camping trips. You never realize how much it will come in handy until you bring it with you! It is, however, very small, so keep that in mind. So small that the first time I took it somewhere, I ended up losing it and had to buy a second one.
I Forget It's in my pack
Familiarity:

I've put it through the wringer
It's that light and small. I am pretty anal when it comes to cutting weight. I think knifes are usually just wasted weight/space, but you could carry around 15 of these before you noticed any increase in weight. Of course the blade is not as good as some larger knifes and you won't be splitting logs with this bad boy, but it cuts!
always with me. I've been carrying this thing for years, and the blade sharpens well and holds its edge. very light and quick.
Ridiculously light, cheap, and sharp. It's a pretty basic knife but works well and I can't see why I'd need anything bigger or more expensive.
Perfect for Ultralight Backpacking
Gender:

Male

Familiarity:

I've used it several times
I bought this for overnight ultralight backpacking trips. It's slim, light, tough, and made in the US. Mine arrived razor sharp.
Need a bigger knife? Why? This knife is all you need to move fast and light through the backcountry. It's easy to deal with and stays razor sharp. It may not be flashy or help bring down a bull elk. But if you are counting ounces in order to reduce pounds this knife is the only blade you will need.
A good alternative if size and weight is your primary concern
First thing you'll comment on when you see it in person will be on how light it is. Then you'll comment that it's sharper than you'd expected it to be (I wouldn't call it very sharp, ultra sharp, or use any other hyperbole because that really isn't the case. It won't shave the hair off your arms for example...but like I said, it's sharper than you'd expect it to be). In all, for the size and weight, it's not too shabby. A viable backup item to one's survival kit.
I have used one of these knives for about 12 years, it never failed to perform when needed. In fact, I just bought two more to give as gifts. This would be a bargain at twice the price.
plan touse this knife on a boat in salt...
plan touse this knife on a boat in salt water. Is the blade rust proof?
No steel blades are proof against rust, but with proper care and storage, this knife will work for many years on a saltwater boat.
I love this knife. It is one of two that I usually take on a trek. The lock blade is great for utility; and the blade itself is extremely sharp. The weight makes it nimble and not cumbersome so even for an ultralight packer its worth the price.
this knife is super light and sharp and i can open it with one hand. i wish it had a way to attach to my harness while climbing.
Don't Be Fooled By It's Size
As a knife collector/enthusiast, I purchased this Ultralight L.S.T. a few years ago to carry in my backpacking survival kit along with another knife. This Gerber is ultra sharp & is extremely lightweight. Highly recommended especially when space & weight are important. Very durable for its small size.