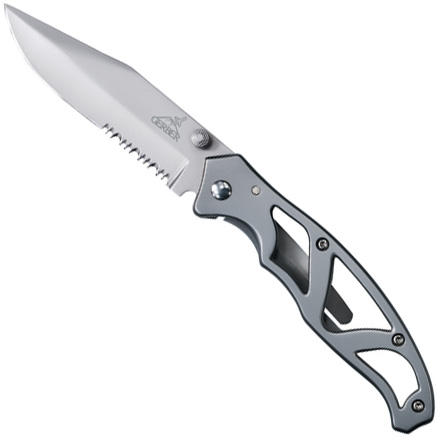 Community Images
The Gerber Paraframe I Knife includes a half-serrated blade to provide fast-cutting ability and still maintain the versatility to handle fine work that requires a straight edge. One-handed operation lets you get the Paraframe I Knife out in a hurry, and the solid locking system ensures it won't close at an inconvenient time. Gerber added an open-cut stainless steel handle for an ideal blend of durability and low weight.
Gonna do it for Johnny
Familiarity:

I've put it through the wringer
I've had this knife for 2 years. I like this knife a lot. I use it mainly for hiking/camping and for opening boxes from Backcountry and Amazon. I keep it on me as protection while riding Detroit Public Transit. I haven't had any durability/quality issues or any problems with this knife. If my Greaser friend and I were getting jumped by drunk Socs in a park after dusk...I would probably use this knife.
Pocket Friend
Familiarity:

I've put it through the wringer
I've had this blade for years. It goes everywhere with me. Super light and easy to use, open and close with 1 hand.

I've even tried to treat it as a throwing knife while killing time at camp.. it survived my awful attempts. I recently upgraded to a different blade for camping, but this will stay in my pocket every other day.
2 Legit
Familiarity:

I've put it through the wringer
This is a great utility knife. Works on pretty much everything I need it for throughout the day. Seems to maintain a very sharp edge even after a good amount of use. .. It also makes for a great small gift for a fellow handy man.
Great knife - Awesome Price
Familiarity:

I've put it through the wringer
I've had several of these (only replaced because I lose them). They are awesome. I would never spend a ton of money on a knife because I lose them fairly frequently. I love the weight of this knife as well.

The only problem is I wish it would stay folded up better while in my pocket. It has a tendancy to open up a little bit, and therefore poke your hand when you reach in your pocket. But, for the price/light weight, can't really complain much.
Okay
Familiarity:

I've put it through the wringer
I picked up the Paraframe to save weight. It's a decent knife and does the job in most cases, but it's not perfect.

It needs sharpening more than other knives I own with similar price points and the locking mechanism started needing a little extra help after a few uses, so it could be dangerous to someone in a hurry.
For Every Pack...
Familiarity:

I've used it several times
Purchased for my running pack, biking camelbak and my backpack, these knives are pretty lightweight and I can just throw them in and forget about them. Being a girl, I like to have something to protect myself with me anytime I'm on the trails alone so this gives me confidence. I also dig having it for cutting normal things like, apples, knots I've tied too tight and rope and of course for the occasional around-the-fire-carving-sticks.
Sharp!
Familiarity:

I've put it through the wringer
This is my knife that I pack for trips. It's small and clips on easily. The edge is sharp and has stayed sharp through many uses without resharpening.
Sharp, Quick, and Simple
Gender:

Male

Familiarity:

I've used it once or twice and have initial impressions
I purchased this knife because of the price / simplicity. It uses a simple, sturdy construction with a locking mechanism that feels secure. The large thumb tab makes it easy to pull this knife out and engage the blade quickly. Clip on the back is TIGHT, sometimes it holds onto the edge of your pocket a little too well.



We'll see how the blade stands up to time and repeated sharpening.
What is the list price of this knife? How...
What is the list price of this knife? How much did you sell them for?
Hey,

These retail for $25.92 on our site.
Big enough or small enough?
Good sized knife, average piocket knife size with a 3 inch glade. Big enough for most things, small enough to throw it on the pack and forget about it. The light weight is a huge plus as well as its strength. You wont be splitting wood with it, but you'll be cutting most all else.
super light, fairly sharp. I never have liked serration for trail knives, don't understand the need. has a decent belt clip, but I don't trust it while hiking as it could pop off and I would never know. If your looking for something that is easy to sharpen find a knife without serration.
Gerber Paraframe Serrated Edge Knife
Gerber Paraframe Serrated Edge Knife is a great knife. The half-serrated blade is a must when you need a little help cutting tuff strong material. I use it all the time when I'm in the outdoors.
The handle doesn't provide much slip resistance or grip, but other than that it is a solid blade. I lost my first one on a flyfishing trip, and liked it enough to by a second one. It has a more sturdy blade then both of my SOG multi-tools. I don't use this very often anymore, but really appreciated it when I did.
I have the non serrated version. I picked it up fro a local Wal-Mart for a mere $17. For the price, it is a sweet knife.

It has a nice smooth clean look to it, and fits well in my hand.

It is fairly sharp right out of the box. Sharp enough that I haven't felt the need to resharpen it since I have had it.

The clip is super tight. I initially had a hard time getting it over the top of my jeans pockets and thought that it would loosen over time. I must say that it hasn't loosened one bit. And I have clipped and unclipped it from my pants pocket several times each day. I definitely have no fear of this thing coming unclipped and losing it.

It is quite light. I bought this knife to carry backpacking, and while I am know UL freak, I do like to watch weight. This knife weighs in at a nice 2.6 oz.

I have had no problems with the locking mechanism, but I do watch to make sure it locks securely each time I open it. I have this fear of a folding knife folding over my fingers, and this does worry me with this knife, but so far it has not been an issue.

The thumb stud is a little high in my opinion, which makes it a little awkward when opening it one handed. It can be done, but not gracefully...

I have read a lot of bad reviews of this knife, but in my experience with it over the last year, I have been quite happy. I feel like this is a hit or miss knife, but I feel like mine is a good one.

For the price, I am very happy with this knife and would suggest it to anyone.
This thing is very flopsy right from the get go. It feels unstable and unsafe. I lost mine and I'm not the least bit sad.
Solid trail knife. Takes a little while to loosen the blade, but with some work it is easy to flick out with a hand. Solid blade. There are better blades out there, but for the price, this one does great.