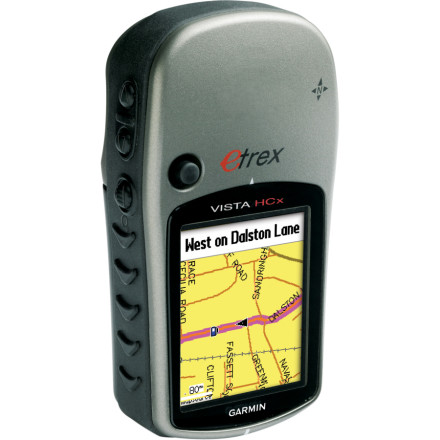 Detail Images
Just got it, yet to try it...
Bought the product last Tue & got delivered in a few days. Always had great experience bying from Backcountry & they even price matched without any hassle! Great service! Played with my new toy last evening & this product seems easy to use and compact. Can't wait to try it out this weekend at the Paria canyon!
I love this GPS so much that I keep buying the same one to replace the one that got ran over by a car, and the one that got stolen out of my car. I love the color display and it's gets a signal quickly. It does loose the signal in slot canyons and will beep every once in a while to let you know that there is no signal, but who needs a signal in a slot canyon? Water proof up to 3 feet is a must in wet canyons, but be careful... IT DOES NOT FLOAT! Don't forget to buy a holster for it!
As Evan said, it isn't the most flashiest device, doesn't have touch screen, doesn't have a super VGA resolution. However, it's water resistant, sturdy, picks up the gps signal quickly, color display with a joystick pointer, has tons of options to help you track your way, is just a solid piece of equipment and part of my gear for the last 4 years, and have no reason why I need something new.
live in Wester NY. plan to use the vista...
live in Wester NY. plan to use the vista hcx primarily for geocaching, what map 9s0 do I need to purchase for this purpose?
Presumably you should purchase maps from the area in which you'll be geocaching.
If your using it for Geocaching you don't need to buy any maps. Simply plug in the cords and start caching! Have fun!
I just got one of these, and although it is not the biggest, brightest and fanciest unit, it fully meets my needs as a guide. Often I need to use a GPS in full stormy/whiteout conditions and a touch screen unit just won't cut it, so the toggle is great for that. I put an 8gb memory card in and could download every map I will every need on the unit, which is AWESOME. It is fast to power up, quick to get a signal lock and easy to use. The only thing I was it had was a bigger, better screen. Otherwise, it is always in my pack.
This GPS is accurate and dependable. Keeps the signal in deep woods and the trackback feature is what I use the most. I can get about 20 hours out of a set of rechargable batteries.