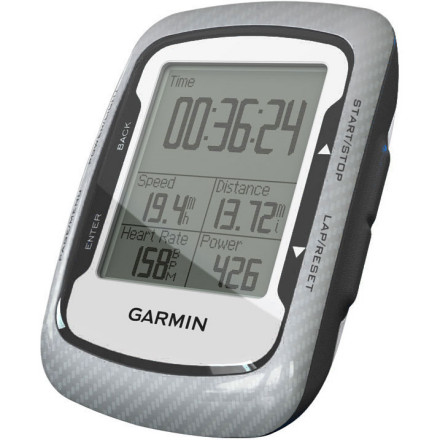 Detail Images

Community Images
Description
Walk 500 miles and bike 500 more.
It's been categorically proven, by real white-coated scientists, that you can't enjoy a ride unless you catalog every detail, which means the Garmin Edge 500 GPS is a fitness accessory as essential as your wheels, cranks, and brakes. It's a fully customizable bike computer that offers lots of data display options—three screens with up to eight lines of data per—so you can follow almost every detail of your ride, from temperature to cadence to gradient to speed, and then some. You can set them up in any configuration, so you can always find the info you're looking for. Garmin also designed the Edge 500 to be compatible with any ANT+ enabled power meter, too, so you can bask in your unsurpassed leg power when you're churning up a big hill or blowing away flat sections.
The 500 uses GPS mapping, but it won't display a map or tell you which way to go. It will, however, track your map coordinates so you can see your ride after you're done. It' also compatible with the Garmin Training Center program—a free download that'll help take your training tracking to the next level. The Edge 500 runs off a rechargeable battery that has up to 18 hours of life, and ships with two slim mounts for easy attachment to stems or handlebars.
Three screen settings
Up to eight lines of data per screen
Tracks temperature, gradient, altitude, speed, cadence, and more
Compatible with ANT+ enabled power meters
Coordinate mapping
Handlebar and stem mounts
Runs up to 18 hours per charge
Does this unit come with the cadence sensor?
Hey Tom,



The Blue Garmin Edge 500 GPS does not include the cadence sensor. Included in the box is:



Edge 500

Bike mount

AC charger

USB cable

Manuals
Thanks, Adam. I bought one of these last year, which I love, and it came with the sensor. Hoping to get another for my son who's turned into quite the rider.
Only GPS/cycle computer you'll ever need
Familiarity:

I've put it through the wringer
The Garmin Edge 500 is an awesome product. It's incredibly easy to set up, customize and get rolling. No wires, no fuss. I move this seamlessly from my commuter to my road bike to my mountain bike. Works great, easy to charge and the charge lasts a long century ride. I love the elevation feature and the ability to re-customize the screens with ease.
best GPS around
Familiarity:

I've put it through the wringer
This is by far the best GPS you can get for the price, tracks all your required fields that you want. you can easily buy the cadence and heart rate monitor (wish it came with it) so that you can track all the cool things that go along with riding your bike.
Do I have to get the speed sensor for this device, or does it provide that info via the gps?
Just uses the GPS!



You can call or email me directly. 801-736-6398, or bporreca@backcountry.com
Great training tool!
Familiarity:

I've put it through the wringer
With this and Strava, the data is invaluable! Not to mention fun. The pages of customizable display is awesome. You can get the size and location you want for just about any data. If you ride on the hills a lot where GPS signals are questionable, you should get a cadence/speed sensor. Especially if you want to use the auto start and stop.



Only complaints I have is boot time, loss of GPS signal, and the base breaking. I had it warranty replacement. But overall they made this model so good that I've not had to replace it.. now going on my 4th year!!



Though the Strava app on my phone can do almost the same, it's not the same in terms of accuracy and easy of use. Also, that's reliant on cell towers which are even less reliable in the remote areas where all the biking trails/roads are.
BEST. COMPUTER. EVER.
Familiarity:

I've put it through the wringer
Durable, waterproof, reads well at 110 degrees and -18degrees. Reads heartrate/power to such great precision. I can't ask anything more.
Efficient Training Tool
Familiarity:

I've put it through the wringer
The Garmin Edge 500 is an an efficient, functional, compact, easy to look at head unit for a great price that will take your on bike training to the next level. Everything you need to train (speed, cadence & heart rate (sensors sold separately), power, and many other metrics about where you are and how you got there, without all the extra bells and whistles included with higher end Garmin products. A very simple and effective tool for training.
Everything you need nothing you dont.
Familiarity:

I've put it through the wringer
I've been using my edge 500 for 4 years and have recorded over 20k trouble free miles, with the occasional exception of when I forget to turn it off.



After 4 years the only issue I have encountered has been recently the screen has become a little foggy from moisture getting inside, possibly to be expected after 4 years.



With the new models having been released I'm hoping the 500 stays around for awhile. If I'm forced to upgrade I'm note sure which model I will have to go with.
Good old trusty .
Familiarity:

I've put it through the wringer
I have used my 500 for 3 years now . I find it best for somebody who is looking for a compact small dependable GPS . If you are looking for a GPS for navigation this may not be the computer for you . If you want something that is small and compact that you don't have to worry about sticking out like a sore thumb this is sweet. I pair both of mine with K-edge mount witch keeps it down below bar level in case you go down in a race this will tend to keep your GPS safer than being mounted on top of your stem.
Years later, still works perfectly
Familiarity:

I've put it through the wringer
I've used the Garmin Edge 500 in weather ranging from 10 to 110 degrees Fahrenheit, and in pouring rain that's come down so hard that I had to pour the water out of my shoes afterward, and it's never skipped a beat. Thousands and thousands of miles in, after three years and change, and I'm still thrilled with it.



I may upgrade at some point so I have mapping and routing functionality, and the 510 and 1000 with their GLONASS compatibility could hypothetically make some situations in dense wood more accurate, but overall, it's been a brilliant device.
perfect gps
Familiarity:

I've used it several times
keeps track of distance, time, speed, and calories burned. so it is a great GPS to have with you while doing a chill ride around the neighborhood, or a century ride. It is also very easy to mount to any type of bike. Road or Mtn bike handlebars.
Best bang for your buck
Familiarity:

I've put it through the wringer
The 500 has all the features you need with none of the gimmicky things that drive the price way up. Multiple custom display pages with actual buttons to press on the sides. I've taken it with me on well over 4000 miles in the rain and sun and have had 0 issues with the unit. I would highly recommend the 500 to anyone who wants a reliable unit!
The Little GPS that could...
Familiarity:

I've put it through the wringer
I bought this Garmin Edge 500 back in March 2011 and have recorded over 500 different activities.



I am a crazed cycling enthusiast and a data freak who records every single mile religiously. Making sure I have a device that records every inch of every ride was my motivation for the investment into my Garmin Edge 500.



This little Garmin has been through a lot of tough environments. It survived a sand storm in the 2012 Tour de Palm Springs, a soaking in a thunderstorm during the MS150 ride from Miami to Key Largo, and it's been covered completely by mud in a 10k Mud Run.



I really thought the device was done for after I found it sitting at the bottom of the wash machine. I put my Garmin out in the sun for a day without opening it. Fingers crossed and hoping for the best, I was prepared to spend another couple hundred bucks because I had already recognized the Edge 500's value. I took it out the next day and borrowed my neighbor's Garmin Edge 800 to compare results and see if it was still working. At the end of the ride, my Edge 500 captured more distance than my buddy's Edge 800! All was good.



About the Features Disclaimer: I have not been able to use all of the features the Edge 500 has to offer. I have my Garmin set up just the way I like it. I have my Pages set up the way I like them. Each Page displays just the stats that I want to see while I'm riding. Garmin Connect and Strava give me more data once I've uploaded my activities, but while I'm out there, I don't need to see everything all at once.



These are the features that I still have yet to use, but are available:

1) Creating a Route and sending it to my Garmin

2) Planning a Workout and sending it to my Garmin

3) Creating Courses and sending them to my Garmin



I definitely suggest picking up the Garmin Soft Strap Heart Rate Monitor (Backcountry Item# GRM000S) which has proven it's worth when training for races.



Get out there and record yourself, but be careful it can get addicting! You have been warned!
Doe this include the HR monitor and cadence...
Doe this include the HR monitor and cadence sensor? Or is it just the unit?
Does anyone know how well this gps would...
Does anyone know how well this gps would work for skiing? I would use it primarily for cycling, but it would be interesting to also track slope grade, speed, elevation, total ascent while skiing.
Best Answer
It should work fine. I've taken mine while walking and it tracks everything offroad just like cycling.
Is this compatable with wahoo hr monitor...
Is this compatable with wahoo hr monitor and speed and cadence?
The Edge 500 is only compatible with ANT+ enabled HR straps and speed/cadence sensors. This only work with ANT+ specific Wahoo devices, and not their Bluetooth versions. If you have any questions, feel free to contact me. brett@competitivecyclist.com
You'll love it
Gender:

Male

Familiarity:

I've put it through the wringer
I've used my 500 for several years now and it's simply an awesome product. I use it for mountain biking, road biking and even sometimes take it hiking due to the extra long battery life. I like how you can have so many data points on your screen, yet at the same time the size is perfect. Not too big and not too small. It mounts easily and I switch use between the road bike and mountain bike.
how easy is it to set this up to work for...
how easy is it to set this up to work for using an indoor trainer?
Best Answer
To use this with an indoor trainer, you will also need a speed sensor (such as the GSC 10) mounted to the rear wheel. Then you just turn off the GPS sensor on the 500 and it will record your trainer ride.
Excellent battery life and durable
Familiarity:

I've put it through the wringer
As others have said this computer is excellent at documenting your rides and all your data. It has a great battery life. Compared to the old gamins its night and day difference. Wish the screen was slightly bigger and also the garmin front of bar mount puts it couple finger widths in front of your bar so I had to get use to the gap. Not a big deal but on first ride it looked strange. The garmin mount keeps it very snug in place.
Best GPS period
Familiarity:

I've put it through the wringer
This is the best GPS specific for you bike that there is :) Many features, easy read display - even in bright sunlight. I have tried the Garmin 510, which is great also, but the 500 has a better and more readable display. The battery life is excellent, and only improves with use. Easy to navigate with full-proof buttons - two on each side. Power/Settings on the left, and Start/Stop and Lap on the right. Personally, I like the physical buttons, again - over the touch screen of the 510 unit. Overbuilt and good quality - I think this thing could survive the gnarliest of crashes - you could even skip this thing across a river (as long as someones on the other side :) ) Great software update now lets you set the auto-stop; which is great for stop and go traffic when your average speeds get tanked due to this. You can set this under the "auto-stop" screen, anything from 0.5mph to 99mph (yup) most will find that 7mph will work best, as this is your complete stop/re-start - clip in period. Use the Garmin connect and send your peeps the ride data from your group rides - they like it :)