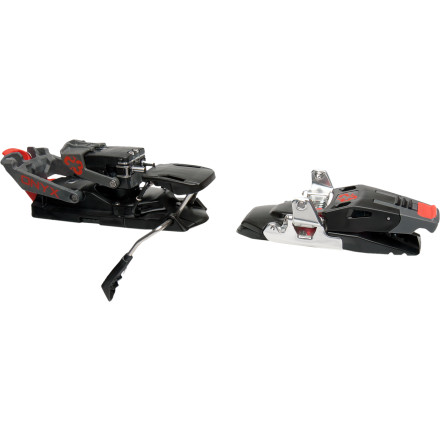 Community Images
Feed your need for speed on the uphill, then feed it again after a quick transition to ski mode. The G3 Onyx AT Binding allows smooth power transition from leg to boot to ski for superb control and feel. Revamped and ready to bust out of its cage onto the slopes, the Onyx is lighter, less likely to ditch out unnecessarily, and a generous DIN range lets you find your optimal setting.
Ability to go from tour mode to ski mode without removing boot from binding
Mounting plate system means toe and heel attach to separate mounting plates, so you get plenty of adjustment and can maintain boot-center on the ski
Multiple heel options are reliable and super-easy to engage with pole-basket
High-strength, forged aluminum components for a stiff, rigid connection between boot and binding as well as binding and ski
Releasable with both forward-falling and lateral-twist settings
Serviceable binding for fixing in the field or getting parts replaced (serviceable with #1 Phillips, #3 posidrive, and torques T10, not included)
Unanswered Question
Those the plates have somehow a life time of interchanging them on each skis? I mean if the bolt get used a bit more each time for example and they become more fragile?
Do these come with heel cowlings and leashes or just brakes?
They would just come with the brakes.



If you have anymore questions feel free to send me an email or call!



Bill Porreca

bporreca@backcountry.com

801-736-6398
Anyone here know if it would be advisable or even possible to mount these on Volkl V werks Katanas? I have Barons now but I am looking for something that skis almost as well, but is much lighter on the uphill. I understand the use of bindings other than Marker will void the warranty (which is another issue I won't rant about here), but wondering more if the mounting block will work with the G3's.



I also worry that they might not stand up to my abuse. I am only 190 lbs but I tend to break stuff and I am not shy to TRY to go big when the conditions are right. Not worried about pre-release, but I am worried about the bindings ripping the top sheet off my favourite skis, especially considering this will be the third set of bindings mounted on them. It already sounds like a bad idea.
Best Answer
You have to mount a binding on there that is wide enough or heli-coil those suckers in there. I DEFINITELY wouldnt mount them a third time, and I DEFINITELY wouldnt mount an Onyx on there. At least get the Ion, the Onyx will blow up regardless of what ski you put them on.



You can call or email me directly. 801-736-6398, or bporreca@backcountry.com
Thanks Bill. I have decided to stick with the Barons for now. They are solid and the extra weight will just make me stronger over time. I appreciate the invitation to connect, and I'll call when its time to change my setup.


So far so good
Familiarity:

I've used it several times
Bought these to pair with Voile vector BC (fish scale) Based on the fact that you could switch back and forth between hike and ski mode while toes still attached. Works great with that setup. Drilled inserts into and older set of BD Havocs that were barley used before. They drive those skis well. Not a shred of evidence that they are anything but secure and.stable on the descent. Have heard some complain about getting into them, but have not found them to be difficult. Have had them both in icy crud and virgin MT pow and again very stable and secure.
Onyx
Gender:

Male

Familiarity:

I've put it through the wringer
These bindings ski and tour very well, and I use them for everything from resort moguls to backcountry pow, no complaints and no prereleases.



The good:

- I like that all the moving parts are big chunky pieces of plastic; makes it super easy to manipulate with your poles, zero fiddling required.

- I like that you can switch between ski and tour without getting out of the binding. It's nice if you have long rolling approaches and make use of kick wax, and can save you some time and transitions.

- Lots of adjustability.



The meh:

- Initially was really stoked on the swap plate system, but idk if it really makes sense for $70. The range of adjustment is huge but.... meh. Much more expensive than a set of threaded inserts, but not that much better (for me).



The bad:

- These. Brakes. Blow. The mechanism that engages/disengages them relies on flexy plastic parts. Worked fine at first, but after a few ski swaps using the plates one brake never deploys anymore and the other only most of the time. I'm switching back to the heel cowlings and leashes.

- About 1lb heavier than Dynafit Speeds (w/o brakes)



Bottom line is that I got these because they were cool and different, and seemed less intimidating than Dynafits for my first tech binding experience. They're a MASSIVE step up from any plate-style AT binding and I'd definitely never go back in that direction. But at the same time, when you can (usually) get some Dynafits for the same price or less I don't think these offer much more for the extra weight. If I could do it again I'd get Speeds, Vipecs, or IONs for sure. That said, they've served me well through all conditions, resort and backcountry. Can't fault their performance.


Unanswered Question
Would the 130mm brake be able to bent to fit a 135mm waist BD Gigawatt ski?
Unanswered Question
will the 95mm bindings be too wide for a 168(114-80-104) BD Stigma ski?
Best Binding
Familiarity:

I've used it several times
Light weight, Love this binding, easy to change from one method of skiing to another without removing the boots.
Reliable, Cool Features, Junky Brakes
Gender:

Male

Familiarity:

I've put it through the wringer
I now have had more than 100 days out on this binding either in the backcountry or on the lifts and, with the exception of the brakes, haven't had a single issue with the binding. No pre-release, no unusual wear, no nothing except for solid performance all the way around. The bindings are super trustworthy and have never given me a second of hesitation on challenging lines.



The only weakness this binding has is the brake system. The brakes are really weak and you need to be aware that your brakes often won't always deploy when stepping out of the binding. Lastly, the binding requires that you depress the toe and maintain lite pressure on it in order to step in to the binding. If you find yourself getting into your skis on steep terrain regularly this could be a bit challenging. At the same time, I've never had an actual issue with this and it is more of a in-theory problem rather than something I've encountered in the BC.



Also, G3s customer service is awesome. I lost a ski in a crash last year and the folks at G3 hooked me up with a single binding at a cost well below retail. They rock.



At the same time, the binding skis really well and the swap-able plates are awesome. If your intent is to have one pair of skis for the backcountry, then I'd look probably go Dynafit. My preference is to have two pairs of skis; one ski is a early season rock ski (Volkl Mantra) and than a DPS Wailer 99 for everything else. With one binding and one additional set of plates this two ski quiver has been economical and performed exceptionally well.
Durable Onyx Gem
Familiarity:

I've put it through the wringer
Went touring with a good pal o mine last week in Tahoe before the resorts opened up. Here's what he had to report on the Onyx binding:



" I know isn't quite a Dynafit, I have put probably close to 100,000' vert on it with almost no issue. I like the way they ski, AND whats really cool is they mount on plates so I have two pairs of skis with plates mounted on them, and I can move the bindings back and forth depending on the conditions/type of skiing I'm looking at for that day. They are also quite affordable as tech bindings go."



He's stoked.

So is his dog.
What changes have they made to this binding...
What changes have they made to this binding to qualify the statement in the description, revamped.



I am seriously considering these bindings but would like to know more about the 2014 model and what they did to improve them and make them lighter.
No changes have been made to the Onyx/Ruby for the 13/14 season.
Bolt pattern on G3 Onyx binding?
Familiarity:

I've put it through the wringer
In other reviews I kept reading about the narrow bolt pattern in the toe of the binding. Has G3 updated this?

Have we seen installation changes from 2011 to 2013?



To better explain what I mean, I have copied that review:

Although the binding is good for DIN 12, their bolt pattern is far too narrow which puts tremendous torque on the toe bolts. Both of us ripped our bindings out of our skis within 1 week, destroying our new skis.
I read something in a WildSnow preview...
I read something in a WildSnow preview that the G3 Onyx had a base 'plate' mounting system for swapping with different skis? Is this still the case? If so, is the base plate purchased separately?
Best Answer
Yes and Yes. The base plates are sold separately and retail for about $70. You get the pair that comes with the binding and then will need to purchase a pair for each other pair of skis you want to mount the binding on. I have one binding that I swap between multiple skis depending on conditions. It takes about 5 minutes to make the swap and is fairly straightforward.
Rock solid
Familiarity:

I've put it through the wringer
After looking into different tech bindings I finally went with these. And couldn't be happier. They are amazing on the uphill. I love the pole activated heel risers. And when it comes time to ski... These babies are super solid. I'm 6'6" and 180 pounds and I ski hard. I have snapped skis and broken bindings. Two seasons and these bindings are still like new. These things can drive big skis, I'm talking 191cm long 120mm underfoot, no problem. Maching through chunder and never pre-released. They are a bit heavy, but totally worth it for the confidence they inspire when you're skiing or hucking. I am way stoked on these bindings. And I reccomend them to everyone.
I need to be honest, just go with dynafit. I had these, 2 pairs of onyx and both pairs failed. the design seems to be well thought out and DOES switch between tour and ski, which is a great feature for crossing over flats and kicking your way out of places but other than that, they just have too many moving parts to be viable for any real longterm BC use. I never poped out nor did i insta tele but i bought a pair of radical speeds and the radical ft and and could not be happier that I made the move to dynafits.
2 years and still going strong, inbounds and out of bounds.
Anyone know if these have the same/similar...
Anyone know if these have the same/similar ramp angle to Dynafits?
The Onyx is 26mm stack at the toe and 30mm at the heel for a 4mm ramp. Dynafits are 20mm toe stack and 30mm heel for a 10mm ramp.
A lot of people trash these bindings for being made out of plastic. Well, my AT rig fell off the top of my car at 50 mph, and the bindings weren't even scratched. They are also awesome on the downhill, and even though they weigh more than other tech bindings you don't notice because you don't lift your skis when you tour.
What information on the binding will...
What information on the binding will identify the "model year".
HI Barb, the only way to know for sure is to contact G3 and give them the serial number on your binding. S/N can be found underneath the Toe and heel pieces if you take them off of the mounting plates. There are some indiators if you do not own a binding yet. The Onyx was initally launched with a whitish/grey heel lifters which later turned to Black/Grey as they are now. Other changes have been the addition of the rubberized section of the toe that you depress with your pole (11/12) as well as the change of color to the mode change lever on your heel from black to red.