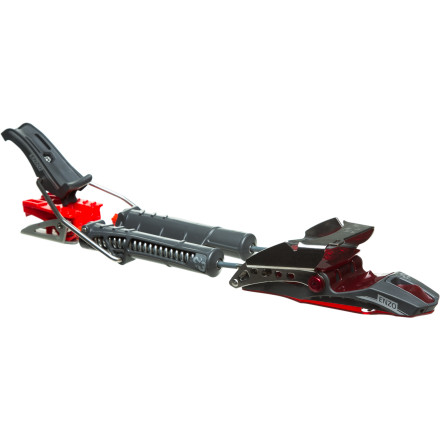 Once you try the Enzo Telemark Binding you'll never go back. Thanks to its unique design, industry-leading pivot, unparalleled adjustability for different activities or conditions, and uncompromising tourability, the Enzo provides the performance, turnability, and ease of use that you've been dreaming of. Whether you prefer resort runs, like to jump in and out of the sidecountry gates, or live for the backcountry, you'll find that the Enzo is the right binding for the job.

Oversized hollow-front pivot with engineered bushings for stiffness and durability
Enzo's bushings have been designed to deal with high-load capacity, ensuring a solid pivot for years to come
Adjustable to three settings, depending on conditions, terrain, and preferred feel
Large-diameter steel springs ensure power, control, durability, and longevity
Stainless steel uni-body toeplate with stainless pivots and lock-down bar, glass reinforced nylon shim with anti-ice plates, and a 2,000 pound test strength stainless steel cable round out Enzo's durable, strong, and reliable components
Bomber uni-body stainless steel toebox is tightly toleranced for optimal power transfer and less slop
G3 has doubled the stainless steel cable load capacity to 2000 pounds each and eliminated cable fatigue by developing direct pivoting connections (one size fits all)
Push Button Pivot Actuation switches easily from ski to tour mode with push-push activation
Optimally located pivot offers 60° of full pivot range, while a new lock-down latch improves power transfer while edging
Pole-activated climbing heel supplies efficient touring (optional larger climbing height wire available, sold separately)
Innovative ice-breaking horn dramatically reduces icing issues common to other touring telemark bindings
Effective and easy heel throw features a new step-in tab alignment point that greatly improves step in
Available in three spring options: Black/Soft for lighter skiers who want easier flex; Silver/Medium for most skiers; and Gold/Stiff for heavier and/or aggressive skiers who prefer a binding with more resistance
Springs can be swapped for softer or stiffer ones (sold separately)
Sonnet worthy bindings
Familiarity:

I've put it through the wringer
How do I love these bindings? Let me count the ways...



I purchased my Enzos shortly after breaking my lighter Hardwires. I had upgraded to T1s from years of T2s and discovered that the bindings that performed so well with the T2s were simply overmatched by the T1s. While it did take some time to dial the settings on the Enzos in (I experimented with the forward flex adjustments) once I found the right setting I discovered just how perfectly matched the Enzos and T1s are for each other. My old G3 Reverends have found new life with this combo and after 30 years of telemark skiing I can say that I have never skied on a better set up. Responsive, aggressive, and smooth climbers, I just love my Enzos.


Can you step in these with a traditional...
Can you step in these with a traditional T1 boot?
Yes you can. My T1s are three years old but the sole design and toe piece are no different than earlier Scarpas (three holes remain in the toe piece for pins...). I encourage you to place the boot in the binding/ski on a table and experiment with the forward flex adjustments before you take them out for a spin. I set mine far to stiff in the beginning. I hope this information proves helpful to you.
What does the mounting pattern look like...
What does the mounting pattern look like for these guys? How many screws, rough spacing front to back, rough spacing left to right...

I have not had a problem with the AXL 6 hole mount, but have ripped out of skis and broken bindings on BDs older 4 hole mount. I know BD went 6 hole now, but I am skeptical of the narrowness of the screws creating a larger moment at the mounting points. Thoughts?
6 hole mounting pattern... not as widely spaced as the AXL's (1" vs 1.5"), but longer than AXL's overall (4.4" vs 3").



Hope this helps!
If you read the manufacturers info on these...
If you read the manufacturers info on these bindings they sound like they're way over designed. If so then why is the warranty only 60 days? 60 days of skiing I can see but 60 days alone makes it sound like G3 doesn't stand behind their product.
I am not sure where the 60 day warranty limitation was taken from, but it sounds wrong to me (I will look into that). G3 actually claims something completely different on their own site: "All G3 products are warranted be free of defects in material or workmanship for one year from the purchase date." - See more at: http://www.genuineguidegear.com/service/g3-product-warranty#sthash.AeIvDpnZ.dpuf
Bye bye Axl's, hello Enzo's!
Familiarity:

I've used it several times
I've been using the 22D Axl for about 4 years (great binding!) and decided to try out the Enzo since I have this strange issue with the Axl where once every other day the heel piece seems to slip off my boot.



With the short/default springs, the Enzo is very comparable to the Axl (I set the pivots on both to the 2nd position). I'd even say the Enzo feels more smooth and linear in terms of spring tension than the Axls.



I haven't toured with them yet, and don't know how they'll hold up to abuse, but I'm loving them so far.
I'm all ready to plunk down $320 for AXL's...
I'm all ready to plunk down $320 for AXL's and just happend to read a review http://www.earnyourturns.com/13486/backcountry-telemark-binding-g3-enzo/ on what appears to be G3's copycat binding. I've been on HH's for years and love 'em other than long tours.I've used wimpy Targa's and never will again. So for $30 less I can pickup a pair of these but my gut says stick with 22 Designs. I am 6' 210 with tree trunks that power HH's mounted on Mantra's. Just picked up a pair of Nanatuk 186's for easier touring for this old man. Sounds like icing under the toe is less with this than the AXL.. 6 holes on each so that is a must. Which one should I get?
A little late on your answer, but I would definitely go for the Axl. Wait a while and see what the Enzo has to offer in the ways of life expectancy and issues. The Axl has been out for a few years, and everyone loves it. 22 Designs is a great company that you can feel good about giving your to.
Love them.
Gender:

Male

Familiarity:

I've used it several times
tried these bindings last year,at OR show. very responsive,going down. To me the pivot point was the selling point. If it would just start snowing!!!