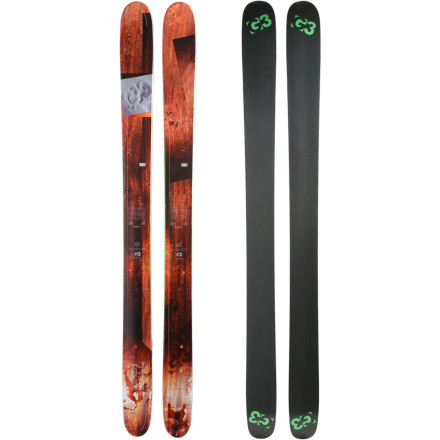 Detail Images
The biggest, snowiest mountains are also the most unpredictable. But with the G3 Backcountry.com Exclusive Highball Ski you can float over blower, charge through the crud, and edge on hardpack while showing your love for the Goat. The mad-gear scientists at G3 gave this new big-mountain fat ski (G3's widest) full rocker and titanal reinforcement to help serious schralpers easily power through every conceivable condition and terrain.
Exclusive Backcountry.com wood ski graphics are only available here and let you express your Goat love in a fun and humane way
Sweetrise camber (full rocker) floats effortlessly and allows the skier to modulate the effective edge length of the ski by laying down turns on hard snow
Poplar core for greater durability and relatively low weight
Sandwich+ construction provides the damp, smooth ride of sandwich construction with solid tip and tail durability
Variable J sidecut provides more predictable turn initiation with plenty of reserve power during exit
Titanal stringers for added lateral stability and greater edge control
Low mass tips reduce tip flutter and swing weight
Unanswered Question
Greetings all, Thanks sooo much in advance...
Greetings all, Thanks sooo much in advance for answering this!!!! So i just recieved the 185's (bc.com version) as a gift and I must say they look great, love the stiffness/rocker profile, but still have a few questions/concerns?!?! ABout me: 26yo, level II PSIA Instructor, very strong (college football player, nearly 5'10" and weight fluctuates between 185-200lbs. I ski aspen snowmass (100+ days per season) and looking for a big mtn ski with everyday/powder capablities ( i know, i know.lol) I ski steep and deep (hlands bowl), trees, technical culoirs,medium to large cliffs, inevitable groomers and inevtiable bumps etc. Now to ?'s... First, is this a true big mountain free ride ski for resort use with regular alpine bindings? Will i regret not having something with more weight and more popular for resort like the Blizzard Cochise?? Dont get me wrong, these may be the best skis in the world, i just have no experience with g3 and cannot find anyone locally who does. and i am not going to use these for touring cept the occasional side country hike etc. Where should I mount these for a free ride style? I like to ski aggressive and fast; but also like to butter, smear, surf,and turn the big mountain into a terrain park. Is the mounting AT line to far back for this? Also, is 185 the right length for me? I know rockered skis ski short but with this nearly flat camber im not exactly sure. I want to get it right before unwrapping and mounting these. Thanks soooo much, pleeeeasseee help a fellow skier out with some beta!! Happy skiing all!! Its almost here (in western colorado)
A fun all around condition ski!
After 9 days on them, one of the top sheets started to delaminate, so I am returning them to Backcountry. That said, I love these skis so much, I exchanged for another pair.
Initial impressions, after a few days on them: The Highball is surprisingly good on soft groomers I tried it out on after new snow. It is actually pretty quick edge to edge, but then I am an assertive skier, and I think the NTN bindings help with cranking them over some too compared to my 7tm/Linken combo I was using. One of the first things I noticed was that the Highballs are not nearly as "hooky" as my Rapid Transits or El Hombres are. They are very smooth when engaging the turn, which in itself is very confidence building for such a wide ski. I think that lack of hookiness is due to the rounded tail edges.

We had a good dump of heavier snow this week so I took them off in the fluff for several forays. Again, they are confidence inspiring, float very nicely, and the shovels and tails kept me above the surface for quicker turns than when I'm on my RT's.

One drawback I noticed during these two days on them is, they don't do very well in bumps or pushed around and compacted snow. In piles of softer stuff, they bash right through, but in the set-up wet stuff that had been moved around, piled up, and then set-up, they got a little squirrely and transmitted considerable amounts of vibration to my legs. Again, that was in heavy, piled up bumps of snow compared to the lighter stuff I was in on day one.

One thing I noticed about the rocker was that they don't transmit nearly the vibrations at speed to my knees that the Rapid Transits or El Hombres do. It's kinda weird, but that was my impression. They DO transmit vibrations at speed going across heavier bumpy junk and ribs in the snow, but then I think any ski does that in chunked up stuff that has set-up.

My color scheme is a Backcountry.com exclusive rather than the blue ones that come from G3.

Update: Road them today at Whistler on chopped up fluff that was in VERY good shape still due to cold weather. Took them off in the fluff several times including Blackcomb Glacier bowl. They absolutely rocked in the softer stuff, quick edge to edge, awe inspiring, and definitely confidence building. I got in the back seat a few times but the tail is stiff enough to stand up on and get back into alignment. My bro in law was jealous with the float I was getting.

These skis bash through the softer piles of pushed around snow with ease, and enabled me to shift quickly into proper position from piles to scraped-off ruts between the soft bumps.

They even performed admirably on the way down the mountain through the firm, icier slopes. Not too squirrelly in those conditions, but you do have to be on top of them.

By the way, after 3 days of use, these skis have a huge sweet spot, and you can just cruise on them as long as you are aware that they are wide skis and you shouldn't drink and then drive these babies.

Day 4 update. Took the Highballs into all sorts of cut up fluff, windpack, heavy snow, lighter snow, groomers, chop, and soft bumps at Whistler today. We were making turns in about 8" of new snow in drifts.

They absolutely shined in the cut up fluff, kept me on top of the windpack and heavy snow and made me holler in the light stuff. Did just fine on the groomers with new snow on top of the corduroy, piled up bumps and even scraped off stuff*. (Dang knuckle draggers. Rolling Eyes ) They have great edge hold on harder surfaces but a whole day of it would wear me out.

I seem to be getting used to making quicker turns edge to edge on the harder groomed snow, so my initial impressions have been confirmed that these are well-built, and well-designed wide rocker skis.

Buy 'em, you won't be disappointed!
An $800 ski with a 60 day warranty?...
An $800 ski with a 60 day warranty? geesh!
That is the manufacture warranty. When you buy from BC you get a lifetime return policy.
Must be a misprint. G3 warranties are typically 1 year (like most ski co.s).